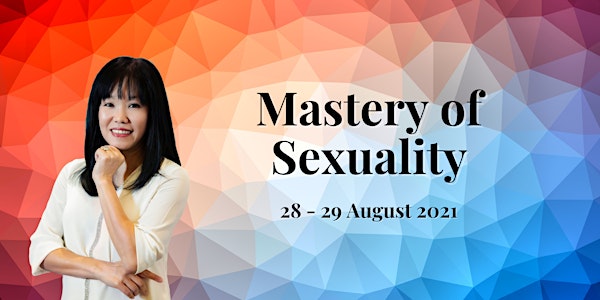 Mastery of Sexuality 2021
Have you been suppressing your Sexuality?
When and where
Location
Growth Vision Training Room Growth Vision Training Pte Ltd, #05-03, One Sims Lane Singapore 387355 Singapore, Singapore 387355 Singapore
Refund Policy
Refunds up to 7 days before event
About this event
Mastery of Sexuality
In the 2 Days fun and enriching POV workshop, we will be researching and healing places where we throw away or suppressed our sexuality, resulting in a dull, boring and even dead life. When we gain back our Sexuality, we will not only gain back our vitality, we will also gain back lots of Fun, Humour, Charisma, True Power and Innocence! in other words, we fall in love with ourselves and others once again! 
Students who complete the 2 Day workshop will be accredited 2 POV days that accrue to POV 100 days program. About
Growth Vision Chief Trainer, Ms Veronica Lim
Ms Veronica Lim has been coaching and training people from all walks of life since 2001. She has invested extensively in the area of self-discovery and healing, at the same time sharing her gifts to many people around the world. In the past twenty over years, Ms Veronica has helped thousands of people around the world to receive more happiness, abundance and success. 
Being an successful entrepreneur who has enjoyed fair share of both huge successes and failures , Veron has invaluable personal experiences and skillset to coach people out of their issues and move quickly back on track. 
Veron's teaching is simple, profound yet easy to apply. Many who have attended her workshops reported that they have experienced huge shifts in their lives especially in the area of money, relationship and health.
Academic and Professional Experiences
Chief Trainer & Founder of Growth Vision Training Pte Ltd
 Psychology of Vision (POV) Trainer
Enlightened Leaders Program Trainer
Relationship and Money Coach
Corporate Coach and Trainer
Bachelor of Accountancy (NTU)
Founder of several Companies
 Specialises in:
Corporate Coaching and Consulting, Personal Growth Planning
Relationship coaching,, discovery of personal gifts and potentials, goal realization
Emotion and Stress Management
Discovering and resolving subconscious obstacles
Enhancing potentials for more ease, abundance and happiness
创知见培训公司首席训练师, 林韵芬老师
林韵芬老师自2001年以来一直在从事辅导和培训的工作。 她潜心钻研自我发现和疗愈的领域, 并和世界各地的人分享她的天赋礼物。在过去二十年内影响了数以千计的人获得幸福,丰盛,成功。
林韵芬老师的教学深入浅出,深刻同时容易运用于我们的日常生活中。许多上过她的工作坊的学生都因为她的教导而在金钱,关系和健康等领域取得了生命中巨大的转化。
身为曾经创办过亿公司的企业家,对于创业,投资与金钱方面有独到的见解。也因为曾经经验过失败的痛苦,了解到在低谷的时候的痛苦与困境。现在的林老师掌握了帮助大家快速穿越困境及快速累积财富的秘诀,并且乐于与大家分享。
林老师重视平衡与人际关系。喜欢旅游,不工作的时候喜欢陪伴家人,享受与家庭的联结时光,但更喜欢到处分享轻易丰盛幸福的秘诀。无他,因为这是她的使命。 
学经历 
创知见培训公司首席训练师
POV 愿景心理学训练师
 企业培训顾问教练
心灵,金钱与关系教 开悟领袖课程讲师
新加坡南洋理工大学会计系学士
 国际企业创办人