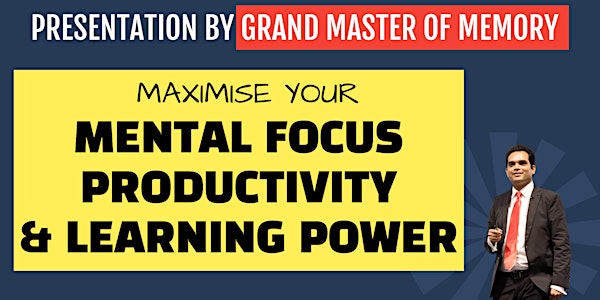 Maximise Your Focus, Productivity & Learning Power
Maximise Your Mental Focus, Productivity, & Learning Power
When and where
Location
Lifelong Learning Institute 11 Eunos Road 8 Singapore, 408601 Singapore
About this event
Presented By Nishant Kasibhatla
Guinness Record Holder (2011) & The Only Grand Master of Memory in Singapore
What You'll Learn in this Free Seminar
How to become a fast learner and be at the top of your game (you want to learn many things, but do you know exactly how to learn?)
​How to develop a laser sharp focus and improve work performance by leaps and bounds (these are the same strategies that super successful people use that enable them to achieve outstanding results)
Discover the secrets of developing a super memory (these are the secrets that helped me to go from a lousy memory to becoming a Grand Master!)
Accelerate your speed of learning and rate of retention and become a life long learner!
Build mental toughness and acquire a High-Performance Mindset
Outperform your competition and be at the top of your game by learning how to master anything – in a quick, fun and easy way
SPECIAL BONUS SEGMENT ON PUBLIC SPEAKING!
Being able to express your ideas confidently (in a board room or an auditorium) is a game changer in today's world.
Register today and you will not only learn some of the best techniques to boost your memory, focus and productivity, but you will also learn how to boost your confidence!
In this special segment, you will learn from Nishant how to speak with confidence and present with power, even when you are nervous!. You will also learn the mistakes people make when speaking (and how to avoid them).
Who Should Attend
Anyone who is at least 18yrs old who wants to achieve peak mental performance by improving one's memory and brain power.
About the presenter
Nishant Kasibhatla is:
A Guinness Record Holder (2011)
The only Grand Master of Memory in Singapore
A Certified Speaking Professional
Millions of people have watched Nishant on National and International TV shows
He has been featured in national and international media such as Discovery Channel, Channel News Asia, Straits Times, The New Paper, Lianhe Zaobao, Vasantham Central, Shinmin Daily, 938 Live FM, South China Morning Post and many more.
NOTE:
By attending the event, you consent to the use of your photograph, voice, likeness, and image in any broadcasts of this event and in subsequent productions drawn from video or audio recordings of this event. The photographs and recordings may be published or broadcasted in the official Memory Vision Pte Ltd's and/or Nishant Kasibhatla's publications and in publicity materials, including Memory Vision Pte Ltd's and/or Nishant Kasibhatla's websites and social media. All recordings, articles, quotes, photographs, films, audio or video and/or any reproductions of same in any form, are the property of Memory Vision Pte Ltd. Memory Vision Pte Ltd, its affiliates, employees, representatives and agents are released from any and all claims, demands, costs and liability that may arise from the use of these interviews, recordings, photographs, videotapes or films, and/or any reproductions of same in any form, as described above, arising out of being interviewed, recorded, photographed, videotaped or filmed.