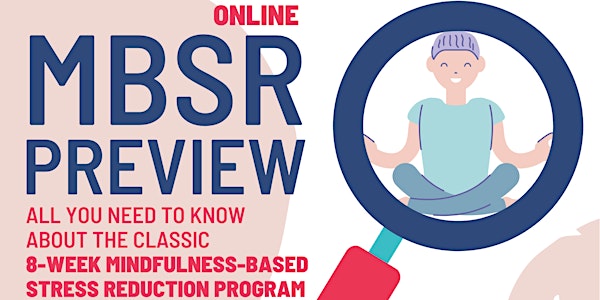 MBSR Webinar (Online Preview): Mindfulness-Based Stress Reduction
An informative crash course on what is taught in the classic research-proven 8-Week Mindfulness-Based Stress Reduction (MBSR) Program
About this event
▶ What is mindfulness and why is everyone talking about it?
▶ How does the Mindfulness-Based Stress Reduction Program turn you into a calmer and more peaceful person?
▶ How does a research-supported 8-week mindfulness program help you cope better with stress and reactivity?
▶ Why should you learn the lifelong skills of mindfulness to improve your mind, body, and way of life?
WHAT YOU WILL LEARN IN 1.5 HOURS:
✐ Background, development, and applications of mindfulness
✐ Research outcomes of mindfulness studies
✐ Misconceptions about mindfulness
✐ The benefits of mindfulness to our mind and body
✐ The essence of the 8-Week MBSR approach
✐ Preview of mindfulness practices taught in the MBSR program
☎ Ask any questions about mindfulness or MBSR
★ Attend and receive a Commitment Discount* for the upcoming MBSR Program
*Details to be given at the end of the webinar session
Meet Your MBSR Teacher, Erin Lee:
✫ Mindfulness Coach and Founder of Mindful Moments
✫ Certified Mindfulness-Based Stress Reduction (MBSR) Teacher
✫ Master of Science, Studies in Mindfulness (University of Aberdeen)
✫ Trained to Teach .b Mindfulness (for youths)
✫ Certified Professional Stress Management Consultant