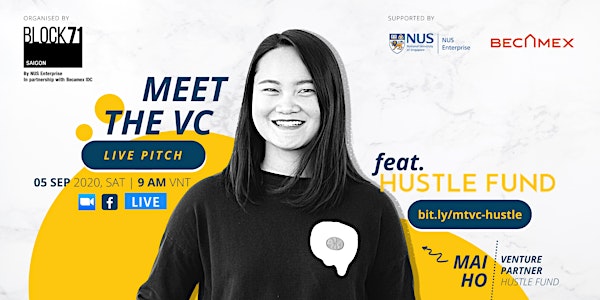 Meet the VCs feat. Hustle Fund
A chance to meet with top-tier VCs from the BLOCK71 Global Community!
About this event
JUNE 04: PITCH TO HUSTLE FUND & BLOCK71 SAIGON
Apply by June 04 to pitch to Quest Ventures! BLOCK71 Saigon is hosting a closed-door session on June 04 with Michelle Ng to evaluate a shortlist of Vietnamese startups on the hunt for funds, mentorship and business support! Apply in the registration form as Startup Founder and we'll reach out to successful applicants arrange for a meeting.
If we think you're really great - we may also invite up to 3 founders to pitch LIVE to our VC and Angel networks over Facebook!
But first, tune in to the livestream to get to know Michelle and Quest Ventures's investment philosophy better!
MAY 28: MEET QUEST VENTURES - A FIRESIDE CHAT
In our inaugural session of Meet the VC in Vietnam, we catch up with Michelle Ng - Senior Associate at Quest Ventures, a leading venture fund for technology companies that have scalability and replicability in large internet communities. She works closely with startups to accelerate their growth through a combination of incubation services and programmes. She is also responsible for key markets in Southeast Asia and emerging Asia. Prior to this, Michelle was responsible for international startup ecosystem networks at the Action Community for Entrepreneurship - Singapore's national entrepreneurship ecosystem builder - where she engaged startup communities in North Asia and Southeast Asia with market access and regional innovation initiatives, and in so doing anchored Singapore as Asia's hub for entrepreneurship.
Quest Ventures is a venture capital focussed on early-stage startups with the mission to drive digital economies across Asia. The firm boasts over 80 startups under their portfolio including industrial leaders like 99.co and Carousell. Quest places a heavy focus on the digital innovations, investing in the digitalization of sectors like commerce, food, finance and many more! They are looking to expand their portfolio within Vietnam and are actively looking for Vietnamese startups to invest in! So what are you waiting for? Sign up now!
Learn more: https://www.questventures.com/
Watch the stream here to learn more before applying to pitch! https://www.facebook.com/103905444410515/videos/1033140700489417
---------------
About BLOCK71 Saigon
Tech Ecosystem Builder and Global Connector
BLOCK71 in Saigon is a partnership between NUS Enterprise, the entrepreneurship arm of the National University of Singapore, a leading university in Asia and Vietnam's leading Developer, Becamex IDC.
Together, we serve as the epicentre for early stage tech innovators in Vietnam.
Learn more at saigon.block71.co