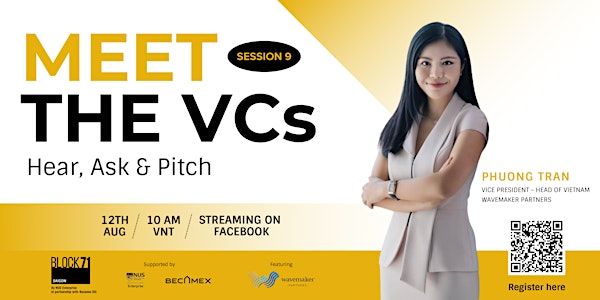 Meet the VCs feat. Wavemaker Partners
A chance to meet with top-tier VCs from the BLOCK71 Global Community!
About this event
PITCH TO WAVEMAKER PARTNERS & BLOCK71 SAIGON
Apply by Aug 22 to pitch to Wavemaker Partners ! BLOCK71 Saigon is hosting a close door session in August with Ms. Phuong Tran - from Wavemaker Partners to evaluate a shortlist of Vietnamese startups on the hunt for funds, mentorship and business support! Apply in the registration form as Startup Founder and we'll reach out to successful applicants arrange for a pitching session.
AUGUST 12: MEET WAVEMAKER PARTNERS - A FIRESIDE CHAT
In our 9th session of Meet the VC in Vietnam, we will meet Ms. Phuong Tran - Vice President, Investments/Head of Vietnam at Wavemaker Partners who has international mindset with local perspective and understanding of Vietnam. She is also in the Forbes 30 Under 30 Vietnam 2022.
Prior to Wavemaker, Phuong was one of the founding members of Vietnam's local VC VinaCapital Ventures. She has over 7 years of experience in early stage investing (Seed to Series A) with demonstrated results in sourcing, execution, relationship building, and post deal value adding. Phuong has directly led investments into Foodmap, Dat Bike, MindX and Vigo Retail in Vietnam and also manages 18 companies in Wavemaker's portfolio in the US, India, Pakistan, Philippines, Singapore and Europe, with a total value of billions of dollars.
About Wavemaker Partners:
Wavemaker Group is a multi-faceted cross border venture capital firm founded in 2003. The firm is dual headquartered in Los Angeles and Singapore and has raised over $580M across multiple funds. We currently have a team of 70 people across both sides of our practice. Wavemaker is one of the most active early-stage investors in Southern California and Southeast Asia and has invested in over 360 companies in the last 17 years. In Southeast Asia, Wavemaker focuses on enterprise and deep technology companies.
Learn more: https://wavemaker.vc/sea/
---------------
About BLOCK71 Saigon
Tech Ecosystem Builder and Global Connector
BLOCK71 in Saigon is a partnership between NUS Enterprise, the entrepreneurship arm of the National University of Singapore, a leading university in Asia and Vietnam's leading Developer, Becamex IDC.
Together, we serve as the epicentre for early stage tech innovators in Vietnam.
Learn more at saigon.block71.co