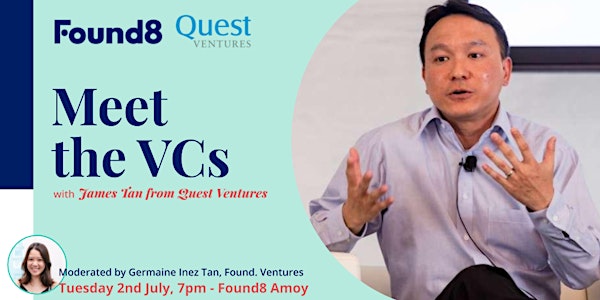 Meet The VCs Series - Quest Ventures
Date and time
Tue, 2 Jul 2019 19:00 - 21:00 +08
Location
Found8 100 Amoy Street Singapore, 069920 Singapore
Description
Meet The VCs Series is Found8's fireside chats series with leading VCs (Venture Capitalists), in Singapore. The event would be held in the evening from 7.00pm to around 8.30pm with networking after. The format is a fireside chat with Q&A by a moderator from the Found8 team before we open it to the floor for questions
The main topics for discussion are:
What Quest looks for when making an investment into a startup

Investment thesis of your new fund and how that differs from the previous fund

A startup's journey from early-stage to growth stage in Singapore (drawing on James's and Quest's long-term experience in growing the startups in our country)

Lessons learnt from startups that have failed

Tips and tricks for the startups looking to raise from Quest and more
About Quest Ventures
Since 2011, Quest Ventures has focused on an overarching 'digital commerce'​ strategy across Asia and is one of the largest early-stage technology investors in artificial intelligence, e-commerce and marketplaces, entertainment, finance, food, insurance, logistics, media, property, sports, and the Islamic digital economy. Portfolio companies include industry leaders such as 99.co, Carousell, Carro, Ethis, Glife, MGAG/SGAG, Shopback, VulcanPost, and Xfers.
In partnership with Silicon Valley's pre-eminent Applied Innovation Institute, Quest Ventures'​ enterprise innovation initiative drives industry and corporate transformation for at-risk sectors based on world-class research, local knowledge, and collaboration with startups. Sectors covered include alternative food, aviation, banking, insurance, logistics & transportation, oil & gas, and smart cities. Clients include Applied Materials, Coca-Cola, HP, Nissan, and Tencent.
Quest Ventures'​ multi-dimensional environmental, social and governance strategy was the first in Asia for a venture firm and supports a range of social good initiatives across Asia for education, healthcare, mobility, and female and youth entrepreneurship. Impact acceleration initiatives include advocacy, investment, world-class partner benefits, and collaborations with the venture portfolio. ESG portfolio organizations include Crescent Rating, QaneMate, and PBMT.
Southeast Asia's potential is ultimately realized in its people. By the end of 2018, Quest Ventures' portfolio of 40+ venture-backed companies operates in more than 150 cities across Asia, creating employment and advancement opportunities for more than 4,400 employees, while its Enterprise and ESG efforts directly impact thousands more.
Find out more about Quest Ventures here:
https://www.questventures.com
Speaker
James Tan
Managing Partner at Quest Ventures
Linkedin: https://www.linkedin.com/in/sgjames/
James Tan is Managing Partner at Quest Ventures, a leading venture fund for technology companies that have scalability and replicability in large internet communities. Prior to this, James was co-founder and COO of 55tuan, a NASDAQ listed e-commerce group that grew to more than 200 cities and 5,000 employees across China.

As the first Singaporean and one of the rarefied few foreigners to found a public listed internet company in China, and for his investments in the next generation of entrepreneurs, James was recognized as an outstanding overseas Chinese by the Overseas Chinese Affairs Office of the State Council of China. For his outstanding global contributions, James received the Alumni Award from the University of South Australia.

James currently serves as an advisor, board member or trustee on the Action Community for Entrepreneurship, Applied Innovation Institute, Business Angel Network of Southeast Asia, Beijing CYL Joint Committee on Entrepreneurship Development, Enactus Singapore, National Research Foundation CGAP Fund, Sports Excellence Business, and Vietnam Angel Network.

James has been the guest speaker at China-focused and entrepreneurship events such as ITB Berlin, Private Equity Insights, Stanford-PARC Digital Cities, SWITCH, and World Islamic Economic Forum. He is an advisor or mentor at Chinaccelerator, Founder Institute, and PSA unboXed. He has guest lectured at Fudan, IE, Tsinghua, and UC Berkeley.
Moderator

Germaine Inez Tan
Head of Corporate Development at Found8
Head of Investments at Found. Venture
Linkedin: https://www.linkedin.com/in/germaine-inez-tan-ba991449

Found8 (previously known as Collision 8 and Found.) is a co-working community of innovators in Asia. Found. Ventures is an early-stage investment company founded on the belief that founder knowledge and post-investment support are key levers for success. The Fund was also the first venture fund to layer on top of a coworking ecosystem and one with an all-female investment team.

Prior to Found8, Germaine worked at Expara, an early-stage venture capital fund. In my 2 years at Expara, she advised startups in different fields including fashion, big data, machine learning, medical device, virtual reality, e-commerce, and more. She is very well-connected to the Thai startup scene and was part of the set up of a local accelerator program in Thailand. She also headed the CzechAccelerator Programme in Singapore, mentoring startups from the Czech Republic who are interested to expand to Asia.

As someone who is very interested in social entrepreneurship and impact investment, She wrote my thesis on impact investment when the scene in Singapore was still very nascent. She has actively worked with different organizations and facilitated social business plan challenges and social impact measurement workshops. She was a speaker at several youths and social conferences in Singapore and in Hong Kong. Outside of work, she is absolutely addicted to book fairs. Germaine has also received the Forbes 2019 30 Under 30 award early this year.
About the organiser
Found8 is a new singular vision and identity that drives growth and betterment for our diverse community of innovators. At our core are the greatest assets we've always had, which are our visionary communities, partners and a true spirit of collaboration.
On top of this we are bringing equal parts of our shared strengths to consistently produce game changing businesses, through our expanded network of innovators and beautiful spaces, and our high touch customer services.
Found8 wants to be a force of change that leaves every individual and business better than when we found them.