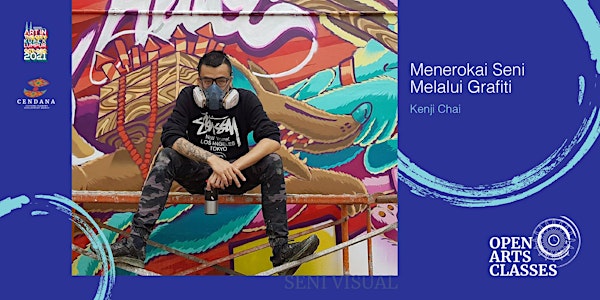 Menerokai Seni Melalui Grafiti bersama Kenji Chai
Panduan pemula tentang alat seorang artis grafiti dan juga semua yang anda perlu ketahui untuk melukis grafiti jalanan pertama anda.
About this event
LATAR BELAKANG ARTIS
Kenji Chai adalah seorang artis grafiti paling dikenali dengan watak grafitinya, Chaigo the Stray yang dilihat di sekitar KL. Gaya uniknya telah meletakkan karyanya di peta dunia, serta kolaborasi dengan jenama antarabangsa. Sebuah karya muralnya telah dinamakan sebagai Mural Tertinggi dalam Malaysia Book of Records.
RINGKASAN KELAS
Jenis cat dan penutup semburan
Jenis strok grafiti
Jenis dinding grafiti
Cara mengisi lukisan grafiti anda
Panduan langkah demi langkah untuk melukis grafiti jalanan pertama anda
NOTA PENTING
Kelas akan dikendalikan dalam Bahasa Malaysia dan Bahasa Inggeris
Sesuai untuk pelajar dan pemula
Luaskan pengetahuan dan minat anda dalam seni grafiti dan cara untuk berjaya sebagai seorang artis