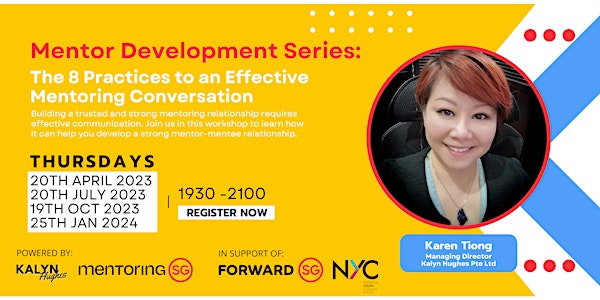 Multiple dates
Mentor Development: The 8 Practices to an Effective Mentoring Conversation
Mentor Development Series: The 8 Practices to an Effective Mentoring Conversation
Date and time
Thu, 20 Apr 2023 04:30 - Thu, 25 Jan 2024 05:00 PDT
About this event
Target Audience: Mentors, Working Adults, Youths
About this event
Building a trusted and strong mentoring relationship requires effective communication. Keep an eye on nonverbal communication may seems promising, however, words and nonverbals don't always align.
Join us in this workshop to learn how it can help you develop a strong mentor-mentee relationship.
Key Learning Points:
Discover possible strategies and approaches in communicating with youths
Learn the 8 best practices of an effective mentoring conversation
Facilitator biography:
Karen is a seasoned educator, curriculum developer, career coach, and counselling practitioner who has collaborated with local businesses and international partners to support and empower individuals from diverse backgrounds.
With over 20 years of technical expertise in large-scale IT infrastructure, including systems implementation, security, risk assessment, business continuity, and IT best practices and audit, Karen is a versatile, multilingual professional with a strong business acumen. She is adept at leveraging organisational knowledge, experiences, and skills to effectively manage projects.
As the Managing Director of Kalyn Hughes Pte Ltd, Karen is responsible for the day-to-day operations of the business, organization, or corporate division. Prior to this, she worked as an Associate Trainer and advisor for various local TAE institutions, representing the institution through training, public speaking, and curriculum development.
Karen's passion for helping people extends beyond her work in IT and business. She is dedicated to career coaching, mentoring, life coaching, and counselling practices, with the belief that being a "great educator" is not only about teaching well but also inspiring others. Karen is committed to inspiring individuals to reach beyond their limits and transform their perception of their own capabilities through the power of inspiration.