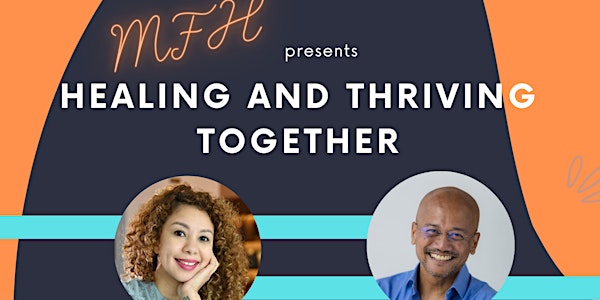 MFH event: Healing and Thriving together #1
Ahead of World Mental Health Day, we invite experts to share tips with us. We also invite you to share and heal and thrive together.
When and where
Location
NTUC Centre One Marina Boulevard Singapore, 018989 Singapore
About this event
As an entrepreneur or startup operator, your pace of life is extremely fast and life can be stressful. Ahead of World Mental Health Day, we have invited a panel of experts to discuss ways to identify red flags, cope, heal and stay in a state of mental wellness while operating in a high intensity mode. Join other like-minded folks to network, share and learn from each other and thrive together.
This is the first installation of our 2 part series. We will unveil the details of Healing and Thriving Together #2 soon. Join us for both!
Agenda
9.30am - 9.45 am: Networking over breakfast
9.45 am - 10.00am: Opening address by Founders, sponsors and sharing of Over The Rainbow
10.00am - 10.45am: Sharing by our panelists - Healing and Thriving Together, moderated by Naveen Asrani- Heads Strategic Growth for Digital Native Businesses at AWS.
10.45am - 11.30am: Break up into 3 small groups, each facilitated by a panelist to discuss questions and peer-share experiences and tips.
For this event, we are raising donations to Over The Rainbow, which supports youths' mental wellness. To confirm your attendance, please donate at least $20 to Over The Rainbow campaign. After you have donated, we will share the exact location of the event venue with the confirmed registrants via email.
We thank Amazon Web Services, Integra Partners Klen and Fitmeal for sponsoring the food & Beverages and door gifts, Young NTUC for sponsoring the space, and Vertex Ventures Southeast Asia and India and Integra Partners for supporting the program.
This is an event like no other, as we aim to allow the entrepreneurs to benefit from
Learning from our speakers' authentic sharing of experiences and ways to cope/ heal/thrive
Understanding challenges/ problems to expect as the entrepreneurs continue to build their business
Network and journey with others to become the best version of ourselves

There will be business networking after the panel and Q&A. Light refreshments will be served.
Only 30 seats available on a first-come-first-serve basis, join us by signing up and donating now.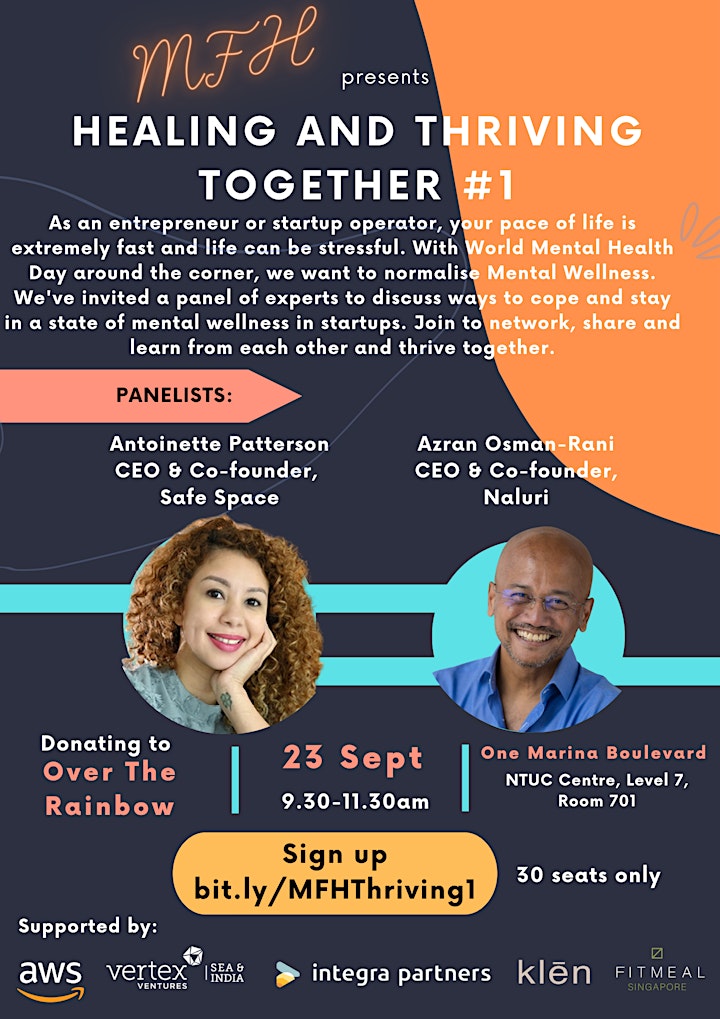 About our panelists:
Antoinette Patterson - Co-Founder/CEO, Safe Space:
Antoinette Patterson, is the co-founder of trusted B2B2C digital mental healthcare provider and ecosystem, Safe Space™. With 14 years of startup experience, and an avid mental health advocate, Safe Space™ combines her love for technology and positive social change.
In the last 12 months, Safe Space has:
Supported over 80 x corporate clients across APAC, EMEA and ANZ in 12 months
Seen 35x growth in B2B paid deals, 9x growth in average account value, 9x growth in supply; over 230 clinical therapists and counting.
They have therapists across 30 spoken languages.
94.2% Net Promoter Score
Before setting up Safe Space, Antoinette was a digital native for 11 years and was the market lead in various departments; from ad operations to business development.
Antoinette recently received a certificate in Technology Leadership Program, International Business from University of California, Berkeley, Haas School of Business. She has a bachelor degree in Mass communication from RMIT University and graduated with distinctions.
About Azran Osman-Rani - Co-Founder/CEO, Naluri:
Azran is the CEO and co-founder of Naluri, the region's leading digital health service provider and healthcare cost-containment solution that addresses mental health and chronic disease together. The company, founded in 2017, pairs evidence-based interventions and human-led expertise with a digital platform (via the Naluri app) to transform the lives of people who are at risk of, or managing, the most pervasive chronic and mental health conditions. In the last quarter, Naluri has:
Touched the lives of 350,000 employees across 88 corporate clients
Deployed services across Southeast Asia so that corporate clients can ensure that their employees across the region receive a consistently high level of care
Harmonized measurement efforts so that regional HR teams can track and compare the success of wellness initiatives on an apples-to-apples basis for their employees across the region
Azran was previously CEO of AirAsia X where he grew it from a business plan to a $1billion IPO with 2,500 employees in six years, and CEO of iflix Malaysia which scaled to 20 million users in 20 markets in 3 years. He also held prior leadership roles at Astro, Bursa Malaysia and McKinsey & Company. He holds a Masters in Management Science and a Bachelor's in Electrical Engineering, both from Stanford University. He chronicles his leadership challenges, failures and overcoming adversity in his book, '30 Days and 30 Years'. He is an Ironman triathlete.
This panel is moderated by Naveen Asrani- Heads Strategic Growth for Digital Native Businesses at AWS, ASEAN and is passionate about people, products and businesses to make a difference.
More about Asia Startup Network (ASN):
ASN's mission is to help promising companies to leapfrog and realise their potential on the global stage. Mentor for Hope (2020) and Makan for Hope (2021) initiatives are non-profit initiatives of ASN. Visit www.makanforhope.org for more information.
Makan for Hope Festival (2021):
Co-founded by Elise Tan and Andrew Tan, and in tandem with Fei Yue's 30th anniversary, Makan For Hope Festival was a month-long festival of 30 virtual Makan For Hope sessions which raised > S$121,000 and impacted the lives of >1,500 like-minded change makers, entrepreneurs and aspirants across the SE Asia startup and tech ecosystem.
Each session saw 10 Participants hosted by a Host, together with a Shepherd moderating it. Each attendee of the session donated $100 (Early Bird) or $150 (Normal) for a time of networking and learning together. Hosts each donated $1000 - $3000 for their session as well.
Mentor for Hope (2020):
Co-founded by Elise Tan and Janet Neo in 2020, Mentor for Hope is a startup mentoring and charity fundraising campaign supported by over 250 VC investors, family offices, ecosystem partners, tech industry leaders (e.g. Google, Facebook, AWS), Temasek Foundation. More than 200 tech entrepreneurs benefited from a cumulation of 520 hours of mentorship
It raised over S$43,000 for Beyond Social Services and Willing Hearts Soup Kitchen, providing more than 20,000 lunch meals to persons in need, and helped more than 20 families affected by COVID-19 Pandemic for three months.
Visit www.makanforhope.org for more information.