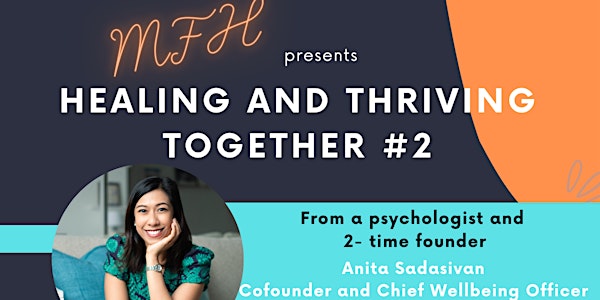 MFH event: Healing and Thriving together #2 (Hybrid event)
In conjunction with World Mental Health Day, we invite experts to share tips with us, to share and heal and thrive together.
About this event
As an entrepreneur or startup operator, your pace of life is extremely fast and life can be stressful. In conjunction with World Mental Health Day, we have invited a panel of experts to discuss ways to identify red flags, cope, heal and stay in a state of mental wellness while operating in a high intensity mode. Join other like-minded folks to network, share and learn from each other and thrive together.
This is the second installation of our 2 part series.
Join us physically at Wework or online.
Agenda
12:00pm - 12.15pm: Networking and registration
12.15pm - 12.30pm: Opening address by Founders, sponsors and sharing of Over The Rainbow
12.30pm - 1.00pm: Sharing by Anita Sadasivan, Co-Founder and Chief Wellbeing Officer at MindFi - a B2B Mental Health and Wellbeing solution provider
1.00pm - 1.30pm Questions and Answer
This is a free event.
Anita will be sharing on:
- her own personal experiences of battling stress and anxiety when running her companies (particularly leading her studio through COVID)
- highlight common mental health challenges as a founder (eg co-founder conflict leading to stress, loneliness, burnout due to volume of work, anxiety due to uncertainty)
- her own takes on managing one's own mental health as a founder
We thank Wework for sponsoring the space, and Vertex Ventures Southeast Asia and India for supporting the program.
This is an event like no other, as we aim to allow the entrepreneurs to benefit from
Learning from our speakers' authentic sharing of experiences and ways to cope/ heal/thrive
Understanding challenges/ problems to expect as the entrepreneurs continue to build their business
Network and journey with others to become the best version of ourselves

There will be business networking after the panel and Q&A. Light refreshments will be served.
Only 20 physical seats available on a first-come-first-serve basis, join us by signing up now!
About Anita Sadasivan, Cofounder and Chief Wellbeing Officer, MindFi:
Anita is Co-Founder and Chief Wellbeing Officer at MindFi - a B2B Mental Health and Wellbeing solution provider. She is also a US-trained psychologist, counsellor and dance instructor with extensive experience working in hospitals, social enterprises as well as corporate EAP programs. She has a special interest in positive psychology and preventive mental health in the workplace.
Outside of her work in mental health, Anita also owns a dance studio that aims to empower women and build confidence through movement, running close to 100 classes per week as well as special programs for cancer survivors and seniors.
As a two time founder, Anita is familiar with the unique stressors and challenges that founders experience, and is deeply passionate about founder Mental Health.
About MindFi:
-MindFi is a B2B Mental Health & Wellbeing solution provider supporting organisations across
- 8 languages
- 14 countries
- with a network of over 150 psychologists, counsellors and coaches.
More about Asia Startup Network (ASN):
ASN's mission is to help promising companies to leapfrog and realise their potential on the global stage. Mentor for Hope (2020) and Makan for Hope (2021) initiatives are non-profit initiatives of ASN. Visit www.makanforhope.org for more information.
Makan for Hope Festival (2021):
Co-founded by Elise Tan and Andrew Tan, and in tandem with Fei Yue's 30th anniversary, Makan For Hope Festival was a month-long festival of 30 virtual Makan For Hope sessions which raised > S$121,000 and impacted the lives of >1,500 like-minded change makers, entrepreneurs and aspirants across the SE Asia startup and tech ecosystem.
Each session saw 10 Participants hosted by a Host, together with a Shepherd moderating it. Each attendee of the session donated $100 (Early Bird) or $150 (Normal) for a time of networking and learning together. Hosts each donated $1000 - $3000 for their session as well.
Mentor for Hope (2020):
Co-founded by Elise Tan and Janet Neo in 2020, Mentor for Hope is a startup mentoring and charity fundraising campaign supported by over 250 VC investors, family offices, ecosystem partners, tech industry leaders (e.g. Google, Facebook, AWS), Temasek Foundation. More than 200 tech entrepreneurs benefited from a cumulation of 520 hours of mentorship
It raised over S$43,000 for Beyond Social Services and Willing Hearts Soup Kitchen, providing more than 20,000 lunch meals to persons in need, and helped more than 20 families affected by COVID-19 Pandemic for three months.
Visit www.makanforhope.org for more information.