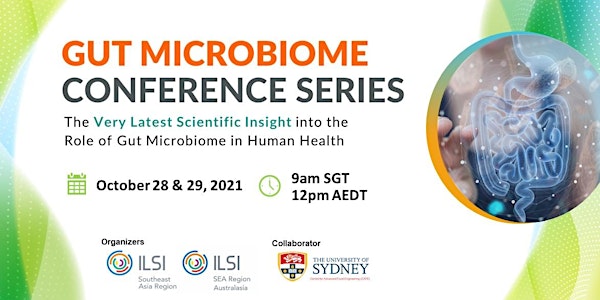 Microbiome Event 1
This conference is a must for professionals from the broader food industry, public health, research, academia, and government communities!
Refund Policy
Contact the organiser to request a refund.
Eventbrite's fee is nonrefundable.
About this event
Fast forward to 2021, the emerging science of the role of the gut microbiome in human health is growing extremely rapidly with enormous complexity. This virtual Gut Microbiome Conference Series aims to highlight the very latest science, from the leading scientific and application experts.
This could be the conference that gives you breakthrough ideas and inspiration to propel you in your research and business to find solutions that can improve human health!
Topics of special focus:
Gut Microbiome and Human Health
Gut Microbiome and Immune Function
Gut Microbiome and Metabolic Health
Gut Microbiome, Cognitive and Mental Health
Register today if you do not want to miss out this exciting and enriching experience!
PROGRAM
Program in SGT: Download HERE
Program in AEDT: Download HERE
Please note that participants will be notified via email once the conference recording is ready for access which will take a few weeks.
REGISTRATION FEES
Your registration will include unlimited access to the respective conference recording (1 or 2 days), perfect for you to revisit your favorite sessions or attendees who are unable to attend the sessions
Registration fees are charged in Singapore dollars and payment shall be made via credit/debit card payment for ease of transaction
Non-Members: SGD 90 for 2 days / SGD 50 for 1 day
Students/ILSI SEA Region Members: SGD 25 for 2 days / SGD 15 for 1 day (For students, please email your student ID/student status letter to event@ilsisea.org.sg AFTER registration and include 'Student – Gut Microbiome Conference Series' in the email subject)
Note:
- Admin fee applies. Kindly select the correct ticket category during registration
- A certificate of attendance will be issued upon request
- Refunds are not available for this event.
AFTER REGISTRATION
Attendees will receive the Eventbrite Order Confirmation email and Reminder emails (1 day, 10 minutes before and at the start time of the event).
The organizer will provide a link for you to access the event in the email reminder 10 minutes before the event starts AND at the start time of the event.
TICKETING FAQS
How do I join the event?
The organizer will provide a link for you to access the event in the email reminder 20 minutes before the event starts AND at the starting time of the event.
This link will direct you to login and access the Eventbrite Online Event Page where you can join your respective Zoom Webinar Sessions
Your Eventbrite account is automatically created upon registration using the email address associated with ticket. Please use the email address to login. If you forgot your password, you can click 'Email me a login link' button. Once you receive the login link from your email, you can join the event directly.
For first timers using Eventbrite, an account activation email will automatically send to you to activate and set a password when you registered for the event.
For more information on joining an online event, please visit HERE
Why I did not receive Eventbrite Emails?
This could be due to the following reasons:
Email deliverability: The confirmation email was sent to your junk/spam folder. Check your spam/junk folder and search noreply@order.eventbrite.com
Incorrect email address: A different/incorrect email address was used to place the order. Please check with the person who has registered for you if he/she has received the emails. If it is an incorrect email address, drop us an email at event.ilsisea.org.sg and we will check for you.
For more information on why you did not receive the emails, please visit HERE
Is there a refund policy?
Refunds are not available for this event.
This event is organized by ILSI SEA Region (ILSI SEAR) and ILSI SEAR Australasia in collaboration with the Centre for Advanced Food Engineering (CAFE), University of Sydney, Australia.
More information about the event, please visit HERE
If you have any enquiries on this conference series, please contact ILSI SEA Region Secretariat at event@ilsisea.org.sg