Description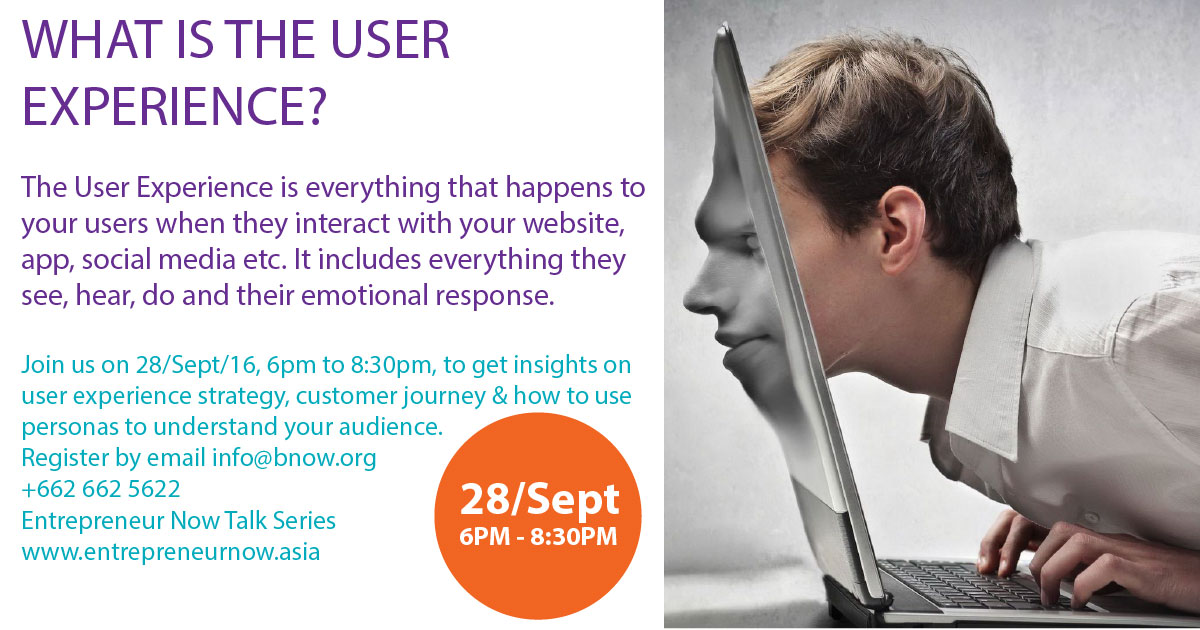 What: A talk on MILLENNIAL USER EXPERIENCE: WHAT DOES IT MEAN FOR YOUR BRAND?
As part of the Entrepreneur Now Series, BNOW.org, a Bangkok networking community for startups and SMEs, and a Thai registered social enterprise, in collaboration with Kizmo, a UX and digital strategy company, is organizing a talk on MILLENNIAL USER EXPERIENCE: WHAT DOES IT MEAN FOR YOUR BRAND?
In today's digital age, consumers have come to demand a rich, engaging and an authentic experience. They have more channels to interact with brands and a wide choice of products to select. This has given rise to user experience (UX), which is more than just a buzzword as it can make or break your brand.
Michael Lisboa, Founder and Experience Strategy Director at Kizmo, who has planned and executed digital campaigns for some of the most influential brands in the world including Oreo, Citigroup, Singapore Airlines, Justin Timberlake and Pepsi, will discuss how to define user experience strategy and customer journey, understand your audience (using personas) and how to create a brand digital experience through social media and website to take to the market.
Joining him will be Pacharee Pantoomano, Co-founder of Brand Now Co., Ltd., the go to marketing and PR agency for famous brands like Grab, Eatigo, WearYouWant, Lalamove and more, who will talk about millennials, the up & coming consumer powerhouse and how to connect your brand to this audience. There will also be a panel discussion by Gotasty, Priceza, and Grab on how they've developed their customer experience and how they engage millennials.
When: September 28th, 6pm-8:30pm
Where: Work Loft Silom, Silom Soi 1 (BTS Saledaeng, MRT Silom)
Who should attend: Brand managers, social media and digital marketers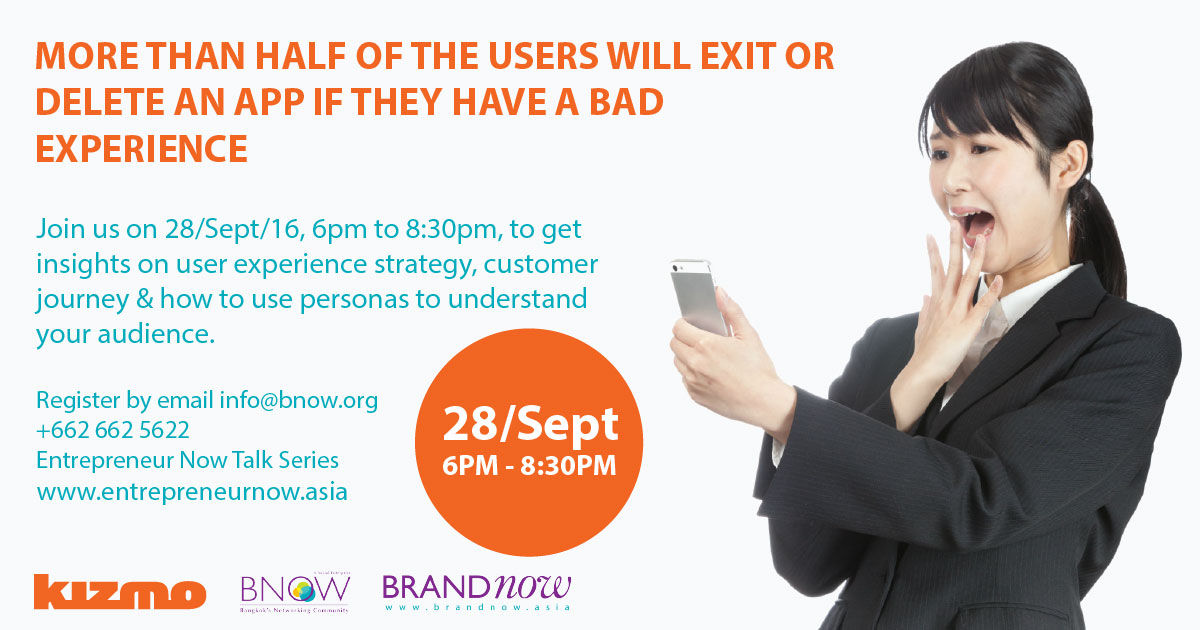 Organizer of MILLENNIAL USER EXPERIENCE: WHAT DOES IT MEAN FOR YOUR BRAND?
The Bangkok's Networking Community, BNOW for short, was conceived in late 2003 by a group of friends who shared similar challenges and wanted to make a difference. The group's aim is to create a forum that can help professional business men and women living and working in Bangkok. Members are encouraged to contribute, be active and positive. The monthly meetings are a way to have professionals meet and interact, enabling them to put faces to names and to make new friends and business connections in this transient town.