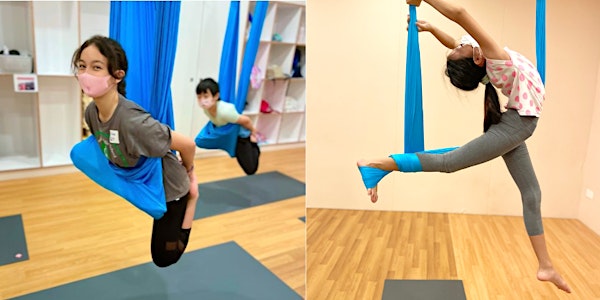 Mindfulness and Aerial Holiday Camp for Age 10-15
Mindfulness and Aerial Holiday Camp for Age 10-15
Date and time
March 15 · 9am - March 16 · 2pm +08
Location
Mindful Space 10 Winstedt Road Block A, 02-02 Singapore, 227977 Singapore
About this event
March Holiday Camp
Activities on both days
mindfulness (intention setting, reflection and quiet time)
mindful movement / yoga
snack break
aerial with hammock
mindful eating
Mindfulness & Kids Yoga
✅ Get to know MY BODY – Mindful of our body
Learn about different body parts and our superpower breath.
Understand our body is all different and very smart. When we do something new, we are introducing changes to both the body and mind. What happens when there is a change, we might like it, we might not and the most important thing is we don't judge. We allow time for the body and mind to experience the changes. We allow time for the body to thrive and adapt.
How can we help? Rest & stretch.
✅ Get to know MY MIND – Silent Yoga & promote creativity
Understanding our brain is super smart, alert us when there is a danger to protect us or inform us something is super fun, and let's do it quickly. Who is even smarter than our brain? You – the combination of your brain, breath, and heart.
How to overcome fear? Deep breath in and out. Understand the steps needed to do the challenge, try and ask for help
How to calm the excited mind? Sometimes when asked to do something, we think it is so easy and we are excited, we laugh, we talk and we lose our breath and attention. We can be excited yet mindful. Being mindful keeps us aware. When we are aware, we are safe because we can pay attention
✅ Get to know MY LIFE – Mindful Living
Understand that we all have superpowers to help achieve what we want if we get to know ourselves and the people around us better. The first step is to slow down and take our superpower breath.
Mindful Body – Recap of the 10 steps of sun salutation A and variations of the poses
Mindful Mind – Rest, Rejuvenate & Refocus. Learn simple meditation and relaxation techniques
Aerial Yoga
Inversions are a great tool for self-regulation to the central nervous system
Fun and therapeutic environment to flip, rock and swing to improve body and spatial awareness
Upside down with the help of gravity aligns and decompress the spine, promotes blood circulation and a calming sensory to the brain
Movements in different orientations and directions help develop a strong sense of balance; train the brain's focus, motor planning, and working memory
Up in the air enhances self-confidence, responsibility and require good observation and listening skills to move in and out of different poses
Research has shown that your child's brain and body are calmer and more integrated after they flip, swing, and go upside down. We focus on teaching values through fun play! It's not what we teach but how we teach it. The teachers and the space make a difference, and you will understand why it's our signature program when your child experiences it.
Values we cultivate through the fun play activities:
Growth Mindset
Emotion Regulation
Resilience
Body Awareness
Social Cues
Suitable for beginners, no prior yoga or aerial experience required.
Mindful Eating
Today's fast-paced society tempts people with an abundance of food choices and technology is a distraction, shifting our attention away from the actual act of eating. Eating becomes a mindless act, often done quickly. This can be problematic since it takes our brain up to 20 minutes to realize we are full.
By eating mindfully, we restore our attention and slow down, making eating an intentional act instead of an automatic one.
Allowing children to explore and be willing to try food that is within and out of their comfort zone
Aim to intrigue their curiosity, it is okay for them to verbalise their preference yet the goal is to be willing to try different things
If your child has a strict diet or allergies, please notify us during the registration. Alternatively, bring your own lunch.
Learning Points:
Slow down and enjoy the act of eating
Engaging our senses by noticing colours, smells, sounds, textures and flavours
Noticing the effects food has on our feelings and emotions
Appreciating food
Connecting food with the circle of life. Understand how and what we eat affects the world.
Lunch Provided
Day 1: Japanese stew chicken ball, fried egg roll with kamameshi rice, fruits and yogurt.
Day 2: Fried noodles, braised mushroom with beancurd skin, roasted chicken, fruits and yogurt.
If your child has food allergies or dietary requirements, you can pack your own lunch.
Price:
$250 per child
$240 per child for buddy rate (2 or more children)
Class Size:
Minimum 6 pax to commence
Maximum 10 – 11pax
Dress Code
Best to wear sports attire. Wear a shirt with sleeves (no sleeveless), direct hammock contact against the skin with tension might be uncomfortable.
Wear long pants/tights comfortable for stretches and large movements (no shorts or skirts).
NO jewellery, clothes with zips, or long nails (damages hammock).
Bring your own water bottle.
Note
This ticket is not applicable for cancellation or refund unless Mindful Space cannot commence or proceed with the activity.
Tickets are transferable to others for the same date but not refundable. If you can no longer attend (eg: sick or travel), you can find family or friends to replace you. You can also try your luck to check-in if there is someone on the waiting list.
By signing up for this programme, you agreed to be contacted for future events via WhatsApp
WhatsApp +65 9783 7313 to be on the waiting list or organise private camp dates.
Stay updated with the latest events and workshops at:
FB: @MindfulSpaceSg
Insta: #mindful_space_
Mindful Space
97837313
https://www.mindfulspace.com.sg/
About the organizer
Holistic and inclusive space to empower parent & child with life skills - develop & balance the mind (IQ), body (PQ), emotions and behaviour(EQ).
We believe in order to support the child, we must first support the parent.
1. Parent's Well Being
2. Parenting Knowledge & Skills
3. Parent's bonding & learning with their child
OUR SERVICES:
Parent & Child Classes
Kids Enrichment
Yoga & Fitness
Life Coach
Business Coach
Family Consultation 
Parenting Workshops 
Teacher Trainings
Corporate Events
Holiday Programmes