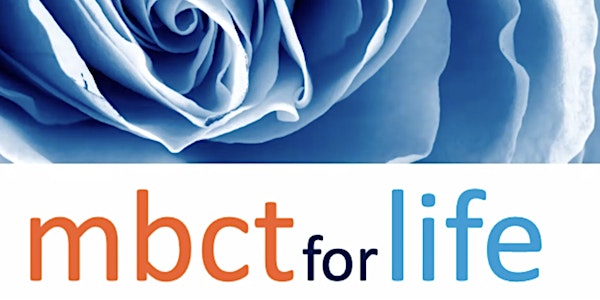 Mindfulness Based Cognitive Therapy by Angie Chew - NT20230810MBCT
Break the cycle of anxiety, stress and unhappiness with MBCT, an evidence based course co-founded by Oxford University UK.
Date and time
Thu, 10 Aug 2023 19:00 - 21:30 +08
Location
Brahm Centre @ Newton 47 Scotts Road Goldbell Towers #04-02A Singapore, 228233 Singapore
About this event
2 hours 30 minutes

Mobile eTicket
"Thanks to the MBCT course, I now have a good relationship with my mother-in-law! It takes time, patience, consistent effort, and mindfulness to get to where we are now. I am very grateful!" - Carmen Sep-Oct 2021 course
WHAT?
Mindfulness-Based Cognitive Therapy (MBCT) was designed in Oxford University to help people who suffer repeated bouts of depression and chronic unhappiness. It combines the ideas of cognitive therapy with meditative practices and attitudes based on the cultivation of mindfulness. The heart of this work lies in becoming acquainted with the modes of mind that often characterise mood disorders while simultaneously learning to develop a new relationship to them. MBCT was developed by Dr. Zindel Segal, Dr. Mark Williams and Dr. John Teasdale.
What are some of the benefits of this course?
Reduces anxiety & depression relapse
Enhances ability to cope effectively with stress
Improves well-being and sleep quality
In this course, we will investigate the following themes:
Session 1:Waking up from autopilot
Session 2: Another way of being
Session 3: Gathering the scattered mind
Session 4: Recognising reactivity
Session 5: Allowing and letting be
Session 6: Responding skilfully : thoughts are not facts
Session 7: How can I best take care of myself
Session 8: Mindfulness for life
What will this course include?
Guided instruction in mindfulness meditation practices (choice of sitting on a chair/cushion/yoga mat)
Highly participatory, group dialogue and discussions aimed at understanding our own mind patterns and habits
Daily mindfulness assignments
Downloadable daily practice audio files
Handouts will be given each session
Suitable for adults and teenagers 16 and above.
WHEN?
Thursday, 10 August - 7pm-9.30pm
Thursday, 17 August - 7pm-9.30pm
Thursday, 24 August - 7pm-9.30pm
Thursday, 31 August - 7pm-9.30pm
Thursday, 7 September - 7pm-9.30pm
Thursday, 14 September - 7pm-9.30pm
Thursday, 21 September - 7pm-9.30pm
Thursday, 28 September - 7pm-9.30pm
WHERE?
Brahm Centre @ Newton
1-DAY RETREAT:
Sunday, 17 September - 9am-5pm @ Brahm Centre @ Tampines
Total:
8 sessions at Brahm Centre @ Newton
1 Full-day retreat at Brahm Centre @ Tampines
All sessions and retreat must be attended to receive a completion certificate
Course fee:
$550 | $110 for seniors eligible for National Silver Academy (NSA) subsidy*
*NSA subsidy is for Singaporeans and Permanent Residents aged 50 and above.
In addition to the NSA subsidy, course fee may be offset by SkillsFuture Credit (SFC).
Payment Procedure:
1) Upon registration, course participants are to make payment for the course through Brahm Centre's Eventbrite page.
2) Participants have to claim with SFC before the course start date through the SkillsFuture portal, https://www.myskillsfuture.gov.sg/content/portal/en/index.html
3) Brahm Centre will reimburse the amount that is successfully claimed upon receipt of the funds from SFC. This procedure can take up to 8 weeks from the course start date.
Notes:
· Please take note that payments for courses are non-refundable.
· Do ensure that you are able to attend the first session of the course before registering for the course as you will not be allowed to continue with the course should you miss the first session.
· Request for transfers or make up-classes for selected mindfulness courses are subjected to availability and fees of $30 for the transfer of the whole course and $10 for every request to make-up classes are applicable.
About the organiser
Brahm Centre is a leading course provider of a wide range of science-based mindfulness programs to reduce stress and enhance well-being in today's fast paced world. We have worked with healthcare agencies, schools and corporations to equip employees, parents and students with mindfulness tools to help them stay physically and mentally well. 
Course graduates may enhance their practice by joining our weekly mindfulness clubs. Furthermore there are free regular health talks conducted by healthcare professionals and qualified speakers open to the public.
Launched in 2012 as a charity that aims to promote happier and healthier living, Brahm Centre is a full member of the National Council of Social Services and an Institution of Public Character.
Come begin your mindfulness journey with us. 
Please note that all course registrations are NON-refundable. Transfer of selected mindfulness courses is subject to a $30 transfer fee and a $10 admin fee for a mindfulness make-up class. There are NO transfers or make-up classes available for all other courses.