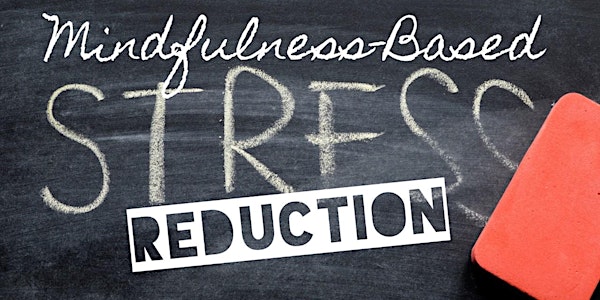 Mindfulness Based Stress Reduction by Eric Lim - NT20230614MBSR
An evidence-based course to reduce stress, explore the effects of perception on our experiences & life choices & enhancing communications
Date and time
Wed, 14 Jun 2023 19:00 - 21:30 +08
Location
Brahm Centre @ Newton 47 Scotts Road Goldbell Towers #04-02A Singapore, 228233 Singapore
About this event
2 hours 30 minutes

Mobile eTicket
WHAT?
Mindfulness Based Stress Reduction (MBSR) Program, developed by Dr Jon Kabat Zinn at the University of Massachusetts (UMass) Medical School in 1979, consists of eight lessons and a one all-day retreat. There are 31 hours of learning and practice hours in total.
MBSR is a well-defined and systematic mindfulness approach to teach people how to take better care of themselves and live healthier and more adaptive lives.
What are some expected outcomes of the course?
Approach your life with more composure, energy, understanding and enthusiasm
Develop the ability to cope more effectively with both short-term and long-term stressful situations
Enhance your ability to manage and reduce pain levels in many instances
Improve your focus, resilience and capacity to recover more quickly from challenging events
In this course, we will investigate the following themes:
Session 1: Introduction to Mindfulness
Session 2 : Perception Matters
Session 3: Power of Being Present
Session 4 : Stress Reactivity
Session 5 : Choosing a Response
Session 6 : Mindful Communications
Session 7 : Integrating Mindfulness in Daily Lives
Session 8 : Maintaining Momentum in Mindfulness
WHEN?
Wednesday, 14 June - 7pm-9.30pm
Wednesday, 21 June - 7pm-9.30pm
Wednesday, 28 June - 7pm-9.30pm
Wednesday, 5 July - 7pm-9.30pm
Wednesday, 12 July - 7pm-9.30pm
Wednesday, 19 July - 7pm-9.30pm
Wednesday, 26 July - 7pm-9.30pm
Wednesday, 2 August - 7pm-9.30pm
Total of 8 sessions.
WHERE?
Brahm Centre @ Newton
1 DAY RETREAT
Sunday, 23 July - 9am-5pm
Brahm Centre @ Tampines
Total
8 weekly Sessions at Brahm Centre @ Newton
1Full-day retreat at Brahm Centre @ Tampines
All sessions and retreat must be attended to receive a completion certificate
Course fee:
$550 | $110 for seniors eligible for National Silver Academy (NSA) subsidy*
*NSA subsidy is for Singaporeans and Permanent Residents aged 50 and above.
In addition to the NSA subsidy, course fee may be offset by SkillsFuture Credit (SFC).
Payment Procedure:
1) Upon registration, course participants are to make payment for the course through Brahm Centre's Eventbrite page.
2) Participants have to claim with SFC before the course start date through the SkillsFuture portal, https://www.myskillsfuture.gov.sg/content/portal/en/index.html
3) Brahm Centre will reimburse the amount that is successfully claimed upon receipt of the funds from SFC. This procedure can take up to 8 weeks from the course start date.
Notes:
· Please take note that payments for courses are non-refundable.
· Do ensure that you are able to attend the first session of the course before registering for the course as you will not be allowed to continue with the course should you miss the first session.
· Request for transfers or make up-classes for selected mindfulness courses are subjected to availability and fees of $30 for the transfer of the whole course and $10 for every request to make-up classes are applicable.
Trainer Bio:
Eric Lim, senior Mindfulness Psychologist, spearheads Brahm Centre's curriculum development and research on mindfulness. He has delivered over 200 mindfulness courses, talks and workshops to over 6,000 individuals who span across ages (young children, teenagers, young adults, working adults, elderly) and professions from education, government, financial and social service sectors.
Eric is a Certified Mindfulness-Based Stress Reduction Teacher, conferred by the Mindfulness Center at Brown University School of Public Health, in collaboration with UMASS Memorial Health Care's Center for Mindfulness. He is also a Dot-b and Paws-b teacher from the Mindfulness in Schools Project (UK), and a MOE-registered instructor. In 2017, Eric was awarded the Young Model Caregiver (Merit) Award by AWWA as well as a Social and Health Manpower Development Programme Fellowship by the Ministry of Health.
About the organiser
Brahm Centre is a leading course provider of a wide range of science-based mindfulness programs to reduce stress and enhance well-being in today's fast paced world. We have worked with healthcare agencies, schools and corporations to equip employees, parents and students with mindfulness tools to help them stay physically and mentally well. 
Course graduates may enhance their practice by joining our weekly mindfulness clubs. Furthermore there are free regular health talks conducted by healthcare professionals and qualified speakers open to the public.
Launched in 2012 as a charity that aims to promote happier and healthier living, Brahm Centre is a full member of the National Council of Social Services and an Institution of Public Character.
Come begin your mindfulness journey with us. 
Please note that all course registrations are NON-refundable. Transfer of selected mindfulness courses is subject to a $30 transfer fee and a $10 admin fee for a mindfulness make-up class. There are NO transfers or make-up classes available for all other courses.