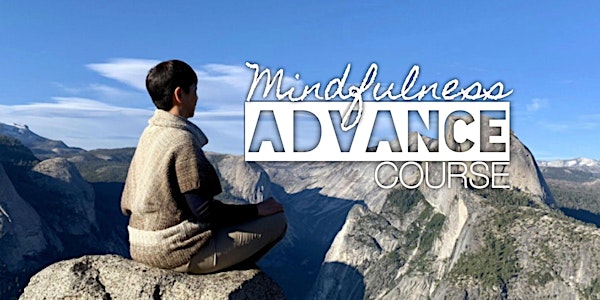 MindfulnessAdvancedCourse:DrChrisWillard(In-Person)/AngieChew-NT20221207MAC
A 5-day masterclass to learn how to lead mindfulness sessions skilfully
When and where
Location
Chui Huay Lin Club 190 Keng Lee Road Singapore, 308409 Singapore
About this event
Join Harvard' s psychologist & author Dr. Christopher Willard and Mindfulness Principal Adj A/Prof. Angie Chew in this course for educators, healthcare professionals and individuals interested in sharing mindfulness with adults and students. 
7-9 Dec: This course will include a 3-day retreat for you to learn the brain science and mindfulness practices that you will need to reduce your personal stress level as teachers, therapists, parents and others looking for creative ways to share mindfulness through awareness, movement, games, play, and creative activities for all ages.
10-11 Dec: Teach-backs will be the main focus during these two days to enable you to practice teaching what you have learnt in the first 3 days.
PRE-REQUISITES (Please see below for the application process).
Mindfulness Based Stress Reduction Course and/or Mindfulness Based Cognitive Therapy Course conducted by Brahm Centre
AND
3-day or 5-day mindfulness retreat conducted by Brahm Centre
Venues:  Chui Huay Lin Club (7-9 Dec) & Brahm Centre @ Tampines (10-11 Dec)
Program:
Dec 7
8am Registration
9am - 12noon - Morning session
12noon - 1:30pm - Lunch Break 
1:30pm - 6pm - Afternoon session (with breaks in between)
Dec 8-Dec 11
9am - 12noon - Morning session
12noon - 1:30pm - Lunch Break 
1:30pm - 6pm - Afternoon session (with breaks in between)
What to Bring: 
Note Book, pen, yoga mat, water bottle, shawl or jacket in case you feel cold. Wear comfortable clothings.
Subsidy: 
If you need one, please write to us. (info@brahmcentre.com)
_______________________________________________________
HOW TO APPLY:
STEP 1:
Copy this link to fill in the application form: https://www.surveymonkey.com/r/MACApplication20221207
STEP 2:
Once your application is successful, you will receive an e-mail containing a link to register for the MINDFULNESS ADVANCE COURSE and a promotion code.
STEP 3:
Please follow the link and register for the course. Input the promo code for the correct ticket type that you are selecting, and make payment accordingly.
STEP 4:
Upon successful registration and payment, you will receive a confirmation e-mail from Eventbrite with your registration ticket attached.
To Note:
Places are limited
Place will be assigned when application is accepted
You must complete with payment within 2 days for the assigned place to be secured
Place will automatically be withdrawn when no payment is made within 2 days
Certificate of completion is issued upon FULL attendance and participation at the course
_______________________________________________________
Course Fee:
$770 | $154 for seniors eligible for National Silver Academy (NSA) subsidy*
*NSA subsidy is for Singaporeans and Permanent Residents aged 50 and above.
In addition to NSA subsidy, course fee may be offset by SkillsFuture Credit (SFC). 
First, course participants are to make payment for the course through Brahm Centre Eventbrite page.
They should claim with SFC before the course start date through the SkillsFuture portal, clicking for steps to submit SFC claim.
Brahm Centre will reimburse the amount that is successfully claimed upon receipt of the funds from SFC.
Adj. A/Prof Angie Chew
Angie Chew is the Founder and CEO of Brahm Centre, a charity with over 50 staff, dedicated to promoting healthier and happier living. In recognition of her contributions in the mental health space, she was named The Straits Times Singaporean of Year 2019. 
She is the first certified Mindfulness Based Stress Reduction teacher in Singapore by Brown University-University of Massachusetts, a certified Dot-b and Paws b mindfulness teacher and a Mindfulness Based Cognitive Therapy Course teacher under Oxford University Mindfulness Centre's training. 
She is also an Adjunct Associate Professor of mindfulness at the National University of Singapore. She has taught mindfulness courses, workshops and retreats to more than 10,000 people across all ages. 
Her corporate clients extend across various industry sectors - from healthcare (Ministry of Health, National Health Group, SingHealth, Institute of Mental Health, Agency for Integrated Health, Tan Tock Seng Hospital, Community Psychology Hub), education institutions (Ministry of Education, Lee Kuan Yew School of Public Policy, Hwa Chong Institution, Raffles Institution, Nanyang Girls Secondary, St Anthony's Canossian Secondary School ) to finance (DBS Bank, OCBC Bank, Bank of Singapore and Goldman Sachs) just to name a few.
Dr Christopher Willard
Dr Christopher Willard, (Psy. D.) is a clinical psychologist, author and consultant based in Massachusetts. He has spoken in more than two dozen countries and has presented at two TEDx events. He is the author of twenty books, including Alphabreaths (2019), Growing Up Mindful (2016) and How We Grow Through What We Go Through. (2022) His thoughts on mental health have been featured in The New York Times, The Washington Post, mindful.org, cnn.com, to list a few. He teaches at Harvard Medical School.
_______________________________________________________
Notes:
Please note that payments for courses are non-refundable. 
Do ensure that you are able to attend the first session of the course before registering for the course as you will not be allowed to continue with the course should you miss the first session.