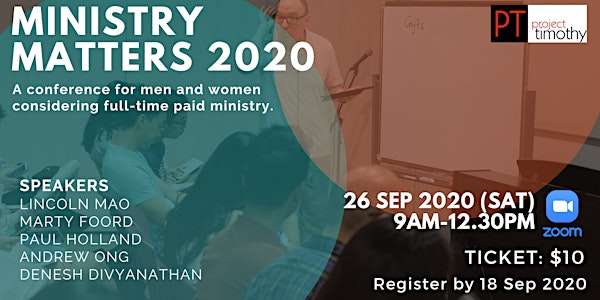 Ministry Matters 2020 | Project Timothy
A conference for men and women considering full-time paid ministry.
About this event
SEP 26, 2020 (SAT)
9AM-12.30PM (ON ZOOM)
Ticket: $10
Registration closing date: 18 Sep 2020 11:59PM
More than ever the global pandemic is preaching to us that our world is passing away. And so more than ever workers are urgently needed to bring the gospel of life to our perishing world. Join us for Ministry Matters 2020 wherever you are on the journey of considering full-time paid gospel ministry.
Schedule:
9.00am: Opening Exposition (Lincoln Mao)
9.50am: Break
10.00am: Seminars (Choose one)
1) How do I know that God has called me into ministry? (Marty Foord)
2) How should I think about my spouse and children as I consider ministry? (Paul Holland)
3) How godly must I be to enter ministry? (Andrew Ong)
11.20am: Break
11.30am: Closing Exposition (Denesh Divyanathan)
12.00pm: Q&A and Prayer in Breakout Rooms with Pastors
12.30pm: End
ABOUT OUR SPEAKERS
Lincoln Mao is the Next Gen (Young Adults, Youth & Children) pastor at Bethesda Christian Centre.
Marty Foord is Academic Dean at the Evangelical Theological College of Asia (ETCAsia) where he teaches Systematic Theology.
Paul Holland is Founding Pastor of Gateway Church, a new church plant in the west of Singapore.
Andrew Ong is Senior Pastor at Bethany Trinity Presbyterian Church.
Denesh Divyanathan is Founding Pastor at The Crossing Church and President of Project Timothy.