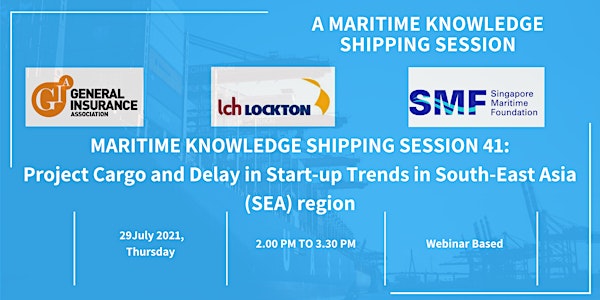 MKSS 41: Project Cargo and Delay in Start-up Trends in SEA Region
Maritime Knowledge Shipping Session 41: Project Cargo and Delay in start-up trends in SEA region
About this event
Maritime Knowledge Shipping Session 41:  Project Cargo and Delay in start-up trends in SEA region
Date: 29 July 2021, Thursday
Time: 2.00PM to 3.40PM ( Registration commences at 1.45PM)
Venue: Webinar Based
About
The General Insurance Association of Singapore (GIA) and the Singapore Maritime Foundation (SMF) are jointly organizing the 41th Maritime Knowledge Shipping Session (MKSS) titled "Project Cargo and Delay in Start-up Trends in South-East Asia (SEA) region".
This webinar is part of the MKSS, a series of seminars where insurance and maritime experts are invited to present insights and analysis on the current and emerging trends in the marine insurance and maritime sectors.
This webinar is free of charge. LCH Lockton Pte Ltd has proudly sponsored the MKSS series since 2007.
Overview
Marine Delay in Start-Up (DSU) insurance has been one of the few growth areas in marine insurance in the recent past. Financiers and project owners realise the potential financial impact on a project due to a delay in critical component delivery to the construction site and increased demand for financial protection.
Principals now often collateralise loans with project assets and repay them purely based on projected earnings. The revenue-generating capability of a project has become a critical financing factor. Accordingly, stringent conditions regarding delays in scheduled project completion have been added to contracts between financiers and principals, particularly those between principals and contractors. In turn, these conditions compel the parties involved to acquire the broadest possible insurance cover available in the market. This prompted a sharp rise in demand for delay in start-up (DSU) cover or advance loss of profit (ALOP) insurance.
The increasing complexity of projects and the development of large pre-assembled modules (PAMS) offshore for many critical components have only fuelled the demand. Transporting PAMS to the site requires constructing new infrastructure, shipping, and handling facilities since they test or exceed the known limits of existing facilities. All of these factors add to the complexity of underwriting project risks and managing warranty surveys.
This webinar examines a few essential facets of Marine DSU underwriting, wordings and Risk Management/Loss prevention.
Who Should Attend?
Participants from business functions such as Underwriting, Claims, Specialty Classes and Actuary or support functions such as Business Development and Risk Management.
Registration
Registration for the seminar is FREE and is limited to 220 participants.  To attend the seminar, please register by  23 July 2021 , Friday, 5.00PM.
Link to Webinar
Kindly note that the link to the webinar would be shared with confirmed participants a day before the actual webinar date. The platform for this webinar would be GoToMeeting.
Certificate of Attendance
A certificate of attendance of 1.5 hours will be awarded to each participant upon written email request to the GIA secretariat at rsvp@gia.org.sg after the event with the attendance verification code.
Programme Outline
1.45 PM – 2.00 PM
Registration
~
2.00 PM - 2.05 PM
Opening Address by  Ms Tan Beng Tee, Executive Director, Singapore Maritime Foundation & Member of the GIA Marine Insurance Committee
~
2.05 PM – 2.35 PM
Topic - How do we underwrite Project Cargo with DSU?
Co-presented by:
Mr. Marcus Seow
Senior underwriter Marine Cargo
Deputy Project Cargo Trade Sector Manager
AXA XL, Singapore
Mr Luca Ronsisvalle
Head of Marine Cargo Underwriting, South East Asia
AXA XL, Singapore
~
2.35 PM - 3.05 PM
Topic - Challenges with Project Cargo Transportation during Dynamic Times
Capt. Sjoerd A. Blomsma
Marine Consultant / Master Mariner
Solis Marine Consultants Pte Ltd (Singapore)
~
3.05 PM - 3.35PM
Panel Discussion
Moderator:
Mr Daniel Ling
Senior Underwriter, Marine
Etiqa Insurance Pte Ltd
~
3.35 PM - 3.40 PM
Closing Address by Mr Rama Chandran, Convenor of GIA Marine Insurance Committee
PDPA Consent Clause
By interacting with, submitting to or signing for any organised activity offered by General Insurance Association of Singapore ("GIA"), you agree and consent to GIA collecting, using, disclosing and sharing of your personal data, for the purpose of engagement, operational planning of activities, as well as communication of future events and programmes information. GIA respects personal data and privacy, and will only share such information with third parties on a required basis. Should you wish to withdraw or limit your consent, please write with full particulars to our data protection officer to melvin.fun@gia.org.sg