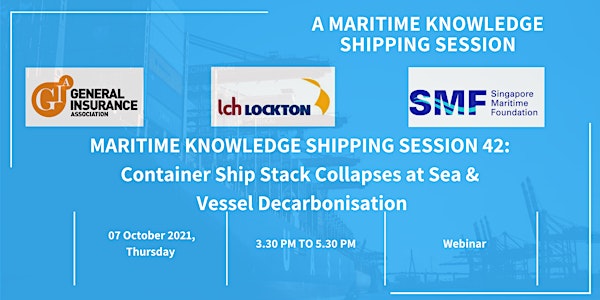 MKSS 42: Container Ship Stack Collapses at Sea & Vessel Decarbonisation
Sales Have Ended
Registrations are closed
Thank you for your interest in the seminar. Registrations are now closed. Participants who have successfully registered for the seminar should receive a confirmation email. If you wish to be placed on the waitlist, please leave your contact details and an email will be sent to you should there be any cancellations. We look forward to seeing you and wish you a great day ahead.
Maritime Knowledge Shipping Session 42: Container Ship Stack Collapses at Sea & Vessel Decarbonisation
About this event
Maritime Knowledge Shipping Session 42:  Container Ship Stack Collapses at Sea & Vessel Decarbonisation
Date: 7 October 2021, Thursday
Time: 3.30PM to 5.30PM ( Registration commences at 3.15PM)
Venue: Webinar Based
About
The General Insurance Association of Singapore (GIA) and the Singapore Maritime Foundation (SMF) are jointly organizing the 42nd Maritime Knowledge Shipping Session (MKSS) titled "Container Ship Stack Collapses at Sea & Vessel Decarbonisation".
This webinar is part of the MKSS, a series of seminars where insurance and maritime experts are invited to present insights and analysis on the current and emerging trends in the marine insurance and maritime sectors.
This webinar is free of charge. LCH Lockton Pte Ltd has proudly sponsored the MKSS series since 2007.
Overview
This session would explore why container ship stack collapses at sea, where they are happening, the commercial/insurance risks involved when a container collapse at sea occurs and the consequential costs that may accumulate after such events. Under the terms of most bills of lading and charter party agreements, the carrier has some defences against liability following such events and the likelihood of being able to rely on such defences.
The presentation will also briefly look at the latest emissions targets that the International Maritime Organisation (IMO) have announced for 2030 and for 2050 and the changes to Annex VI of the MARPOL Convention that the Marine Environmental Protection Committee (MEPC) of the IMO has adopted under MEPC 76. It will also look at the far stricter emission standards that the European Union has recently announced will need to be adhered to in European waters. There are numerous proposed options for alternative fuels, some of which have not been commercially tested for reliability when produced in the large quantities that will be required, raising questions about quality, storage, and supply. Most of these alternatives, which may need to be employed as "dual fuels".
All the issues arising out of stricter shipping environmental standards could have serious insurance implications. A vessel in breach of international requirements that leads to the failure to obtain the necessary certificates may be considered to make a vessel technically "unseaworthy". Such a charge could leave vessel owners and charterers with wider exposures under their bills of lading and charter party agreements than may be realised.
Who Should Attend?
Participants from business functions such as Underwriting, Claims, Specialty Classes and Actuary or support functions such as Business Development and Risk Management.
Registration
Registration for the seminar is FREE and is limited to 230 participants.  To attend the seminar, please register by  1 October 2021, Friday, 5.00 PM.
Link to Webinar
Kindly note that the link to the webinar would be shared with confirmed participants a day before the actual webinar date. The platform for this webinar would be GoToMeeting.
Certificate of Attendance
A certificate of attendance of 2 hours will be awarded to each participant upon written email request to the GIA secretariat at rsvp@gia.org.sg after the event with the attendance verification code. We regret to inform you that only requests citing the attendance verification code will be processed.
Programme Outline
3.15 PM – 3.30 PM
Registration
~
3.30 PM - 3.35 PM
Opening Address by  Mr Rama Chandran, Convenor of GIA Marine Insurance Committee
~
3.35 PM – 4.05 PM
Session 1 - Container Ship Stack Collapses at Sea – Why They Happen, and the Commercial / Insurance Risks Involved
Mr Stephen J. Harris
Senior Vice President, Marine & Cargo Practice
Marsh JLT Specialty (UK)
~
4.05 PM – 4.20 PM
Panel Discussion for Session 1
Moderator
Mr Paul Hackett
Co-Global Head of Marine, Canopius Asia Pte Ltd
& Member of GIA Marine Insurance Committee
~
4.20 PM – 4.25 PM
Break
~
4.25PM – 5.10 PM
Session 2 – Vessel Decarbonisation – Regulation and Insurance Risks Involved
Mr Stephen J. Harris
Senior Vice President, Marine & Cargo Practice
Marsh JLT Specialty (UK)
~
5.10 PM - 5.25 PM
Panel Discussion for Session 2
Moderator
Mr Rama Chandran
Head Of Marine – Singapore & Head of Hull & Marine Liability - Asia, QBE Insurance (Singapore) Pte Ltd & Convenor of GIA Marine Insurance Committee
5.25 PM - 5.30 PM
Closing Address by Ms Tan Beng Tee, Executive Director, Singapore Maritime Foundation & Member of the GIA Marine Insurance Committee
PDPA Consent Clause
By interacting with, submitting to or signing for any organised activity offered by General Insurance Association of Singapore ("GIA"), you agree and consent to GIA collecting, using, disclosing and sharing of your personal data, for the purpose of engagement, operational planning of activities, as well as communication of future events and programmes information. GIA respects personal data and privacy, and will only share such information with third parties on a required basis. Should you wish to withdraw or limit your consent, please write with full particulars to our data protection officer to dpo@gia.org.sg