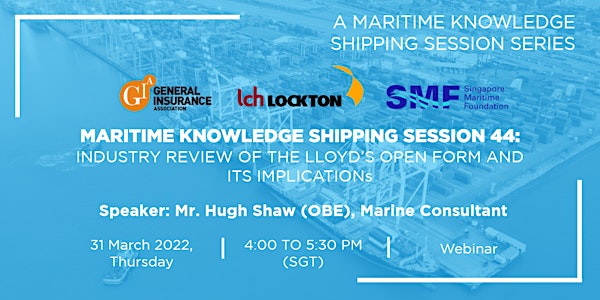 MKSS 44: Industry Review of the Lloyds' Open Form and its Implications
Industry Review of the Lloyds' Open Form and its Implications: Delays in the Engagement of Salvage Services in Marine Casualties
By General Insurance Association of Singapore
Date and time
Thu, 31 Mar 2022 01:00 - 02:30 PDT
About this event
Maritime Knowledge Shipping Session 44:  Industry Review of the Lloyds' Open Form and its Implications
Date:  31 March 2022, Thursday
Time: 4.00 PM to 5.30 PM ( Webinar room opens at 3.45 PM)
Format: Zoom Webinar
Speaker: Mr. Hugh Shaw (OBE), Marine Consultant
About
The General Insurance Association of Singapore (GIA) and the Singapore Maritime Foundation (SMF) are jointly organizing the 44th Maritime Knowledge Shipping Session (MKSS) titled "Industry Review of the Lloyds' Open Form and its Implications".
This webinar is part of the MKSS, a series of seminars where insurance and maritime experts are invited to present insights and analysis on the current and emerging trends in the marine insurance and maritime sectors.
This webinar is free of charge. LCH Lockton Pte Ltd has proudly sponsored the MKSS series since 2007.
Presentation Synopsis
Delays in the Engagement of Salvage Services in Marine Casualties
When faced with a marine casualty, shipowners, managers, operators and their insurers are faced with making an important decision regarding their choice of contract, in particular when the crew, vessel or the environment is at risk, or may become at risk if the situation deteriorates.
In 2020, the use of traditional LOF contracts was reported to be at a historic low confirming a continued decline in its use over recent decades. This decline has been well documented and there is a myriad of contributing factors. There is, though, a common acceptance that in the era of modern communication one of the principal reasons for the decline of the LOF contract is that it is possible for owners and/or their insurers to contract salvage services on terms they perceive to be more attractive.
The impact of the decline in using LOF is potentially far reaching. Existentially the salvage industry question whether, in the long term, there will be the capability to respond swiftly and adequately to a marine casualty where there is a risk to life and the environment without the enhanced awards that LOF contracts provide for.
Who Should Attend?
Participants from business functions such as Underwriting, Claims, Specialty Classes and Actuary or support functions such as Business Development and Risk Management.
Registration
Registration for the seminar is FREE and is limited to 300 participants.  To attend the seminar, please register by  25 March 2022, Friday at 6.00 pm. We regret that we will be unable to accept registrations received after the deadline.
Webinar Link
Kindly note that the link to the webinar will be shared with confirmed participants a day before the actual webinar date. This webinar will be held on Zoom.
Certificate of Attendance
A certificate of attendance of 1.5 hours will be awarded to each participant upon written email request to the GIA secretariat at rsvp@gia.org.sg after the event with the attendance verification code. We regret to inform you that only requests citing the attendance verification code will be processed.
Programme Outline
3.45 PM – 4.00 PM
Webinar room opens for participants to test their audio and visual settings
---
4.00 PM - 4.05 PM
Admin Notes
---
4.05 PM - 4.10 PM
Opening Address
Mr Paul Hackett, Member of the IUMI Facts & Figures Committee and the GIA Marine Insurance Committee
---
4.10 PM - 5.00 PM
Industry Review of the Lloyds' Open Form and its Implications: Delays in the Engagement of Salvage Services in Marine Casualties
Mr Hugh Shaw (OBE)
Marine Consultant and Commissioner with the General Lighthouse Authority Northern Lighthouse Board
---
5.00 PM - 5.30 PM
Panel Discussion
Moderator: Mr. Mr. John Simpson
Director of the Singapore Chamber of Maritime Arbitration and a Committee Member of the Maritime Law Association of Singapore
Partner, Stephenson Harwood LLP
---
5.30 PM
End of Webinar
---
PDPA Consent Clause
By interacting with, submitting to or signing for any organised activity offered by General Insurance Association of Singapore ("GIA"), you agree and consent to GIA collecting, using, disclosing and sharing of your personal data, for the purpose of engagement, operational planning of activities, as well as communication of future events and programmes information. GIA respects personal data and privacy, and will only share such information with third parties on a required basis. Should you wish to withdraw or limit your consent, please write with full particulars to our data protection officer to dpo@gia.org.sg
About the organiser
Established in 1966, the General Insurance Association of Singapore (GIA) constantly works to make all aspects of general insurance easier and more effective for consumers, agents and insurers based in Singapore.
As a Trade Association, we are actively involved in the business community representing the interests of our member companies. We assist in identifying emerging trends and responds to issues affecting the General Insurance industry. We seek to promote the overall growth and development of the Singapore General Insurance sector.
We are constantly improving our processes to adapt in the ever-changing business landscape, to ensure that our mission and structure continue to meet the business needs of our member companies.