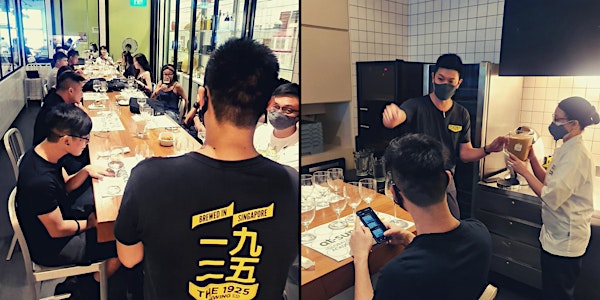 Mod-Asian Beers with The 1925 Brewing Co.
THANK YOU FOR JOINING US IN THIS EXCLUSIVE PREVIEW OF 1925'S LATEST BREW - THE DARK BERRY SOUR.
When and where
Location
At-Sunrice GlobalChef Academy 28 Tai Seng Street Singapore, 534106 Singapore
Refund Policy
Contact the organiser to request a refund.
Eventbrite's fee is nonrefundable.
About this event
SEE YOU SOON AT OUR NEXT CRAFTY FUN DAY! HERE'S HOW YOU CAN GET THE DEETS FIRST!
🍻🍻🍻🍻🍻🍻🍻🍻🍻🍻🍻🍻🍻🍻🍻🍻🍻🍻🍻🍻🍻
About the Mod-Asian Beers Workshop
🍺 Meet brewmaster and founder of The 1925 Brewing Co., Yeo Eng Kuang
🍺 Preview of the yet-to-be-released Dark Cherry Sour!
🍺 Taste their signature mod-Asian beers, in revolutionary flavours such the Chinese Liang Teh or the fun tiramisu stout
🍺 Only 3 seats left
For the first-time, award-winning brewmaster EK, the man behind local craft beers like Liangteh, Musang King Ale and Yellow Van, will be conducting a one-hour workshop in At-Sunrice Globalchef Academy as part of the school's Sunday LUXE Series.
The workshop, organised by the DAO CRAFT team, features 1925's soon-to-be-launched brew which EK describes as "an extremely complex and layered beer brewed with 4 types of berries, cherries and wild fermented".
1925 is an award-winning brewery renowned in the craft circles for their Asian-styled beers. Their bestsellers will also be featured in the workshop.
Sign up to learn about craft brewing from EK and be amongst the first to taste 1925's latest brew.
Date: Sunday, 20 Feb 2022
Time: 1pm – 2pm
Venue: At-Sunrice
WhatsApp: +65 8940 4577
Price: $35 per person
Tickets are on a first-come-first-served basis. Book early to secure a spot.
This workshop ticket includes entry to the Beer Marketplace and:
🍺 FREE bottle or can of craft beer to take home for fully ticketed patrons
🍺 Goodie pack worth over $20 with DAO collectible beer glass, GinMayo (sauces made out of gin) and more
🍺 10% off Curious Creatures (www.curiouscreatures.cc) artisanal jewelry voucher
🍺$20 At-Sunrice Gourmet2Go vouchers
About the Brewmaster
EK (Eng Kuang) Yeo, along with his brother Ivan and uncle Joey, is one of the founders of The 1925 Brewing Co.
He was an auditor for 10 years before he devoted himself to the craft of brewing beers for the Asian palate to pair with Asian flavours. He believes strongly in preserving their Singaporean Teochew heritage and culture, with the hope of building a business that would transcend generations.

Insta-worthy Shots with Kombi Rocks Rides
🛵 Get ready to get trigger happy. Kombi Rocks is bringing the retro vibe to our pop up with a selection of their vintage vehicles. So strike a pose with these heritage automobiles for that perfect Instagram snap.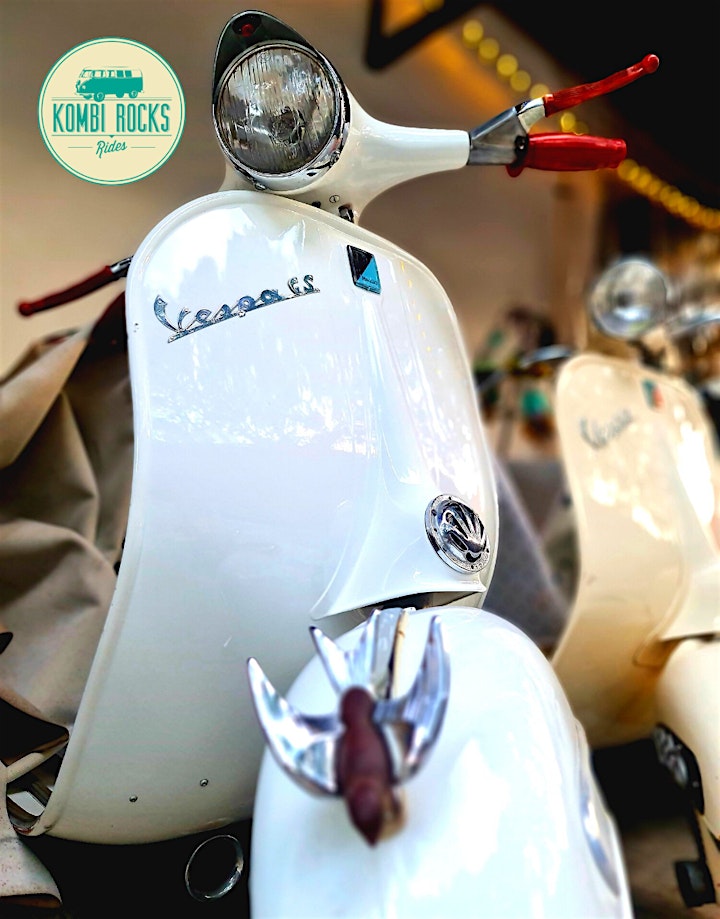 The 1925 Brewing Co. Beer Tasting
YELLOW VAN (4.8% ABV) brewed primarily with the hops, Citra. Designed to be a session beer, the pale ale seeks a delicate balance between both hops and malt. It brings familiarity, yet never fails to surprise the palate with the subtle bursts of Citra.
Pours well with a fully formed head of foam and is probably the most versatile beer in our selection to pair with any foods.
Did you know that it's called Yellow Van because when the founders were younger, their grandfather / father used to ferry them around in his trusty bright yellow van, which he also used to transport his dry goods for his grocery store.
LIANG TEH (4.2% ABV) is a crisp lager, accentuated by the lightness of white chrysanthemums. Easy on the palate and good for whole day drinking, this lager goes well with deep fried, spicy and seafood for the perfect combination.
Did you know The lager is called Liang Teh, which translates to 'cooling tea'.
It is named after the chrysanthemum herbal teas the founders' grandmother used to brew for them when they were growing up.
Featuring a bouquet of lychee and rose aromas, the LYCHEE PALE LAGER (ABV 4.8%) has a delicate balance of subtle sweetness, light hoppiness against a mild malty backbone. The combination of flavours makes this beer a delightful treat that is sure to sparkle on the palate with its refreshing, dry and crisp finish.
Inspired by our all time best selling tiramisu at our Joo Chiat taproom and restaurant, this Tiramisu Stout uses Brazil and Mandheling Lintong coffee roasted by King's Cart Coffee. Rich and creamy, this stout boasts captivating aromas of coffee and dark chocolate. Just like our tiramisu, this stout is best enjoyed with dark sea salt chocolate.
Brewed specially for the holiday season, this stout is a limited edition release.
The Tiramisu Stout was awarded the Chairman's Selection as part of the Asia Beer Championship 2021.
DARK CHERRY SOUR (Preview Tasting! Yet To Be Released)
A labour of love by The 1925 brewing team. An extremely complex and layered beer brewed with 4 types of berries, cherries and wild fermented. This beer is lightly tart and its moderately dark body of roasted notes complements the bright fruity notes of berries and cherries. Tart, fruity, sweet and roasty all at once, this beer will pleasantly surprise you.
TERMS & CONDITIONS
1. only FULLY vaccinated patrons will be admitted to the premise.
2. Attendees MUST be 18 years old to drink.
3. SMM is observed. All seating - 5 persons maximum to a table.
4. Each set of Tribe reservation with drinks is for 2-hours.
SAFETY MEASURES
In view of the rising COVID-19 cases and latest measures by the local government, At-Sunrice GlobalChef Academy has put in place a set of safety measures and advice to keep our students, instructors, staff and visitors healthy and safe as well as to better mitigate risks and minimise disruption. We remain decidedly vigilant and ensure strict adherence to government advisories.
The following are the key safe management measures:
Students, instructors, staff and visitors are to only use the TraceTogether app or token for SafeEntry check-ins when entering the academy. Upon entry, you are required to wash your hands with soap and water in the washrooms.
Please note that At-Sunrice GlobalChef Academy will only admit fully vaccinated patrons to all activities & events.
It is mandatory for all students, instructors, staff and visitors to wear face masks at all times in the academy except when you are eating or drinking.
For workshops in the academy:
o Everyone must practise the one metre apart safe distancing with their respective groupings.
o Each room will have a limited capacity according to the size of the room.
All sessions will operate in distinct shifts to ensure no inter-mixing between shifts.
o Please strictly adhere to your ticket timings.
o There are clear space and movement markings to always ensure safe distancing. Staff and students are to comply with the space and movement markings.
Cleaning and disinfection of premises with high human contact are conducted daily.
Guidelines for food and hygiene safety are implemented Our Safe Management Officers (SMO) will continue to carry out daily inspections to ensure safety compliance.
o There will be photography and filming during the event. If you prefer to not appear in the footages and photos, please inform our staff and leave your details when you arrive at the event.
About the Venue
At-Sunrice GlobalChef Academy is an EduTrust-certified institution that cultivates global chefs and F&B professionals in an environment of culinary authenticity. The 42,000 square ft campus in Tai Seng is the perfect playground on Sunday for learning and discovery.