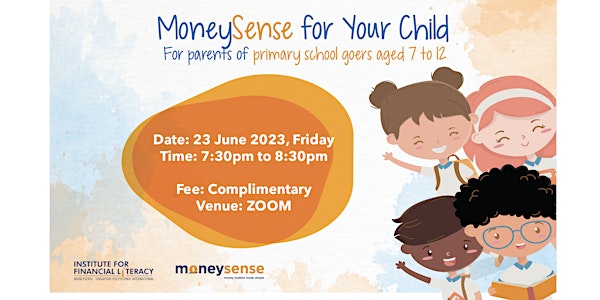 MoneySense For Your Child (For Parents of Pri School Goers Aged 7-12) Talk
MoneySense For Your Child (For Parents of Primary School Goers Aged 7-12) - Activity-based Workshop
By Institute for Financial Literacy
Date and time
Fri, 23 Jun 2023 04:30 - 05:30 PDT
About this event
OBJECTIVE
This module aims to provide parents the knowledge to teach their children the importance of inculcating good financial habits from young. It covers ways that can help to give children money sense such as teaching and modelling healthy financial habits and budgeting.
COURSE OUTLINE
• Teach and model healthy financial habits
• Teach your children how to budget and save
• Differentiating between needs and wants
• Being a smart consumer
• Understanding payment methods
WHO SHOULD ATTEND
• Suitable for parents of Primary school goers aged 7 to 12
DURATION
1 Hour
About the organiser
The Institute for Financial Literacy is a collaboration between MoneySense and Singapore Polytechnic International. We provide free and unbiased financial education programmes to the public. We provide education and do not promote financial products.
The free financial education programmes cover basic money management, financial planning and investment know-how.