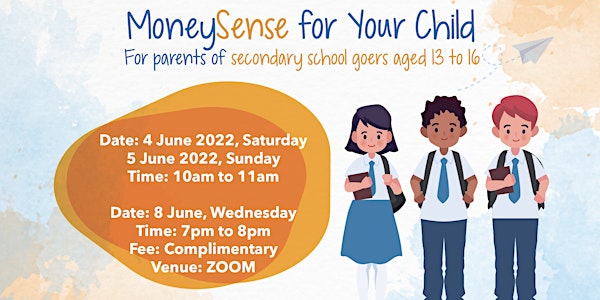 MoneySense for Your Child (For parents of sec school goers aged 13-16)
MoneySense for Your Child (For parents of secondary school goers aged 13 to 16)
About this event
Session tickets for 4th June 2022 (Saturday) are all sold out!
We have opened up slots for 5th June 2022 (Sunday) and 8th June 2022 (Wednesday). Click the "Register" button to sign up now.
OBJECTIVE:
This complimentary online talk aims to teach participants the importance of inculcating good financial habits from young. It covers ways that can help to give children money sense such as teaching and modelling healthy financial habits and budgeting.
COURSE OUTLINE:
To learn the importance of financial education for your child​.
To learn age-wise developmentally appropriate money sense.
WHO SHOULD ATTEND:
Parents with children ages 13-16
DURATION:
1 hour