Event Information
Location
Gardens by the Bay
18 Marina Gardens Drive
Singapore, 018953
Singapore
Description
[UPDATE on 4 April 2020] Dear friends, please stay tune to our latest arrangements which may include hosting the class virtually. If you have registered for our class, we will be in contact with you soon. We honor you, ourselves, our classes. We honor Earth, home and society. Take care and sending restful love!
#Moonwalk is a Singapore night edition nature and forest bathing class for women only. In this open/public class, join Youmin - a pioneer and leading Certified Nature and Forest Therapy Guide in Singapore to explore and connect with nature and night restfully. We all need some physical, mental and sensory rest. Under the midnight blue sky, we gather to embrace our natural rhythms, to nourish and honour one another, to re-connect with Earth and all of nature.
*Limited slots to maximum of 9 women only. Minimum of 4 women is required for the class.
**Only for women aged 18 and above.
***Sincerest apologies that we cannot accommodate any latecomers.
**** Important class details such as the exact meeting point etc. will be sent to you via a confirmation email from Eventbrite after registration. Please read and retain that email.
WHAT IS NATURE & FOREST BATHING?
Contrary to beliefs, nature and forest bathing neither a hike nor a typical nature walk. The science-backed practice comprises of sensory immersions in nature. Through a series of sensory invitations, you will be facilitated to awaken your senses to deepen your connection with yourself, with nature, and with others. A certified nature and forest therapy guide will lead and facilitate you on this immersion. >>> Check out this video <<<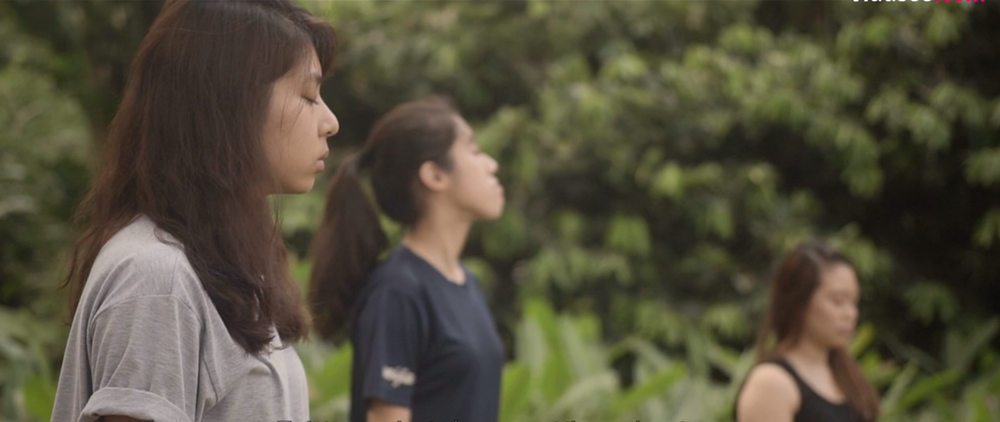 HOW YOU WILL BENEFIT
Rest, refresh and enjoy physiological health benefits backed by Science research.

Open perspectives of yourself and for yourself.

Practise receiving and giving in a safe space.
WHAT TO EXPECT
Class will take on a slow immersive pace. It is not physical and not strenuous.

Class is held at night but it will not be completely dark. The space is quiet but safe. The group will always be within sight of one another.

A certified guide will facilitate the class. Nature and forest bathing invitations are suggested but are never compulsory.

Class concludes with some light tea and snacks.
REVIEWS
"Attend a session to learn how to slow down, observe with all our senses and connect with Mother Earth. The forest is the greatest healer, and Youmin is a terrific guide to open the door to grow back our roots with nature." - Gina G.
"I will recommend forest bathing for anyone who is looking to decompress from a hectic or stressful lifestyle. The session helped me to appreciate our natural surroundings and witness the significant impact it contributes to our physical well-being. The experience immediately refreshed my mood and made me feel better emotionally at the end of the session." - Katherine B.
"...an enlightening nature and forest bathing experience...So happy I finally decided to join this after months of deliberation...In the end I gained more clarity as well as a renewed motivation to connect with nature and the present moment everywhere I go. What a magical experience!" - Alexis N.
---
FAQs
Am I suitable for nature and forest bathing if I have never hiked nor spent much time outdoors?

Nature and forest bathing is designed to be accessible to everyone of varied fitness and outdoor experience. The class is conducted at a slow pace and we typically cover no more than 800 m for the entire session. We typically walk along well-established pavements in the gardens and grass lawns, and is very convenient and safe for everyone. The routes are also mostly level and no significant physical exertion will be required.
What if I have never participated in nature and forest bathing before, can I still join the moon walk edition?
Yes, you can. The gathering will begin with a short introduction to nature and forest bathing.
What if it rains?
This is a light rain or shine event. Generally, classes are cancelled only in the event of very heavy downpour or if there is risk of lightning. In such situations, we will personally contact you at least 30 minutes before the meeting time to confirm if the class will proceed or be cancelled. For classes that are cancelled by the host/guide, participants can register for another class without any additional charges. However, there will be no refunds.
Are we really walking in a forest?
Forest bathing allows a person to connect with nature. Nature exists outside forests too. City gardens, parks and beaches are some examples where meaningful connections with nature can take place and for you to receive your well-deserved mental and emotional recharge.
---
ABOUT YOUR FACILITATOR
Youmin is a certified nature and forest therapy guide and a yoga nidra facilitator. A pioneer and leader in Singapore and the Southeast Asia, she is passionate about sharing nature connections and deep restorative rest for well-being, especially for stressed out and disconnected city dwellers. In this frantic world we live in, she believes that we need to go into the 'rest space' to find ourselves, we need to slow down in a practical manner, and then, we can thrive sustainably. Working with individuals, groups and organisations, Youmin's intention is to support them to rise up as well-rested leaders. She has also guided and taught at overseas workshops, retreats and seminars including Finland, Bangkok, Chiang Rai and the Philippines. Her work has also been shared at international and local conferences, as well as publications. She is the founder of Xiu Nature Connections.
---
Important class details such as meeting point etc. will be sent to you via a confirmation email from Eventbrite after registrations. Please read and retain that email.
Please read our Terms and Conditions.
Date and Time
Location
Gardens by the Bay
18 Marina Gardens Drive
Singapore, 018953
Singapore
Refund Policy