A SPECIAL TREAT FOR ALL MOTHERS: VIRTUAL COOKING MASTERCLASS
About this event
Event Details
Date: Sat, 8 May 2021 | Time: 1pm - 3pm | Price: $160
Produce boxes will be delivered to your doorstep before the event. Between 0900-1200hrs.
This Mother's Day, show mummy dearest some affection by preparing a lavish feast for her. To give mums a well-deserved break from the kitchen, our V-ZUG ambassador, Chef Ryan Clift has teamed up with Chef Joe Leong to specially curate a menu that she'll love. Join our virtual masterclass and make her day by surprising her with this scrumptious 3-course meal. Or, opt for a more unique experience by preparing these dishes together.
Premium ingredients will be delivered to your doorstep just before the cooking class. Each produce box serves one nicely.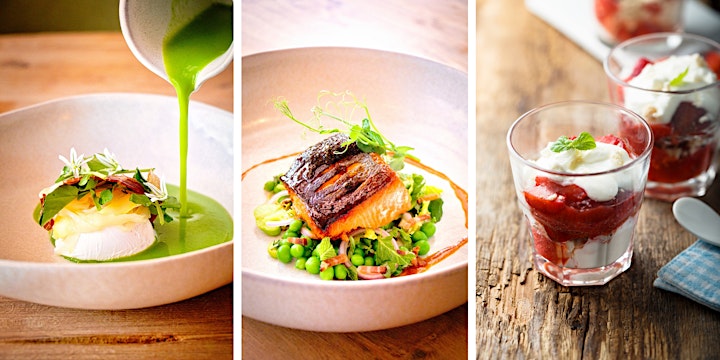 3 - Course Mother's Day Menu by Chef Ryan Clift & Chef Joe Leong
Purchase two produce boxes and receive a complimentary mini bottle of champagne.
• Spring vegetable vichyssoise , broad beans , poached Kagoshima egg, fermented white asparagus and J5 Jamon
• Pan roasted ocean trout, 8 gems caviar, Pettit pois Ala française, pommes mousseline, roast chicken jus gras
• Eaton Mess
**We regret to inform you that Dietary restrictions cannot be catered for.**
Our virtual masterclass will make it easy to bond while creating homecooked meals together. You'll also get a chance to learn the secrets to perfecting these delicious dishes while acquiring new knowledge and skills to apply to a variety of homemade favourites.
Terms and Conditions
1. Price includes prevailing government taxes. Ticket price serves one.
2. Bookings are made on a first-come-first-serve basis and participation is only guaranteed when the full payment is received. A confirmation email will be sent with the payment details once a booking has been made.
3. Payment for a class must be made 3 days before class commences. Customers can make payment via EventBrite site. Alternatively, you may visit Zugorama to reserve your slot.
4. When your booking is complete, you will receive a confirmation email. This is your booking confirmation. Should there be any problem with your payment, please email info.sg@vzug.com. You will receive a response within 2 working days of your enquiry.
5. V-ZUG reserves the right to modify the dishes from the menu without prior notice. We regret to inform you that meal substitutes cannot be accommodated for this event.
6. While we will do our best to fulfil your order, please note that items may not be in stock at the time of order processing. If we are unable to fulfil your order, you will be offered an alternative item or given a refund in full for the unavailable item.
7. An email reminder with login details will be sent to all participants a day before the workshop.
8. Workshops organised by V-ZUG will start on time. You are strongly encouraged to login 10 minutes before class commences to avoid missing out on your courses. An email will be sent to you prior to the virtual cooking class for login.
9. No refunds will be issued for last minute cancellation. 50% of the payment will be forfeited for cancellations made less than 48 hours. In the unlikely event that a class needs to be cancelled, we will give you as much notice as possible and you will be offered the choice of an alternate class or a full refund. We will not be liable for any other expenses that you may incur such as associated accommodation or travel.
10. In the event of low attendance, V-ZUG reserves all rights to cancel/reschedule the session. Participant will receive an email notice 2 days prior and be given the choice to attend the next upcoming class or get a full refund.
11. Photographs and videos will be taken during class and shared with the participants as memories of their experience. These may also be used for our training and marketing purposes. Participants with any concern should inform V-ZUG prior to class.
12. Participant agrees to follow all safety precautions and instructions provided to prevent any injury to themselves and other participants, as well as damage to their kitchen and equipment.
13. Participant agrees to indemnify V-ZUG and the instructor against any damages or injuries that may be sustained to themselves, or their belongings, during the workshop.
14. V-ZUG reserves all rights to make changes or update these terms and conditions whenever necessary. In case of any dispute, we reserve all rights to make the final decision.
Date and time
Location
Refund policy