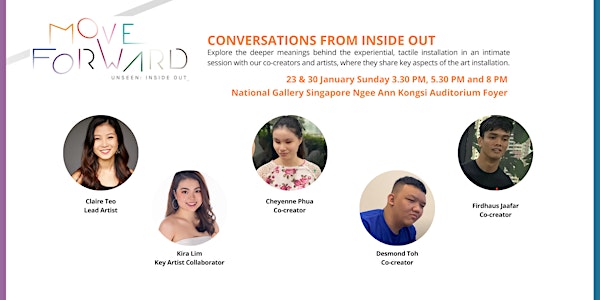 Move For?ward: Conversations from Inside Out
Explore the deeper meanings behind Move For?ward in an intimate session with our co-creators and artists Claire Teo and Kira Lim.
When and where
Location
National Gallery Singapore Auditorium National Gallery Singapore Auditorium 1 Saint Andrew's Road Singapore, 178957 Singapore
About this event
Explore the deeper meanings behind the experiential, tactile installation in an intimate session with 3 of our co-creators and artists, where they share key aspects of the art installation.
Engage in a dialogue with our co-creators and artists about the motivations behind their work and how their sound work was made.
DURATION
The session duration is approximately 1.5 hour
Attendees will experience the artwork 5 pax at each time, followed by a dialogue with the co-creators and artists.
Bring along your own earpiece + mobile devices to access the experience.
ACCESSIBILITY
We are committed to making this event accessible to as many people as possible. If you require a specific accessibility arrangement, click here to let us know by submitting this form at least 10 days before the event. We will work with you to facilitate your requests.
Some accessibility arrangements that we can provide on request include but are not limited to:
- Singapore Sign Language interpretation
- Wheelchair access seating
- Assistance dog friendly seating
CAPACITY
The event has limited capacity of 15 Pax. Please email us at unseensg@gmail.com if you can no longer attend, so that we can release the tickets for interested parties.
Email: unseensg@gmail.com
SPEAKERS
Firdhaus Jaafar, Co-creator
Currently pursuing his Diploma in Community Development at Ngee Ann Polytechnic, Firdhaus is a 21-year-old who aspires to be a social worker in the future. His sound work sheds light on the process of grieving through the cherished memories of his late father. Firdaus is committed to building a meaningful career of helping others in need. He seeks to understand and empathise with people of diverse communities, especially disabled communities, to develop innovative ways to elevate their burdens and provide access.
Desmond Toh, Co-creator
A student at Ahmad Ibrahim Secondary School, Desmond Toh has just completed his N-levels Examinations. He approaches life with a sense of hope and determination. He has dreams of developing a tuition programme that is catered fully to the constructive and effective learning of the visually impaired community, making education more accessible. His sound work depicts the strong bond he shares with his brother, through memories and fantasies of playing together.
Cheyenne Phua, Co-creator
A recent graduate from the Business Administration course at ITE College, 19-year-old Cheyenne Phua has never stopped dreaming of a career in the performing arts. Unseen: Inside Out has kickstarted her learning journey in the arts by introducing the basic techniques in expressing herself through movement and voice. Her sound work addresses how society's ignorance about disability has caused the lack of accessibility in many aspects of her life.
Claire Teo, Lead Artist
Claire Teo is the first visually impaired person to have graduated from a professional theatre course in Singapore in 2019, (LASALLE College of the Arts' Diploma in Performance). She is closely mentored by Artist-Educator and Disability Arts Specialist, Peter Sau in her artistic endeavors. Since then, she saw the need for more communities to access arts education and has been developing and teaching drama curriculums for persons with diverse abilities. She is now the Academic Director of Talent Academy (a division of Singapore Raffles Music College), which aims "Towards Unwavering Artistic Excellence for all". As part of PLAYInc Pte Ltd, she is the scriptwriter and director of several assembly school show programmes, an episodic sitcom and a children's storytelling series called "The Classics Retold".
She wishes to work closely with her fellow disabled artists to break new artistic ground and champion the disability arts scene towards true inclusive practice; creating art with different communities that would empower and encourage awareness and social change.
Kira Lim, Key Collaborating Artist
Kira Lim, 22, is a contemporary classical soprano under the tutelage of Ms Khor Ai Ming. She placed first for all categories (Classical/Folk/Opera) in the American Protege Vocal Competition 2018 and was invited to perform at Carnegie Hall, New York City. She has also sung as a soloist in the Walt Disney Concert Hall, Los Angeles. In 2019, Kira graduated from Lasalle College of The Arts with a Diploma in Performance. In 2016, she attained a Distinction in the Trinity College London Advanced Performance Certificate. Kira was involved in the 2019's SIFA production of Oreste by Ifigenia directed by Tan Shou Chen. She has performed several times with many established conductors, including - Joshua Tan, Alice Farnham, Tsung Yeh and Justin Freer on a range of significant works for chorus and orchestra, including Berstein's Chichester Psalms, John Rutter's Mass of the Children, Howard Shore's music for Lord of the Rings and Liu San Jie - Musical Film Concert.
Amongst Kira's numerous teaching appointments, she has served as an assistant instructor to The Lighthouse School Choir, which performs regularly with The Purple Symphony led by Mr Quek Ling Kiong.
Unseen Art Initiatives is a volunteer-led arts platform that aims to evoke and harness the creative potential of people through the arts. We enable collaborations between professional and emerging disabled artists across creative industries and with schools, community organisations and public institutions. Our flag-ship projects include Unseen: Constellations (2014 - 2016), a mentorship programme for visually-imapired youth and Unseen: Shift Lab (2015) a collaborative project with Dialogue-in-the-Dark Malaysia and artists from Kuala Lumpur. Our platform also developed research for the pilot Touch Art Collection for the Singapore Art Museum, researching accessibility practices for visually-impaired patrons in museums.