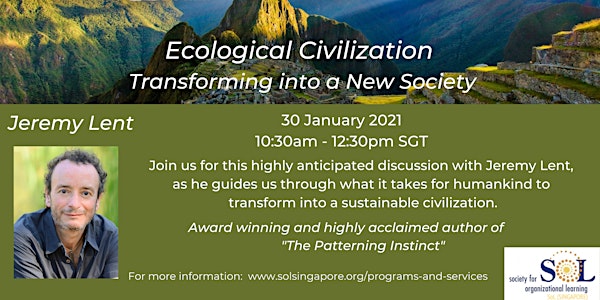 Moving Toward an Ecological Civilization with Jeremy Lent
A presentation and discussion on how we can shift into a more "Ecological Civilization" with award winning author, Jeremy Lent.
About this event
This important discussion with Jeremy Lent is not to be missed!
Please note: Given the limited capacity and live programme time, UK and European registrants will be sent a recording in order to make space for more local attendees. Thank you for understanding.
A collective awareness of humanity's significant sustainability challenges is developing. How we respond to this across business and economy, as well as broader society will be key to the very essence of our existence. What do we move toward? What are the right steps? How did we get to where we are now?
Understanding the implications and possible answers to these questions and the 'Patterns of Meaning' within them will be important for the work ahead.
Please join us in our discussion with Jeremy Lent, a groundbreaking author who has looked under the surface of human society and culture to understand what moves and moulds the human systems we are part of. In addition to his work on an 'Ecological Civilization', we will be discussing his previous and forthcoming books and initiatives.
Jeremy Lent is an author whose writings investigate the patterns of thought that have led our civilization to its current existential crisis. His recent book, The Patterning Instinct: A Cultural History of Humanity's Search for Meaning, explores the way humans have made meaning from the cosmos from hunter-gatherer times to the present day. He is founder of the nonprofit Liology Institute, dedicated to fostering an integrated worldview that could enable humanity to thrive sustainably on the Earth. His upcoming book, The Web of Meaning: Integrating Science and Traditional Wisdom to Find Our Place in the Universe, will be published in June 2021 by New Society Publishers (USA/Canada) and Profile Books (UK & Commonwealth). Jeremy writes topical articles exploring the deeper patterns of political and cultural developments at Patterns of Meaning.https://www.jeremylent.com/
http://www.liology.org/
https://patternsofmeaning.com/