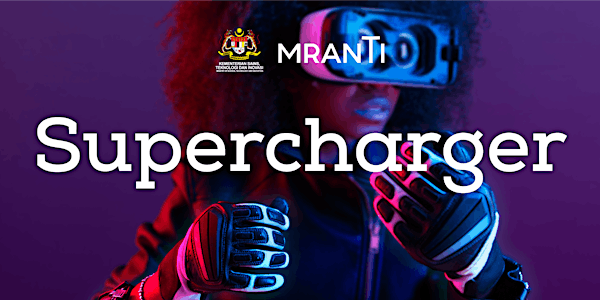 MRANTI Supercharger Series: Supercharging Your Commercialisation Potential
Foster mindset of collaborative commercialisation among key players involved in the local R&D&C&I ecosystem
When and where
Location
Auditorium, HIVE 5 (Enterprise 4) MRANTI Park Kuala Lumpur, Kuala Lumpur 57000 Malaysia
About this event
A one-day event that aims to bring together the commercialisation players and allow them to interact and engage with MRANTI as well as the Research & Development (R&D) and Commercialisation & Innovation (C&I) ecosystem.
Who Is This For?
Researchers
University Spin-Offs
Technology Transfer Offices
Corporates
Investors
Startups
Universities / Colleges/ Polytechnics
Research Institutes
Government Agencies
Agenda
9:00 AM - Arrival of Guests
9:40 AM - Arrival of VIPs
10:00 AM - Negaraku & Prayer Recitation
10:20 AM - Presentation by Puan Dzuleira Abu Bakar, Chief Executive Officer, Malaysian Research Accelerator for Technology & Innovation (MRANTI)
10:35 AM - MOU Exchange Ceremony
10:45 AM - Introduction of MRANTI Alliance Members
11:00 AM - Keynote: Power Sharing on Commercialisation by Prof. Charles Fine. Founding President and Dean of Asia School of Business and Chrysler Leaders for Global Operations, Professor of Management at the Massachusetts Institute of Technology (MIT) Sloan School of Management.
11:30 AM - Fireside Chat 1: Monetising IP - What Does It Take?
12:15 PM - Fireside Chat 2: Unlocking Investment for IP Commercialisation
1.00 PM - Lunch Break
2.30 PM - Power to Inspire Session: Amplifying Corporate - Academia Collaborative Commercialisation
3.30 PM - Closing Remarks
3.40 PM - Refreshments & Networking
Keynote: Power Sharing on Commercialisation
Key Takeaways:
Approaching commercialisation from a new perspective and mindset
Successfully commercialise your invention and discovery
Critical elements to a successful commercialisation journey
Fireside Chat #1: Monetising IP / What Does It Take?

[Moderator] Biruntha Mooruthi
Prof. Dr. Samsilah Roslan
Key Takeaways:
Increasing the success rate of IP monetisation from university research and spin-off companies
Best practices for an effective and successful IP monetisation
Case studies of successful IP monetisation
Fireside Chat #2: Unlocking Investment for IP Commercialisation




Dr Sivapalan Vivekrajah
Key Takeaways:
Funding and investment in Malaysia's commercialisation landscape
How and where to get investment in Malaysia
Strategies and best practices for successful investments
Case studies of successful funding and investment
Power to Inspire: Amplifying Corporate - Academia Collaborative Commercialisation

[Moderator] Muhundhan Kamarapullai


Hazami Habib
Key Takeaways:
Key challenges in corporate-academia collaboration and how to tackle them
Benefits and importance of corporate - academia collaboration
Best practices and strategies for a successful collaboration
Case studies of successful corporate - academia collaborations
More agenda
Investment Pitching by University Spin-off companies (Open to Public for Viewing)
Product Innovation Showcase by University Spin-off companies and selected high impacts projects (Open to Public)
Charge Up: Technology Showcase & Innovation Sharing (Open to Public for Viewing)