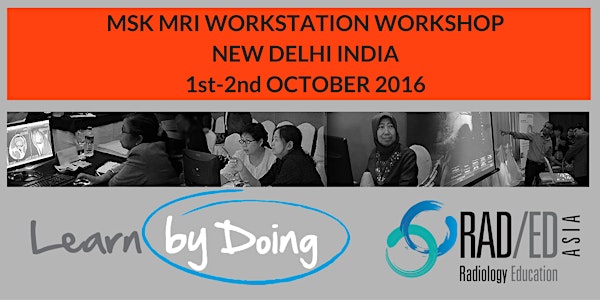 MSK MRI WORKSTATION WORKSHOP DELHI INDIA OCTOBER 1ST/ 2ND 2016: RADIOLOGY EDUCATION ASIA
When and where
Location
Taj Palace Hotel New Delhi India
Refund Policy
Contact the organiser to request a refund.
Description
This event is now over. For our next workshop please visit this link or click on the image below
MSK MRI Mini Fellowship and Workshop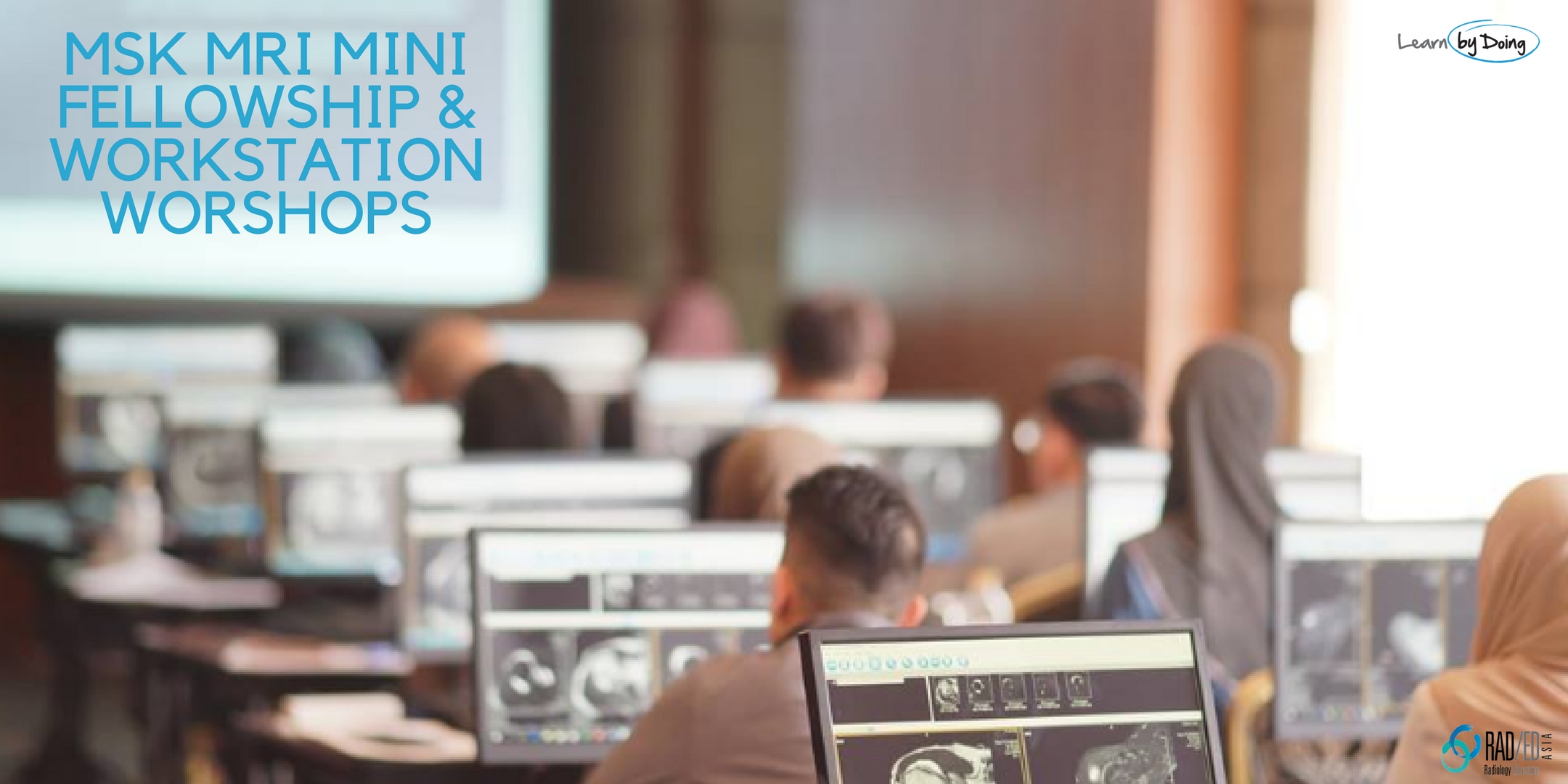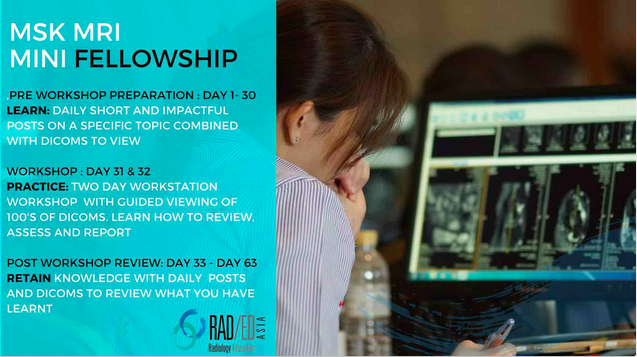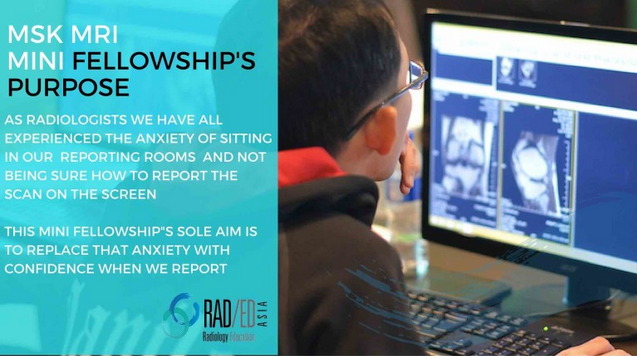 It doesnt matter what we say, more important is what do participants say about our workshops ( in English, Thai, Bengali). Select image below to find out.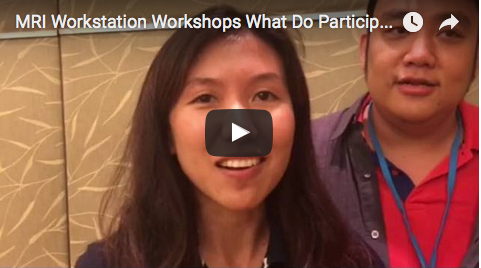 2 Day Intensive MSK MRI Workstation based workshop
MRI of the Shoulder, Knee, Hip and Ankle
NEW DELHI, INDIA 1ST and 2ND OCTOBER 2016

Learn by Doing: The best way to learn something is to do it. Lectures and conferences give you information but they dont tell you HOW to apply it. Knowledge from lectures and conferences on its own is of no use if you cant put it into practice in your daily work. We give you the knowledge, then teach you HOW to put it into practice. HOW to report accurately and confidently and what to report and what to ignore, with our guided, intensive workstation based workshops.

Intensive half day for each joint with a mixture of lectures and extensive guided viewing of full dicom MRIs on individual workstations, where you assess hundreds of MRI's and actively learn.
How you will actively learn:
Fellowship style learning where you actively look and are guided through full dicom studies on individual workstations and can ask questions to clarify doubts.


You are not left on your own to view cases as we do guided viewing of MSK MRI pathology in 100's of dicom studies so you learn like in a fellowship. See in a weekend MRI pathology thats taken us over 10 years to gather.

View dicom studies from various field strength MRI's and both with and without arthrograms, so that you are not limited to only one sort of imaging.
Learning is not just gathering facts. Its no use if you cant retain and recall that knowledge when you need it. Our structured method of learning increases your ability to retain and recall the knowledge you gain when you need it when you are back in your own clinic or hospital.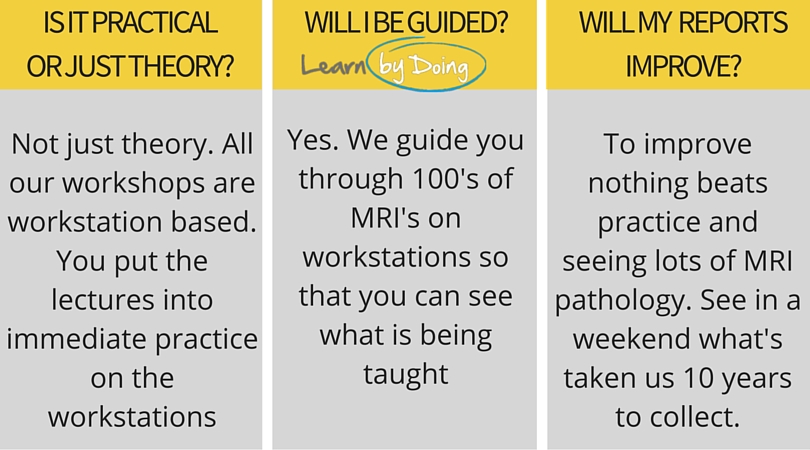 Who's Running the Workshop?
Workshop run by Dr Ravi Padmanabhan, Director of Radiology Education Asia based in Singapore. Dr Ravi trained in Medicine and Radiology in Australia and is fellowship trained in MSK MRI. He has worked in centres for imaging elite athletes in Australia, and has extensive experience in Musculoskeletal MRI and teaching and has been a convenor of the RANZCR Annual Scientific Meeting. He has been running workstation based MRI workshops across Asia and Australia for over 10 years.

This workshop will be of use to consultant radiologists, fellows and trainees, sports physicians and orthopaedic surgeons who have zero to moderate knowledge of MSK MRI.
Whats the Programme?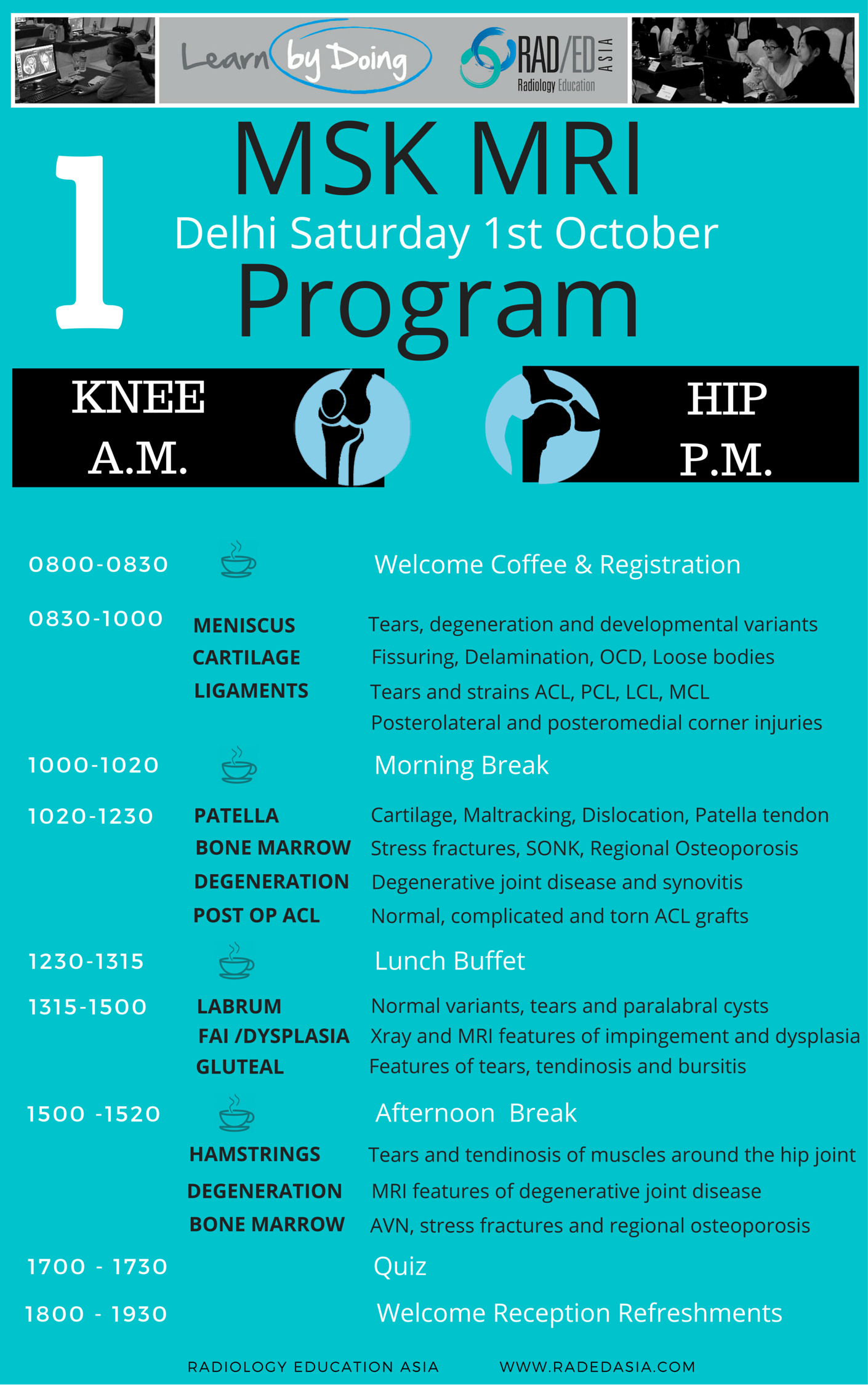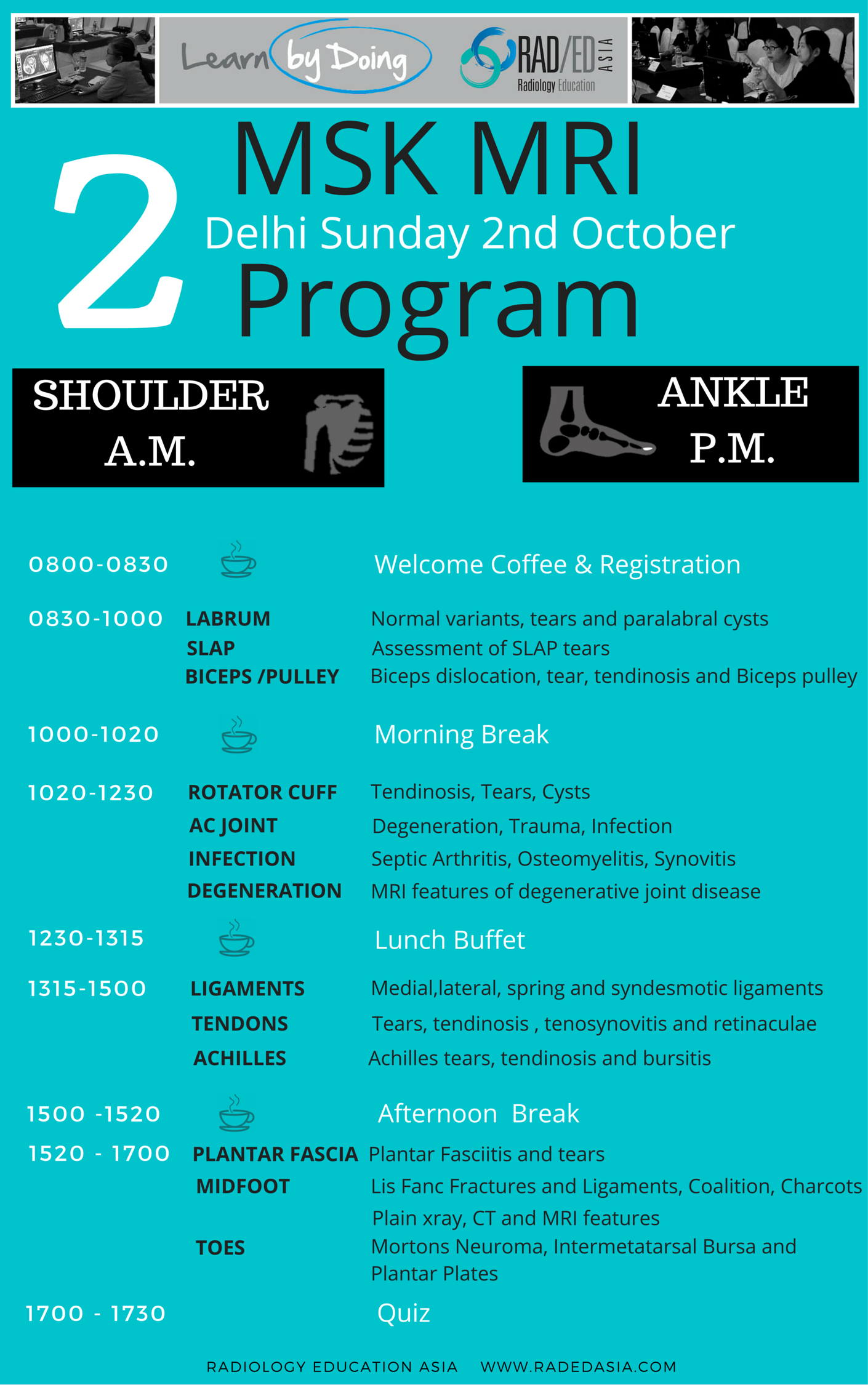 Whats Included:
Full work book with all the lecture slides provided.
Individual workstations
Meeting to be held at Taj Palace Hotel

Lunch and morning and afternoon refreshments for both days.
Welcome reception for all registrants and faculty on the Saturday.
Registrations will be limited to to ensure that attendees can get individual attention.
The first workshop in Kuala Lumpur was sold out within 10 days. Please register early if you wish to attend.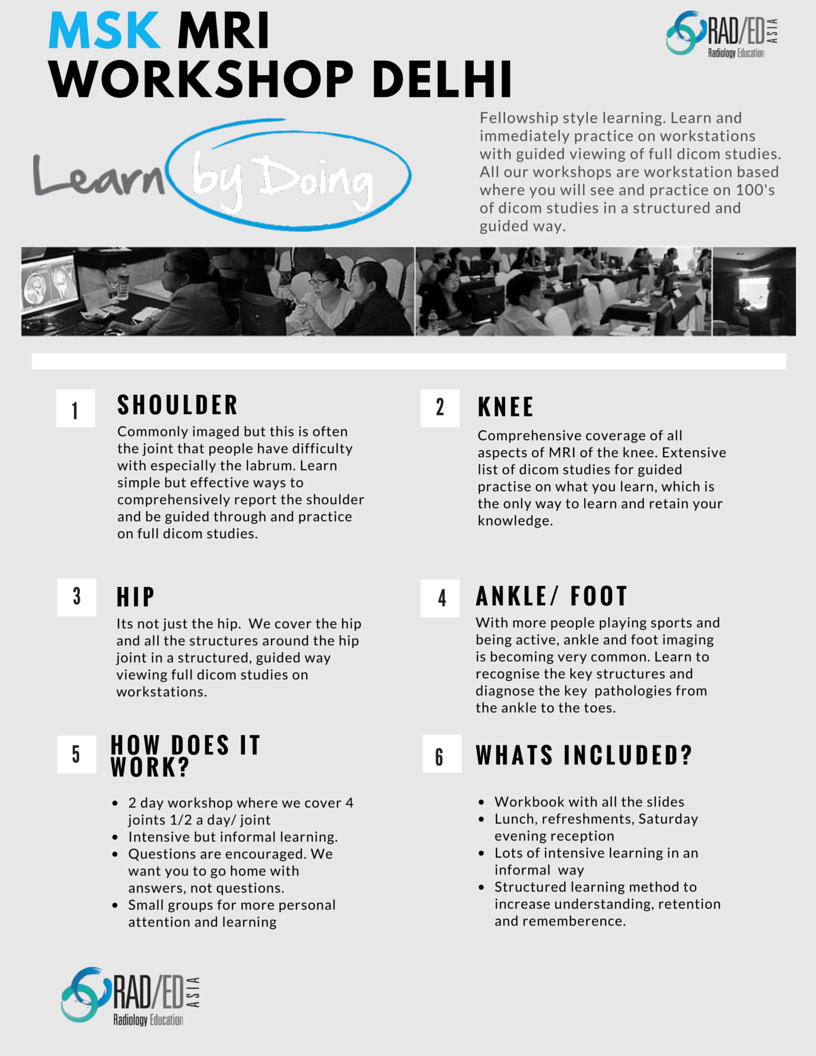 Radiology Education Asia : www.radedasia.com

Linkedin: https://www.linkedin.com/in/radedasia
Facebook: https://www.facebook.com/RadEdAsia
#radedasia, #mskmridelhi