Multiple Dates
Multi-Intelligence NLP Practitioner Certification New Intake 2020 (SG)
Develop transferable & vital soft skills to be future-fit in a VUCA world
About this event
Future-proof yourself for 2020:
->> http://bit.ly/enrol-nlpcourse 
We invite you to the most demanding NLP Practitioner Course in Asia—12 days of deep learning and practice to take yourself to the next level, to create a breakthrough for yourself.
 "I came to Mind Transformations' NLP Practitioner course, with the intention to work on my career progression & promotion. Now, after having experienced the course, I realised that what I really need to focus on, is working on myself. This is a huge breakthrough for me," said Grace, a Senior VP of an MNC; and a recent participant of our NLP Practitioner course.
NLP PRACTITIONER CERTIFICATION COURSE
Module 1: 25 - 28 Jul 2020
Module 2: 22 - 25 Aug 2020
Module 3: 26 - 29 Sep 2020 
FOR SINGAPOREANS AGED 25+: Great news! You can utilise your SkillsFuture Credit S$500 to offset the course fees. 
THE BENEFITS OF THIS NLP COURSE ARE TWO-FOLD:
1. You are developing skills to communicate, influence, coach and work with people effectively.
2. You are working on yourself, developing self-awareness, confidence, and mastery of your strengths.
For leaders, NLP helps you improve your influence and leadership—starting with how you carry yourself, how you build rapport and get buy-in.
For technical people, you may want to improve how others receive you—your expertise and good intentions. NLP is part Science, part Art—you'll love the technical aspects of it; it'll help you communicate with people who are very different from you.
If you want to be a professional coach, Mind Transformations' Multi-Intelligence-NLP methodology gives you a very reliable coaching framework, especially for bringing the mind, body and emotions to work together. People do have logical answers to their problems. To create sustainable results, our emotions and body need to be aligned for action.
(Mind Transformations' NLP course leads to the internationally-recognised ICI Coach Certification.)
Finally, this course is a great place to work on your inner insecurities. You'll learn how they are connected to your personality, values and belief system, or past history.
The Multi-Intelligence Methodology (our unique development) will help you build inner alignment, getting your "house" into order. Every small shift you make will ripple out to all parts of your life, career and relationships.
22 Years of Continuous Training & Refinement—Bringing You A Scientific, Time-Tested Methodology For Self-Mastery & Coaching.
THE GOAL IS FOR YOU TO BECOME NATURAL AT USING NLP.
If you've spoken with our graduates and staff, especially our NLP Master Practitioners, you may have noticed that they don't need to "turn on" or "turn off" NLP.
It's become a way of life; they naturally uplift themselves and others, speak and act positively, pick themselves up when they fall.
This level of competence in NLP comes from the deep practice and hands-on exercises they did in class. You can get ALL the NLP knowledge online or through a short course, but your level of Competence & Confidence—they come from your practice. This is why people spend so much time with us to get good. This is why many NLP Practitioners from other schools come to retake this certification with us. We supervise your practice, we help you correct the mistakes, you'll learn to see your strengths and blind spots and we hold a very safe training space for your growth to take place.
You'll be trained by BARNEY WEE himself.
Barney is an NLP Elder and the pioneer of Multi-Intelligence-NLP. He has integrated NLP with the practical aspect of the Multiple Intelligences theory (formulated by Harvard Professor - Howard Gardner) and he is helping people achieve congruent and sustainable change at all levels – through coaching and training.
Barney was trained by the original developers, namely Richard Bandler, Robert Dilts and Tad James. Since 1997, Barney has certified thousands of NLP Practitioners and trained thousands of people in the practical applications of NLP, including Sales, Communication, Coaching, Interviewing Skills, and especially "Changing Personal Paradigms."
Recently in 2015, Barney has been vetted by The International Association of NLP Institutes (based in Germany) for his 20 years of continual practise of NLP in the public and corporate sectors, and he was awarded the title of NLP Master Trainer. In the same year, he was invited and accepted into the exclusive NLP Leadership Summit ~ considered to be an NLP Elders Group (consisting of Robert Dilts, Joseph O'Connor, Shelle R. Charvet & many more), which requires a minimum of 15 years of active NLP practice and good public reputation. 
OUR NLP PRACTITIONERS HAVE BROUGHT US GREAT STORIES & INSPIRING RESULTS:
"I have attended many coaching programs in the last 18 years and those programs had provided me with the capabilities of a coach. But somehow, I felt something was still missing in my development as a coach but I could not pinpoint what it was until I was introduced to Mind Transformations' NLP Practitioner and Master Practitioner programs.
The 3 main parts of the programs - Self Mastery, Communication, and Coaching. To me, Self Mastery was so profound as it increased my self-awareness and taught me to recognise and apply my multi-intelligences in any challenging situations, be it at a personal or professional level.
Communications techniques were far more superior, grounded and helped me to tune in and respond to both verbal and non-verbal cues positively. With self-mastery and communications techniques, they brought coaching to a higher and deeper level - the Being of a coach!
The most significant shift for me is a higher self-awareness, hence the ability to adjust my emotional states in any challenging situation. The values that Mind Transformations bring to their learners are their quality and dedication in their research works, the structure and impactful delivery of their programs and the dedication and commitment to partnering alongside their learners through skills enhancement training outside the classroom hours. To me, one word sums it all - 'WORTHWHILENESS'!"-Joan Chan, Head of Learning"Learning NLP with Mind Transformations has supported my personal & professional development in many ways:
Effective strategies to use in my coaching. This means I'm able to produce desired results for my clients - which allows me to enjoy a higher billing and get more referred clients.
I understand myself better & am now able to be in a healthy state.
Having referred team members, associates, clients & friends to attend this certification, we now have a common language & understanding."
-Anne Yeo, Team Catalyst, MAD Learning"NLP was worth every penny I paid for it. It has allowed me to gain more rapport with people and control my emotions.This is translated into several benefits:
Improved sales and marketing results,
Improved staff coaching and productivity,
Better family relationships
I plan on sending all my staff to Mind Transformations NLP courses to drive the results through my organisation. I recommend this NLP programme to anyone."-Paul Stefansson, Head of Investment Specialists in Funds, Hedge Fund & Private Equity"I just completed the NLP Practitioner's course on December 12th, 2018 and I realised on the last day, this was not the end but just the beginning.I entered this course wanting to start a career in coaching but I got so much more out of it. NLP taught by Barney at Mind Transformation is life-changing. As Barney (the trainer) said, 'before you can influence others, you should be able to influence yourself'. Yes, indeed! It empowered me to take greater responsibility for how I lived. Being aware of my thoughts, feelings and body language allowed me to understand not only what I was communicating to others but what I was communicating to myself. And here I would add that before we start looking at our relationship with others, we better start having a good one with ourselves.I also gained a lot of clarity. With loads of opportunities to actually practise all that we are learning, NLP at Mind Transformation is very hands-on. As we practised all that we were learning with each other, we were already working on our own issues as we took turns as coach and coachee.I could go on and on but I will end with one last key point is that the people at Mind Transformation walk their talk. They are the real deal. It is a very supportive family that genuinely believes in NLP as a tool to change your life. it has changed theirs and they are better for it. It has changed mine and I am better for it. I would highly recommend this course for anyone as I believe that what you learn in there are essential life skills in today's world!"-Puja Dada, Educator"The most significant shift I have experienced in the NLP Practitioners course as a foundation to my coaching career is that I can no longer look at a person the same as before in that it has established in me a keen sharpness in reading every conversation and every behavioural exhibit during any conversation; a keen awareness of myself, my presence, my 'being-ness' and the conversational exchanges with my coaching clients.The materials I have received from Mind Transformation are excellent compared to some other training I have gone through. The content is relevant and practical. The resources and support that come from the team are fantastic. Most importantly, Barney is an excellent teacher and selfless to impart his knowledge to anyone who is serious to learn and acquire knowledge."-Vincent Leong, Managing Consultant, Executive & Life CoachEugene Chua managed to close a sale with the NLP communication tool—within 24 hours of learning it.Yee Sin, who's an HR Business Partner, used NLP to resolve a conflict between two Senior Executives. She also managed to build a good rapport with a candidate she wanted to hire; and yes, the candidate said Yes!And Grace, a Senior VP of an MNC is enjoying all-day lasting energy with the application of NLP & "Intelligent Food Combinations".You probably have great plans and want to see yourself grow this year. Use this course to work on yourself and your goals. We promise that if you pour yourself into the course, you'll see tangible progress. One year from now, you'll be having a different conversation about your life.
JOIN US:
REACH OUT TO US:
Call/Whatsapp: +65-8186 7508Email: info[a]nlpsgasia.comWe typically respond within 36 hours.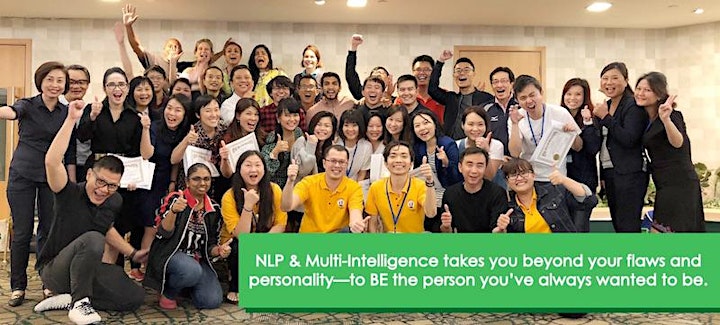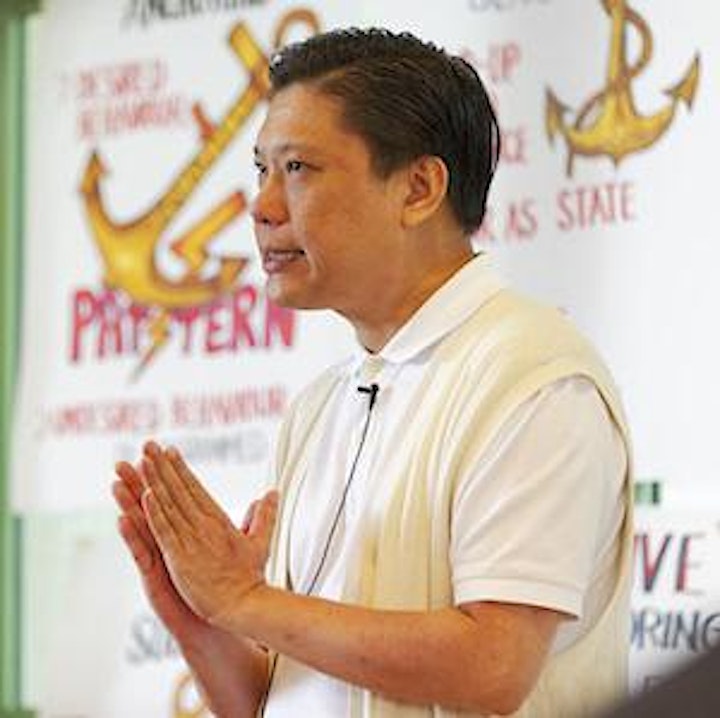 Organizer of Multi-Intelligence NLP Practitioner Certification New Intake 2020 (SG)
Mind Transformations is the longest continuously-running NLP training and institution company in Asia, since 1997. As an NLP Elder and future-fit developers and coaches, we manifest a life-supportive world by synthesising the intelligences of the body (PQ), mind (IQ), emotion (EQ) and spirit (SQ). 

We strive to live by the spirit of Kaizen—continuously improving our training delivery and methodology so that you don't have to go through difficult change to get the results you want. Check out our Kaizen Milestones, drawn in 2017, our 20th Anniversary:
http://blog.mindtransformations.com/kaizen/
Mind Transformations is the only NLP Institution in Singapore that's accredited by the International Association of Coaching Institutes (ICI), Germany. Our NLP training is known to be rigorous and in-depth, emphasising on 3 connecting concepts—"Brain Friendly", "Hands-On" and "How to do it", so that you can turn cutting-edge knowledge and tools into something you can confidently execute in your life every day.