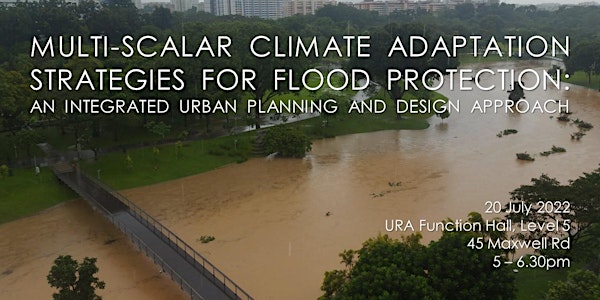 Multi-Scalar Climate Adaptation Strategies for Flood Protection
An Integrated Urban Planning and Design Approach
When and where
Location
The URA Centre, Function Hall, Level 5 45 Maxwell Road The URA Centre Singapore, 069118 Singapore
About this event
SYNOPSIS
Sea level rise and more frequent inland floods due to climate change are posing significant global risks for countries everywhere. Water is an indiscriminate agent which affects all areas unprepared for flood alleviation – which signal bad news for countries with rich cultural heritage as the impact of potential and irreversible damages of these sites will be profound. For multi-scalar climate adaptation strategies to be effective, our efforts require taking into account all levels – from island-wide, individual developments, to building-specific – such as those of heritage sites. As subject matter experts, we can play a pivotal role in offering innovative solutions to private and public sector stakeholders who are confronted with challenges like cultural and heritage protection due to flooding, cope with climate change.
This calls for a more resilient urban development approach to mitigating these climate risks. At Ramboll, our multidisciplinary and multi-scalar approach towards flood resilience emphasizes the incorporation of nature-based solutions as part of the toolkit for creating future regenerative cities. As part of this presentation, we will showcase Ramboll's design approach in details and demonstrate the outcomes through some recent leading project examples around the world.
ABOUT THE SPEAKERS
LEONARD NG (Regional Director, APAC)
Leonard joined Ramboll Studio Dreiseitl (formerly known as Atelier Dreiseitl) in 2008. His academic background and design interest lay at the juncture between man and his environment with the aim of finding a long-term sustainable balance between them.
Leonard's approach involves extensive collaboration with diverse professions to foment holistic landscape-based solutions that engage and educate users while respecting the environment.
Over 20 years of experience, Leonard has worked on numerous projects; and some of his notable works include Bishan-Ang Mo Kio Park, Kampung Admiralty and Jurong Lake Gardens. His recent works feature a design that integrates the water found on-site with the surrounding urban development in a sensitive manner
PRITHA HARIRAM (Head of Water Infrastructure and Climate Adaptation, Singapore)
Pritha Hariram has over 20 years of experience as urban water infrastructure specialist where she has managed the development and financing of large-scale projects of USD$250 million across Asia, Latin America. and Africa.
Pritha has extensive experience in hazard analysis and risk management of urban water and wastewater/sanitation to build climate resilient systems to safeguard public health and improve operational efficiency of utilities. She was a key contributor in the early development phase of the World Health Organization's Climate Resilient Water Safety Plans guidelines. In recent years she has managed the development and transaction advisory of Public Private Partnership (PPP) projects as a Certified PPP Professional (CP3P) for water and wastewater projects aiming to enhance water security.
Pritha is a recognized thought leader and has served as an advisory board member on the EU funded RECONECT project and the Water as Leverage Dutch funded program. She also serves as a lead discussant on the OECD Blended Finance for Water Supply and Sanitation Roundtable. Pritha's passion lies in accelerating the sustainable development of climate resilient urban water infrastructure and to crowd in sustainable finance for project execution.
ABOUT RAMBOLL
Ramboll is a global engineering, architecture and consultancy company founded in Denmark in 1945. Our 16,000 experts create sustainable solutions across Buildings; Transport; Water; Environment & Health; Architecture & Landscape; Energy and Management Consulting. Across the world, Ramboll combines local experience with a global knowledgebase to create sustainable cities and societies. We combine insights with the power to drive positive change to our clients, in the form of ideas that can be realised and implemented. We call it: Bright ideas. Sustainable change.
Read more on ramboll.com and follow us on LinkedIn and Twitter.
CPD ACCREDITATION
This talk is accredited with CPD points by the Singapore Institute of Architects/Board of Architects and the Singapore Institute of Planners.
Please register with the relevant details, and remember to sign in and sign out at the lecture.
CO-ORGANISER
This event is co-organised by ICOMOS Singapore.
ABOUT ICOMOS SINGAPORE
Founded in 1965, the International Council on Monuments and Sites (ICOMOS) is an association of over 10,000 cultural heritage professionals present in over 100 countries, working for the conservation and protection of monuments and sites. The only global non-government organisation of its kind, ICOMOS is officially recognized as an advisory body to UNESCO. On 14 May 2014, a National Committee for Singapore was officially sanctioned by the ICOMOS Executive Committee. ICOMOS Singapore consists of multidisciplinary heritage professionals who have for many years worked closely on government and non-government projects concerning Singapore's heritage and historical sites and monuments.
For more information, please visit www.icomos-sg.org