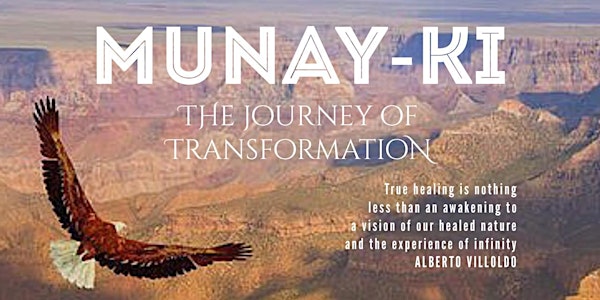 Munay-Ki Rites Initiation Training 2022
Munay in Quechua is Love. Ki in Japanese is Flow of Energy. Together, Munay-Ki is the Power of Love : the Source Energy in each & all of us.
Date and time
Sun, 11 Dec 2022 09:30 - Thu, 15 Dec 2022 18:30 +08
Location
Haji Lane Haji Lane Singapore Singapore
Refund Policy
Contact the organiser to request a refund.
Eventbrite's fee is nonrefundable.
About this event
✨✨MUNAY-KI Rites Initiation Training 2022✨✨
-------------------------------------------------------
The Munay-Ki are the nine rites of initiation that a soul-being, who has accepted the stewardship for all creation, can take to grow into a person of divine wisdom and heart-centred power. As you experience Munay-Ki, you will feel the language of Life force, and sense the presence of luminous living and the ones who have already broken out of linear time (and now dwell in sacred time), into infinity, free from the grip of karma and rebirth.
- About Munay-Ki
- The Inka Evolution – The wisdom of Chakana
- Munay-Ki vs your luminous energy field
- How to set up a basic altar, opening the scared space for the ceremony
- Training on the procedures to give and receive all Munay-Ki Rites
- Connect to the energies to the 10 rites
- Evolving with the 7 Archetypes
- Meditations in the nature. Connection to nature and elements.
- Giving and receiving the 13th Rite in a ceremony and deepening the connections with the energies of the medicine women
- Drumming Circle
- Sharing our journeys
- Brief discussions on becoming a healer or teacher (for individuals who maybe interested)
- Closing the sacred space with Fire ceremony
-------------------------------------------------------
DETAILS :
11th Dec 2022 (Sunday) : 9.30am to 6.30pm (Athma Soulutions, 59A Haji Lane)
15th Dec 2022 (Thursday) : 9.45am to 6.30pm (Lazarus Island)
-------------------------------------------------------
Exchange .:. SGD 555 - Training manual, Pi-stone, handmade Peruvian cord included.
An intentional learning environment, Limited to 4 participants.
.:. 🐬 Note 🐬 .:.
Prepare intentions for openness, activation and affirmation.
Hydrate sufficiently (2 litres) throughout the day and enjoy a light meal before the session.
Things to bring
- Personal crystals for energizing
- Sacred objects to be placed on the Altar
- Water bottle
- Comfortable natural fibre clothing/scarf
We are re-working the 3 days into 2 full days of intensive and intimate learning. The schedule below is for reference on what would be covered. Whatsapp (message only) Omsira at +65 9635 6353 for any questions or payment options.
✨Ayni 💖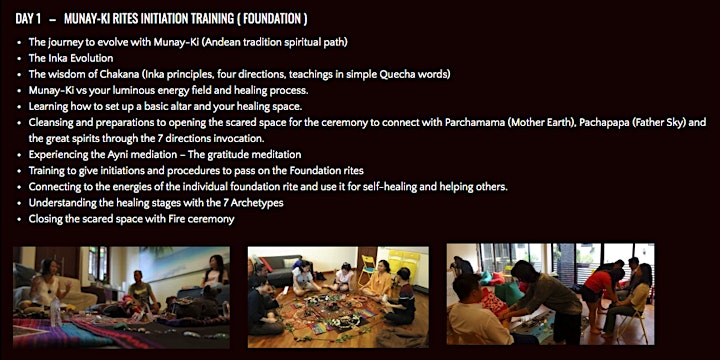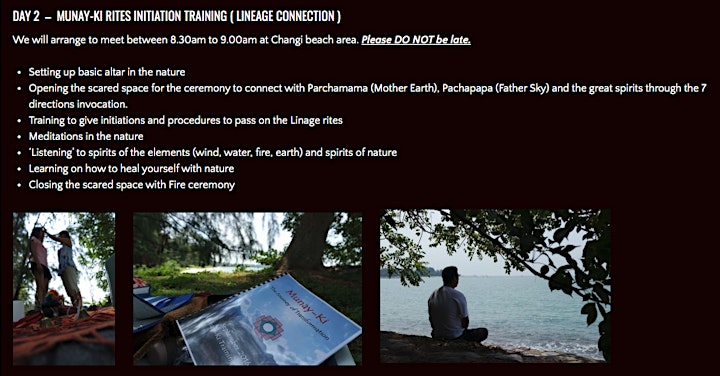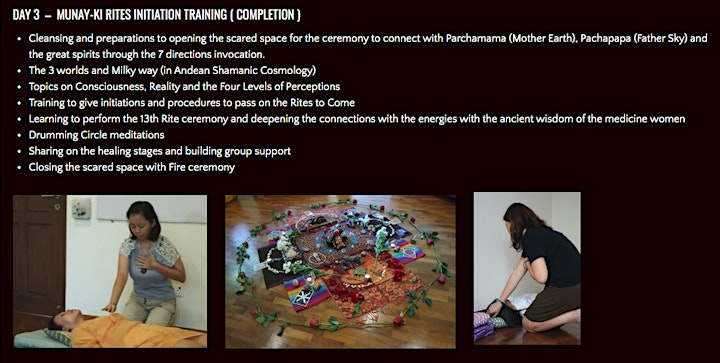 🙏🏼 The prophecies of the ancient Americas speak about a period of great transformation, and foretell of new humans appearing on the planet – persons of wisdom and power who live free of fear and abide in their eternal nature, accepting stewardship for all creation.
Rites of passage and initiations have been practiced for millennia by all peoples of our Sacred Earth. Based on initiatory practices of the shamans of the Andes and the Amazon, the Munay-Ki are rites of initiation to become a person of wisdom and sovereign power.
They are energetic transmissions that heal the wounds of the past – the genetic and karmic inheritance we are born with. They transform and upgrade the luminous energy field and re-inform our DNA, enabling us to grow a new body that ages, heals, and dies differently.
https://radiantspectrumslove.com/munay-ki/munay-ki-rites-initiation-training/
For more information☝🏽
About the organiser
We are Athma SOULutions
And we are passionate about enabling people to celebrate their authencity in their spirited journeys.
Our lifestyle soulutions are aimed at re-associating with one's awakened soul. One that is tired of the superficiality and instant gratification of disillusioned consumerism.
Whether if you are a path-seeker, a student, a teacher, or just someone who seeks self-care and tools for self-empowerment, we want to support you to experience true contentment and lasting bliss.
When we expand our perspectives and align ourselves with the intention of communing with Athma, our own divinity within, we naturally elevate our experiences to something that is meaningful and fulfilling. This creates a natural feedback loop that we can truly rely on; a space where your inner knowingness thrives – when the mind takes a back seat and intelligence from your heart flows freely.
So come journey with us! As we share with you ways to commune with Athma. Inner SOULutions that support you in your majestic and magical journey! ✨✨✨