"A competent job with their blend of escape room gaming, theatre film & technology…" - Straits Times
About this event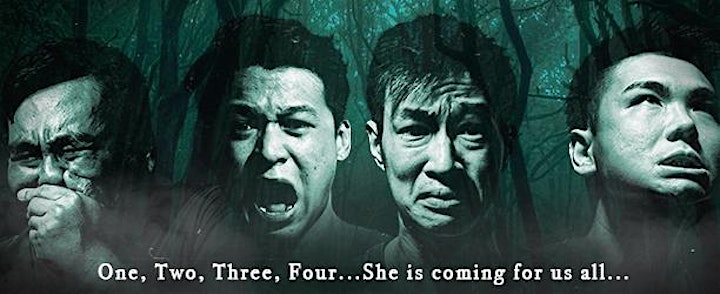 IMPORTANT NOTICE:
The Live Experience for 5 pax will continue as planned amidst the current restrictions as all Safe Management Measures regulations have been adhered and abided to.
===== =====
THE LIVE EXPERIENCE
The Live Experience consists of 2 parts –
1. A 60 minutes Live escape game at a secret location, to be revealed only on the day of the experience.
2. The virtual gameplay of Murder at Old Changi Hospital which can be accessed at your own time and space via a link (valid for 30 days after your Live experience).
===== =====
Part 1: LIVE Escape Game at a Secret Location.
After reopening the case of the Murder at Old Changi Hospital that happened 25 years ago, Paranormal Investigator Tom has gone missing.
It is said that he was very close to solving the mystery and someone is after his life for that. Could it be the work of the supernatural or the alleged murderer?
Your mission is to break into his office to search for evidence and clues that will bring you closer to solving the case and to find the key to unlocking the videos that will reveal all of Tom's findings.
You have precisely 1 hour to fulfill your mission and leave the office before your life is in danger.
We are counting on you…
This LIVE escape game will provide you with vital evidence and case files that will be useful for your virtual gameplay of Murder at Old Changi Hospital.
Part 2: A Virtual Gameplay at your own time and space.
With the evidence and case files collected from the LIVE escape game, you continue the role as a talented paranormal investigator. Attuned to the spirits, you navigate a complete sensory world of Old Changi Hospital.
Within these eerie halls, Farah Aiyah (played by Munah Bagharib) was allegedly murdered. 25 years on, it is believed that the ghost of Farah continues to trap the four Commandos associated with her murder within the hospital.
It is up to you to solve this terrifying mystery once and for all.
Find Farah's murderer and end the curse - before it is too late!
===== =====
"The most powerful element in any horror-thriller experience is the narrative and Murder at OCH knows how to weave an intriguing one." - City Nomads
Live Experience Package
$210.54 - For a group of up to 5pax (inclusive of booking fee)*
*Offpeak Season
Includes:
Part 1: LIVE 60 minutes Escape Room game at a secret location.
Part 2: A unique link to the Virtual Gameplay at your own time & space.
+ 10 minutes time extension + 2 unique clues + Bonus materials & evidence