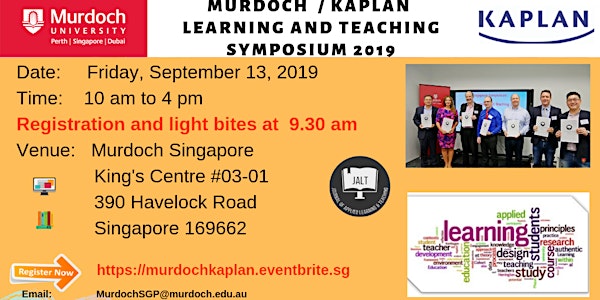 Murdoch-Kaplan Learning and Teaching Symposium 2019
When and where
Location
Murdoch Singapore King's Centre 390 Havelock Road, #03-01 Singapore, Singapore 169662 Singapore
Description
Murdoch-Kaplan Learning and Teaching Symposium 2019
Symposium open to all educators.
Day of academic presentations ending with an enjoyable panel discussion.
Lunch provided
---
Murdoch-Kaplan Learning and Teaching Symposium
Date: Friday, September 13, 2019
Time: 9.30 am to 4 pm
Registration: 9.30 am
Venue: Murdoch Singapore
King's Centre #03-01, 390 Havelock Road, Singapore 169662
Programme of the Day
9.30 am - 10.00 am
Arrival and registration (including coffee, tea and light bites)
---
Time / Programme of the Day
9.30 am - 10.00 am Arrival and registration
10.00 am -10.10 am Welcome address by Professor Peter Waring, Pro Vice Chancellor Transnational Education and Singapore Dean
10.10 am - 10.20 am Introduction by Mr Djon Manuhutu, Senior Director (Academic Services), Kaplan
10.20 am - 10.35 am Introduction to Journal of Applied Learning & Teaching (JALT) by Dr Jürgen Rudolph, Head of Research, Senior Lecturer & Academic Partner Liaison, Kaplan Singapore & Co-editor in chief, JALT
10.35 am - 11.05 am Presentation by Dr Tania Lim, Lecturer in Communications, Murdoch Singapore. Topic: Towards building a Digital Community of Practice: Teachers as Learners
11.05 am - 11.35 am Presentation by Dr Eunice Tan, Lecturer in Tourism, Murdoch Singapore [on behalf of the tourism team of Dr Eunice Tan, Dr Diane Lee and Mr Yohei Okamoto]. Topic: Achieving Reciprocity and Transformative Learning through Study Abroad Program: Our New Colombo Plan (NCP) Experience in Japan
11.35 am - 11.50 am Short Break
11.50 am - 12.20 pm Presentation by Dr Jürgen Rudolph. Topic: Reflections on Ivan Illich's Deschooling Society
12.20 pm - 12.45 pm Presentation by Ms Rachpal Kaur Tulsi, Kaplan Lecturer. Topic: The Link between Entrepreneurial Orientation and Education: The Case of a Singapore PEI
12.45 pm - 1.45 pm Networking Lunch
1.45 pm - 2.00 pm Presentation by Ms Sangitha Murthy and Ms Adheline, Murdoch University SCALT students. Topic: Love and Hate Relationship with Blended Learning
2.00 pm - 2.55 pm Presentation by Associate Professor Rob Burton, International Director, School of Nursing and Midwifery, Griffith University. Topic: Nearpod: Taking Advantage of the Mobile Devices Students Bring to Class
2.55 pm - 3.10 pm Short Break
3.10 pm - 4.00 pm Panel discussion: Singapore should be a global schoolhouse.
Facilitator: Prof Peter Waring. Panel speakers: Ms Rachpal Kaur Tulsi, Dr Bina Rai, Dr Tania Lim, Dr Eunice Tan, Dr Olwen Bedford
4.00 pm End of programme