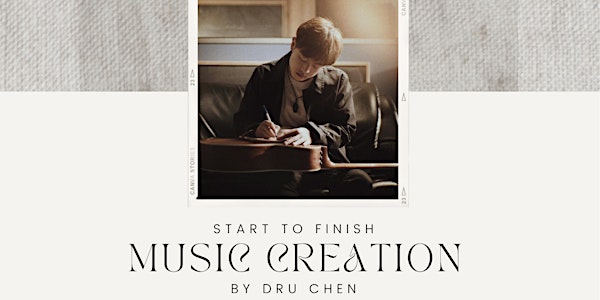 Music Creation: Start to Finish" Webinar ft. Dru Chen
Art is a by-product of life. I make music to capture moments, or 'aural photographs' that tell stories.
About this event
Dive into the music creation process with renowned singer-songwriter and music producer Dru Chen, from initial phone demo to fully arranged, produced, mixed and mastered song.
By the end of this webinar you will be able to:
1. Describe the process for writing, arranging, and producing a contemporary popular music track
2. Recognize the technical and aesthetic choices in mixing and mastering a contemporary popular music track
This webinar is designed musicians, songwriters, music arrangers, music producers, audio engineers, and anyone with keen interest in the field of music creation.
Hobbyists, students, and professionals are welcome!
Registration link: https://tinyurl.com/musiccreation2022
Andrew 'Dru' Chen is a singer-songwriter, music producer, and a lecturer. He has recorded, written, produced for Warner Singapore, Universal Music Publishing,
and composed for League of Legends, Citibank, and McDonalds. Dru is currently a lecturer in the School of Technology for the Arts at Republic Polytechnic.
For inquiries, please email andrew_chen@rp.edu.sg