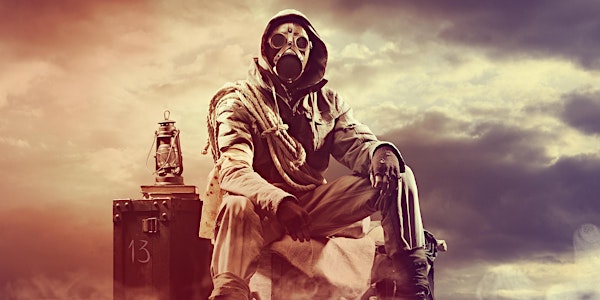 Multiple dates
Mutants & Mayhem: a Zombie Apocalypse Survival Game
Date and time
Sun, 4 Sep 2016 18:00 - Sun, 11 Dec 2016 20:00 +08
Location
Colony 13 5 Ubi Link Singapore, 408548 Singapore
Refund Policy
Contact the organiser to request a refund.
Description
---
THIS IS YOUR WORLD

In a world threatened by viral extinction, Colony 13 was a rare refuge against hordes of roaming infected mutants that rule the streets of fallen Singapore.

However, the outer perimeter has just been breached, and nearly every man, woman and child has fallen and joined the ranks of the mutant swarm.
As the sun begins to set over Colony 13, mutant pods are readying to make a final push to exterminate the last human pests - by harnessing the power of mutation, gathering intelligence on human patrols and infiltrating the force field barriers that hold the mutant mob at bay.
The few human survivors have to plot their escape with limited weapons and ammunition. Outnumbered and barricaded on the second floor, the last remnants of Company Mayhem have to brave the infested warehouse to gather supplies for a long journey to the next colony.
Experience Mutants & Mayhem, a riveting survival experience in this real-life adventure game.
---
THIS IS YOU

Mutants & Mayhem is a storytelling game that takes place in real life. You play a character in a story about perilous survival, blind hope and foolhardy courage. During the game, you interact with actors and fellow players in your new persona.
Join the game as an infected Mutant or human survivor from Company Mayhem.

To play a human survivor (Mayhem):

1. Company Mayhem is the primary line of defense for Colony 13, one of the last bunker colonies in fallen Singapore. You are highly encouraged to play as a squad of 5 (due to the challenging nature of the game). A total of ten (10) human players run & gun, sneak & skulk, and even "sabo" other colony members to survive.

2. Company Mayhem is armed with foam blasters and foam melee weapons. Each squad is comprised of 5 members:

Assault Troopers (2-3 per team): Primary damage dealers armed with automatic burst blasters. Perfect for mowing down a horde of infectious mutants.
Medics (1-2 per team): Healers can revive fallen comrades with adrenaline medical packs. They carry a small sidearm blaster to defend themselves.

Vanguard Specialists (1 per team): These tanky elite troopers are often first through the door. Their reinforced armor makes it difficult for mutants to infect them easily, but their armor also makes it impossible to wield a blaster. Vanguards use short-range electropikes to zap their foes.
To play an infected (Mutant):
1. You are encouraged to play as a pod of 5 for greater tactical advantage. Fifteen (15) infected mutants lurk and patrol the warehouse, outnumbering the survivors, and a single touch is all it takes to spread the virus to a human.
2. Each pod starts off with 5 Infected mutants working & eating together. Mutant players may spend mutation points to customise their characters from the list below. They can continue to increase their powers by completing challenges and secret missions for their Mutos leaders.
Howlers use their mutated thoraxes to honk and shrill, letting the horde know that dinner has been spotted.
A Lasher's long tentacle looks hilarious, but is also an evolutionary advantage to tag & snag running protein.
Spitters are mutants with the worst table manners. Spitters can belch acidic spittle from a distance to tenderize tasty troopers that are too tough to chew.

Shamblers cannot be put down easily with weapons - nothing stops a hungry Shambler from shuffling to their next meal.
Wraiths can take on incorporeal forms during reconnaissance missions; no matter how much they eat, they never seem to gain weight.
Behemoths are tanks with 3 heads, 6 arms and 4 legs. Usually. They are incredibly hardy, despite being slow, argumentative and occasionally counterproductive.
---
THIS IS YOUR COSTUME
You are encouraged to come dressed as your character in a post-apocalyptic Singapore, and to share a unifying visual theme with your fellow team mates. For example, groups can come dressed with steampunk accessories, bandages, or blue tribal warrior paint (woads) or temporary tattoos.
As you will be running around in a warehouse, do wear comfortable, practical clothes and covered shoes.
Infected players are encouraged to attend in clothing that you are willing to ruin with holes, blood and stains. Facepaint and fake blood will be provided for players who are keen to be visually infected.
---
THIS IS THE LAW
The safety of all players in Mutants & Mayhem is of paramount importance. Here are our core safety rules.
Do not climb up structures and furniture

Do not move or shift bulky warehouse items in the play areas

Do not enter areas that have been marked as out-of-bounds

Stop play and gather at assembly area when storytellers blow the time-out whistle

Do not attend the game intoxicated


Look out for each other's safety

Be aware of your surroundings, especially in dimly lit areas

Approach a storyteller if you feel unsafe and wish to exit the game
Playing Mutants & Mayhem involves elements of physicality and minimal contact between participants. All participants are required to sign a liability waiver to in order to play the Mutants & Mayhem game. Please do not purchase tickets if you are unwilling to assume the risks of taking part in this activity.
---
THIS IS THE TIME

Please arrive for the game early. Latecomers will not be allowed to participate as the story would have already begun for other players. No refunds will be granted.
---
THIS IS THE NUMBER

The minimum is 15 to play (5 humans vs 10 mutants), 25 (10 humans vs 15 mutants) for optimal game experience, with a maximum of 32 for chaos. If the minimum number of player sign-ups is not reached, we will cancel the session and refund everyone their tickets.

---
THIS IS YOUR ANSWER

How do I get there?

The closest MRT station is Tai Seng, a 10 minute walk away. There is also public parking nearby. Do not park within the warehouse compound as... well, you'll see.

Are there ID requirements or an age limit to enter the event?
Yes. Mutants & Mayhem features mild horror themes and involves physical activity not suitable for children. Players must produce identification to show that they are above 18 years in age, and for any student/NSF discounts.

Who should not attend?
The game is a physical activity not suitable for pregnant women, people with mobility issues and serious health conditions. The organisers will do their best to keep gameplay experience safe for all. Players who endanger themselves and fellow participants through reckless play will be asked to leave the game (no refunds).
What can/can't I bring to the event?
We encourage players to wear costumes to enhance their experience but do not bring props that look like realistic weapons. Dart blasters and ammunition will be provided; do not bring your own.

How do I "win" at Mutants & Mayhem?
The objective of this interactive experience is not solely just to "win", but to have fun, and enjoy the game collectively as a group. Mutants & Mayhem is an exclusive group storytelling activity. Different decisions by various players will lead to unique outcomes, hence, no game is ever alike. So no cheating ah.

I have never roleplayed before. Is it necessary for me to roleplay or wear a costume?
It is not 100% necessary, but it is more fun! Players tend to enjoy themselves more when they are immersed in the story as a character.
Are refreshments available at the game location?
Canned and bottled drinks will be sold on location. You can also bring your own non-alcoholic beverages.
I don't have Paypal. Do you take POSB/DBS bank deposit?

Yes. We prefer ibanking.

Is my registration/ticket transferrable?
Yes. You must email us with 48 hours notice (before the start of the game) with the transferee's registration details.

What is the refund policy?
We will refund your ticket price only if the game is cancelled or rescheduled. We do not offer refunds or exchanges as a result of a change in your personal schedule.

Do you have group discounts or organise private games?

Yes, for groups of 15-30. Please email us at hello@voiddeckgames.com
I have moar questions!

You can email us at hello@voiddeckgames.com or check out our videos + message us at http://facebook.com/voiddeckgames

---
About the organiser
Void Deck Games creates immersive, authentic and exclusive experiences. We offer adventurous people a chance to shed their identity and escape to a world of myth and magic.
Our real life games stem from people's pop-culture fantasies. Survive on an island infested with ravenous zombies. Infiltrate and steal data as a corporate spy. Hunt for your food with primal weapons and dine in tribes over a common fire. Battle for the humanity's survival in a Mad-Max style post-apocalyptic showdown. Preserve the dying embers of humanity as a Martian government.
We offer human connection, escapism, and reflection, through the act of play in Singapore.