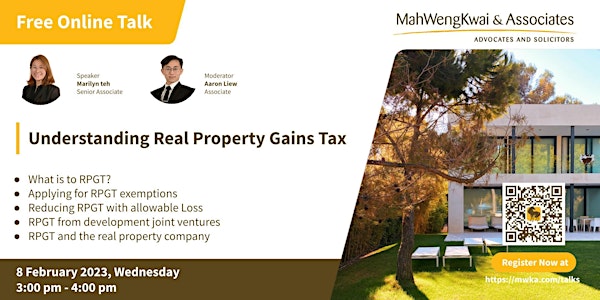 MWKA Online Talk: Understanding Real Property Gains Tax
MWKA Online Talk: Foreign Companies in Malaysia: Branch Office, Representative Office or Local Subsidiary?
About this event
Wednesday, 8 February 2023 at 3:00pm - 4:00pm
★SPEAKERS
Marilyn Teh Senior Associate, Corporate Practice Group
★ABOUT THIS ONLINE TALK
Thinking of selling your property and what Real Property Gains Tax (RPGT) you'll have to pay? Some disposals are not taxable - is your property exempted? Join us for this talk to understand RPGT, how it is charged and when exemptions apply.
The talk will be delivered over video conference using Zoom.us. You can either view the talk from your web browser or download the Zoom app.
★TALK POINTS
What is to RPGT?
Applying for RPGT exemptions
Reducing RPGT with allowable Loss
RPGT from development joint ventures
RPGT and the real property company
★SPEAKERS
Marilyn graduated with a Second Class Honours in Bachelor of Laws (Hons) from Multimedia University in 2016. Marilyn then commenced her pupillage in Koh Kim Leng & Company, Melaka under the guidance and tutelage of Mr. KL Chong. Marilyn was admitted as an Advocate and Solicitor of the High Court of Malaya in 2017. She then joined MahWengKwai & Associates as an Associate in 2022.
Marilyn is also presently completing the Master of Commercial Law (MCL) Master's Degree programme at the University of Malaya on a part-time basis.
Marilyn's area of practice include acquisitions and disposals of real property either by individual or corporate, loan documentations for various financiers and drafting various kinds of contracts.