Global AM Summit is taking on a brand new look! Join us as we bring you an all-encompassing experience of online engagement!
About this event
NAMIC Virtual Summit 2021: Innovating for Built Environment with Construction 3D Printing
NAMIC is Singapore's AM national platform for catalyzing innovation and scaling industrial adoption of additive manufacturing technologies.
As part of our Global AM Summit Series and continuing from NAMIC's Virtual Global AM Summit 2020, NAMIC will expand this into a series of virtual AM Summits in 2021. The event series will focus on the status of AM deployment globally in industries spanning Built Environment, Aerospace, Land and Maritime, Biomedical, Marine Offshore and Renewables. Drawing on the domain expertise and thought-leadership of our distinguished speakers, our first Virtual Summit series of the year will kick off on how AM technology has evolved over the years to now being deployed to build sustainable and affordable housing for the masses.
The format of the summit will involve a 15-min presentation by the speakers, before ending with a joint panel discussion and Q&A session. By sharing your experience and expertise in construction 3D printing, we hope to inspire our local and regional construction companies to take action.
-----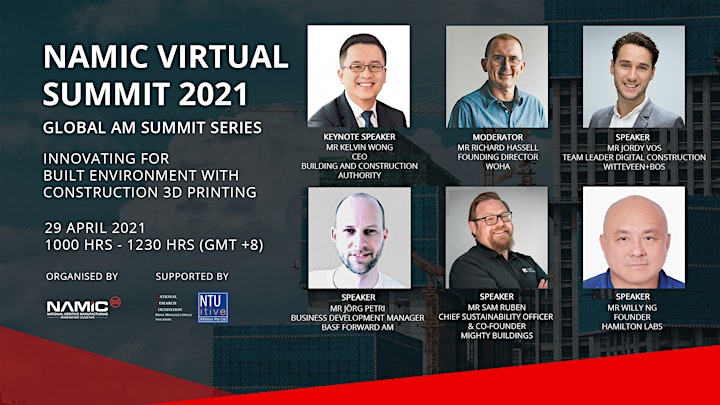 SUMMIT AGENDA
0945 - 1000: Pre-Summit Introduction Video
1000 - 1005: Opening Remarks by Mr Mahendran Reddy, Head of Ecosystem, NAMIC
1005 - 1010: Welcome Address by Dr Ho Chaw Sing, Managing Director, NAMIC
1010 - 1030: Keynote Presentation: Shaping the Future of Singapore's Urban Landscape by Mr Kelvin Wong, Chief Executive, Building and Construction Authority of Singapore
1030 - 1045: Reinventing Sustainable Public Housing with Smart Manufacturing 4.0 by Mr Jordy Vos, Team Leader Digital Construction Singapore, Witteveen+Bos South-East Asia Pte. Ltd.
1045 - 1100: Emerging Trends: Actualizing Affordable Construction using 3D Printing by Mr Willy Ng, Founder, Hamilton Labs
1100 - 1115: Optimizing the Future of Sustainable Housing with 3D-Printing by Mr Sam Ruben, Chief Sustainability Officer & Co-Founder, Mighty Buildings
1115 - 1130: Added Value for Architecture & Construction through 3D Printing by Mr Jörg Petri, Business Development Manager - Architecture & Construction, BASF Forward AM
1130 - 1215: Questions & Answers/ Panel Discussion
What are the opportunities/ key trends that one foresee for the Built Environment sector for the next decade that can attribute to the United Nation Sustainable Development Goals?
Moderator: Mr Richard Hassell, Founding Director, WOHA Architects
1215 - 1230: Closing Remarks
-----
Check out NAMIC's Site for more details: https://namic.sg/events/namic-virtual-summit-2021-apr/
Do reach NAMIC via lynn.limxj@ntu.edu.sg if you have questions pertaining to the event.