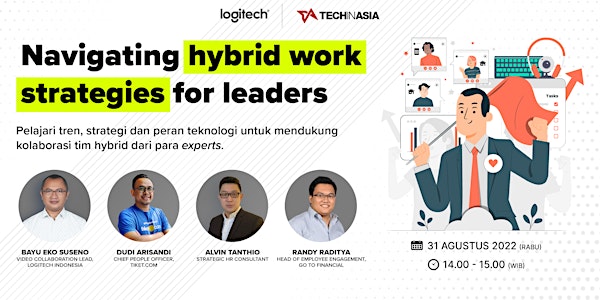 Navigating hybrid work strategies for leaders
Pelajari tren, strategi dan peran teknologi untuk mendukung kolaborasi tim hybrid dari para experts.
About this event
Laporan dari McKinsey menyatakan bahwa 9 dari 10 organisasi akan mengadopsi model kerja hybrid dalam jangka panjang.
Namun, sistem kerja hybrid memiliki beberapa kendala antara lain:
kinerja karyawan yang sulit diukur,
miskomunikasi antara tim yang bekerja di kantor dan di rumah yang bisa berpotensi menciptakan ketegangan dan konflik,
risiko akan keamanan siber,
kurangnya tools (software dan hardware) yang memungkinkan kolaborasi dan komunikasi yang efektif. Survei yang dilakukan Hive.com mengidentifikasi tools yang paling banyak digunakan oleh 91% pekerja jarak jauh adalah software video conference, 62% menggunakan project management tools, dan 61% menggunakan instant messaging.
ketidakmerataan tools (software dan hardware) antara tim yang bekerja di kantor dan rumah. Sebuah studi dari Microsoft menyatakan karyawan di seluruh Inggris merasa kalau mereka kurang difasilitasi dalam melakukan pekerjaan mereka karena memiliki hardware yang salah, termasuk laptop, tablet dan smartphone.
Lantas, bagaimana mengatasi kendala tersebut agar komunikasi dan mengelola tim secara efektif bisa terbangun dan sistem kerja hybrid berjalan dengan lancar?
96% karyawan menyatakan bahwa mereka butuh teknologi yang cerdas untuk meningkatkan kinerja mereka. Perusahaan harus berinvestasi pada teknologi yang up-to-date agar kolaborasi tim, employee experience, kinerja, produktivitas, serta work-life balance bisa dicapai.
Di virtual event kali ini, Logitech bersama Tech in Asia akan menghadirkan para pemimpin perusahaan yang memiliki pengalaman bekerja secara hybrid. Mereka akan berbicara tentang :
Tempat dan fitur kerja di masa depan. Keinginan karyawan dalam lingkungan kerja hybrid.
Cara berkomunikasi dan mempengaruhi tim
Strategi dalam mendorong fokus dan akuntabilitas dalam sistem kerja hybrid
Strategi pembelajaran di tempat kerja hybrid.
Cara memfasilitasi tim untuk menyiapkan tempat kerja hybrid mereka
Tempat/ wadah para pemimpin dan pengambil keputusan merencanakan dalam mendesain ulang tempat kerja mereka
Peran SDM dalam cara kerja hybrid, strategi menggaet talenta digital dan menjaga konektivitas dan kolaborasi, sambil membangun konektivitas karyawan dan perusahaan.
Teknologi yang perlu dimiliki oleh perusahaan di era tempat kerja masa depan (software kolaborasi, sistem daftar periksa kesehatan karyawan, platform pembelajaran, kolaborasi video, dll), tools (hardware) yang menciptakan lingkungan dan pengalaman kerja terbaik bagi karyawan.
Dapatkan insight dan best practice sistem kerja hybrid dari pakar industri yang berpengalaman seperti:
Bayu Susetio – Video Collaboration Lead, Logitech Indonesia
Dudi Arisandi – Chief People Officer, Tiket.com
Alvin Tanthio - Strategic HR Consultant
Randy Raditya - Head of Employee Engagement, Go To Financial
Putra Setia Utama – COO Tech in Asia ID (Moderator)
Daftarkan dirimu dan ajak teman teman satu tim kamu untuk bergabung dalam acara kolaborasi Tech in Asia dan Logitech Indonesia.
___________________________________________
Cari tahu lebih lanjut mengenai bermitra dengan Tech in Asia Studios untuk terhubung dengan komunitas teknologi di Asia.