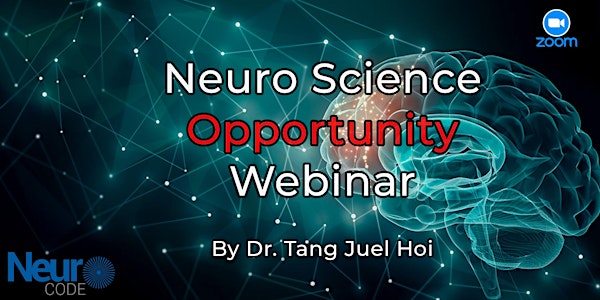 Neuro-Science Opportunity Webinar
Dr Tang is a former A*Star Research Scientist and Neuro Scientist, founder and CEO of Neuro Code Research.
About this event
Dr. Tang will be sharing with you some amazing social and business opportunity pertaining to his discovery and inventions in neurosciences. Neuro Code Research Pte Ltd, his R&D company has filed various patents, trade-secret and trademarks.
Neuro Code develops simple yet effective brain development programs to help children and adults enhance learning ability, improve academic performance and EQ.
Neuro Code also develop and produce a series of mental wellness products to help children, adults and elderly people to reduce stress, improve sleep quality, enhance positive emotions, improve brain alertness & vitality.
Neuro Code Research develops technology, programs and products based on proven Neuroscience technology and techniques.
Backed by 12 years of research and 4 successful clinical trials, we have filed 8 international patents and 2 original music copyrights.
In the 90mins webinar, Dr. Tang will share with you how Neuroscience technology could improve brain power, memory, sleep quality, reduce stress, and cultivate positive emotions.
He will also present opportunities for you to leverage on our technology for your success.
Let's explore opportunities to collaborate and succeed together.
Please book your calendar and sign up for the webinar NOW.