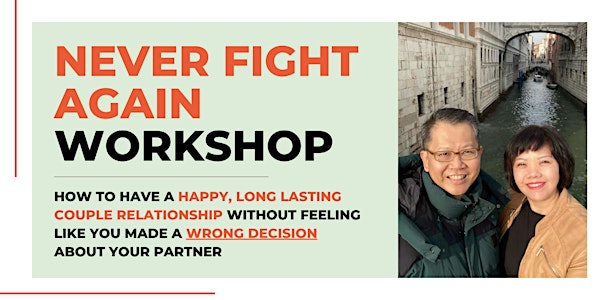 NEVER FIGHT AGAIN Workshop
How to have a happy, long lasting couple relationship without feeling like you made a wrong decision about your partner
About this event

Does this sound like what you are going through right now?
"I FEEL ALONE IN THE RELATIONSHIP"
My partner doesn't understand me
I don't feel appreciated and supported by my partner
I am the only one putting in effort in this relationship
My partner does not stand up for me in arguments with parents/friends/children
I have thought about breaking up/ divorcing
My partner often threatens breakup/ divorce in a fight
I feel resigned to "my fate" in my unhappy relationship because this is "normal" in a relationship
"WE JUST KEEP FIGHTING"
My partner is overly sensitive and easily triggered by what I say and do
My partner constantly brings out old things to pick fights with me
I give up talking since my partner is always right and I am always wrong
I go into cold shoulder with my partner in order to make him/her feel guilty
I am still waiting for my partner to admit his/her wrongs
"I say, you say, who confirm, next time we better record what you say"
I don't know what my partner wants because he/she just doesn't want to talk about it
"I AM NOT IMPORTANT"
I have to prioritise my partner and sacrifice my own needs
He/She keeps breaking promises, I give up hoping
I am being taken for granted in the relationship
My sexual needs are not met after having children
"I HAVE TO MAKE MY PARTNER HAPPY"
I feel responsible for my partner's "face" and his/her mood
I have to constantly walk on eggshells around my partner, not sure when he/she is going to blow
My partner means the whole world to me. If my partner is not happy, I cannot be happy
My partner behaves like a child, I am busy just taking care of him/her
If this sounds like you, I want you to know that you are not alone.
After supporting 40,000 individuals in the last 18 years in their relationships, I know it is possible to turn your relationship around.
Read on if you are:
✅Facing challenges in your couple relationship
✅Wanting to rekindle the passion in your relationship
✅Considering marriage in a committed relationship
✅ Looking for a new relationship unlike past bad experiences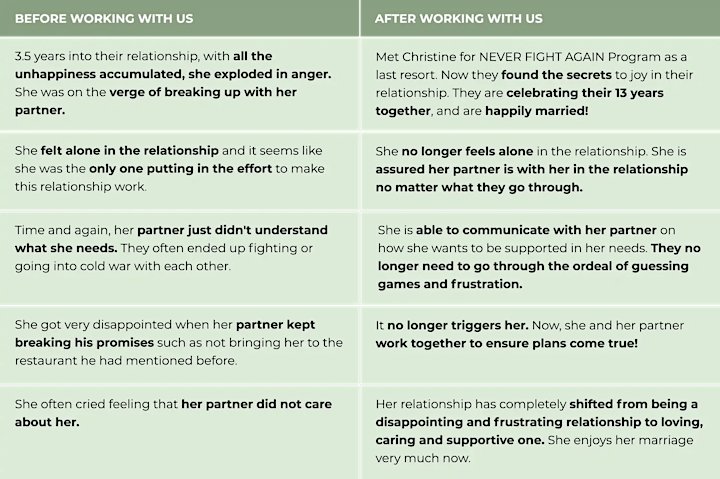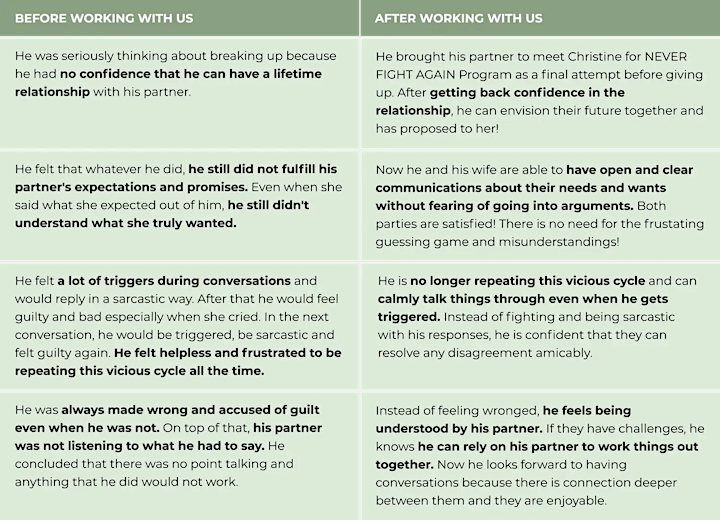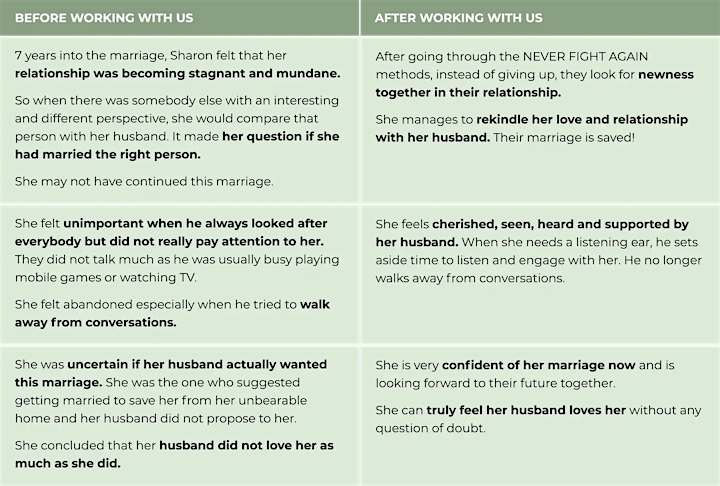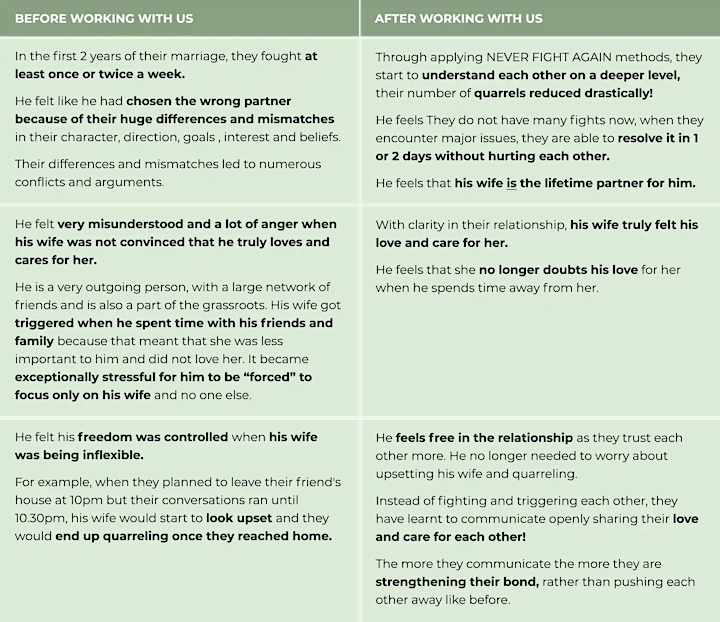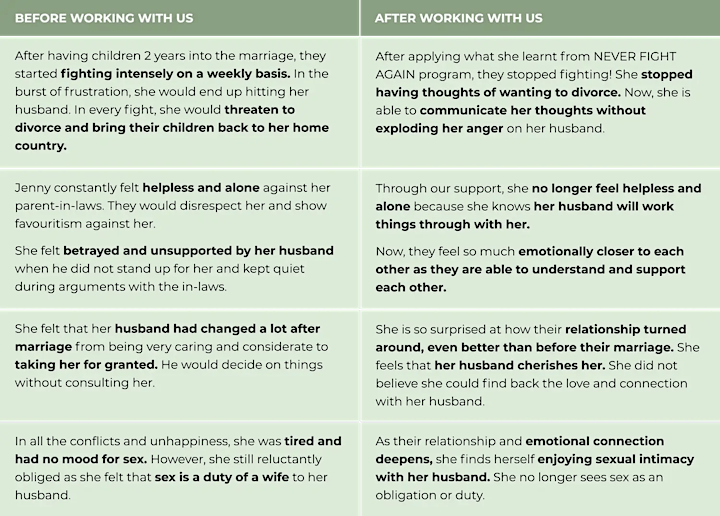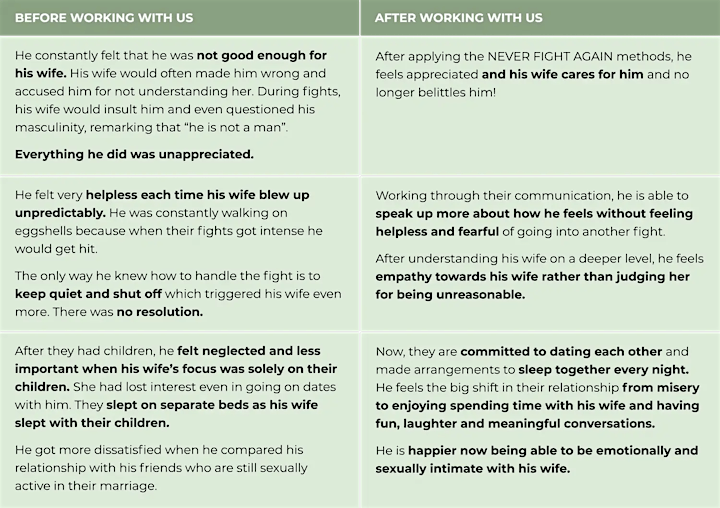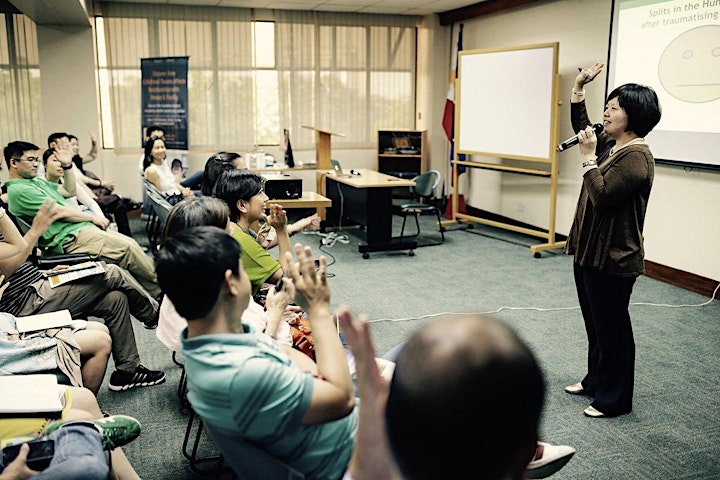 2 DAYS OF REAL & PRACTICAL APPLICATION!
What will you get?
2 Days LIVE Workshop covering:
✅ 18 down to earth and practical ways that transforms your relationship
✅ Immediate application through partner exercises
✅ Role plays to deepen your learnings
✅ Step by step teaching
LIVE workshop Info:
Date: 11 & 12 August 2022
Time: 1PM - 6PM (GMT+8)
Venue for attendees in Singapore: Chui Huay Lim Club
Venue for international attendees: Zoom
Workshop will be conducted in English, with Chinese Interpretation Available
❤️ Our workshop are designed to be highly interactive, highly practical and applicable for transformation.
❤️ For Zoom attendees, ensure you can turn on your videos to participate fully!
TICKETING:
💛 For System of the Heart Alumni, please contact Jia Huey at +65 91737743
Early Bird Promotion [ends 15 July 2022]
❤️ Early Bird Bonus: Bring 1 pax for free : SGD1,800 (Ticket admits 2 pax)
________________________
Regular Ticket: $1,800 (Ticket admits 1 pax)
⚠️ Please note that all fees collected are non-refundable.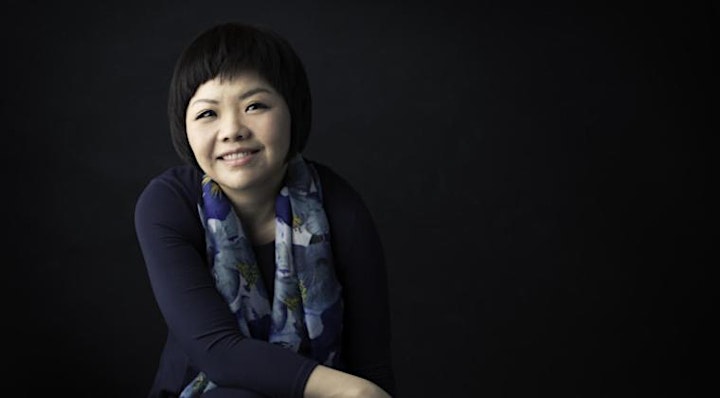 Hi, I'm Christine, Founder of Never Fight Again..
I'm sharing these with you because... I was once in your shoes.
If you are looking for answers in your relationship, I want you to know that you are not alone.
My marriage went from constantly being at each other's throats, almost divorcing, to celebrating our 28 years together with 3 beautiful daughters.
This is my story…
Within 3 months of meeting the man of my life, we got married!
We were on cloud nine when we dated, we said that each other was destined to be together and everything was amazing!
However, 1 year into the marriage we were fighting so much that we wanted to call it quits.
Before marriage, my husband loved my spontaneity and he would be excited about my impromptu ideas.
After marriage, he got so upset and blamed me for not consulting him when I planned things.
He would often say..
😢 "Why you never consult me?"
😰"Why you never consider my feelings??"
😡"Why you never think of my situation???"
I felt really like a really terrible wife each time he questioned and blamed me for what I did.
Everything I did seems to be wrong.
Even though we set boundaries like trying to set rules like no issues should be unresolved before the next sunrise but.. we still continued to fight.
In the attempt to resolve our conflicts, both of us kept trying to explain our side, so nobody was really listening.
The argument gets more and more heated and we start to use all forms of strategies to bring a point across like blaming, cold shoulder, shaming each other in front of our children.
When we saw our children stressed out, that was our turning point.
I started questioning myself, why I made such a fast decision to get married and felt like I had married a completely different person.
I asked myself..
😨"Why am I always the bad person?"
😭"Where did all our excitement and adventure in our relationship go?"
🤬"Do I want to continue to tolerate being blamed?"
I got so frustrated to the point that I told my husband, if you are not going to change, we are going to file for a divorce tomorrow.
We were planning to look for divorce lawyers.
We were desperate.
After all the trial and errors, we finally found the most effective secrets to a happy and lasting relationship!
If you want to know my proven relationship secrets to make good your couple relationship, come and join me in my NEVER FIGHT AGAIN Workshop.
See you soon!
Love, Christine