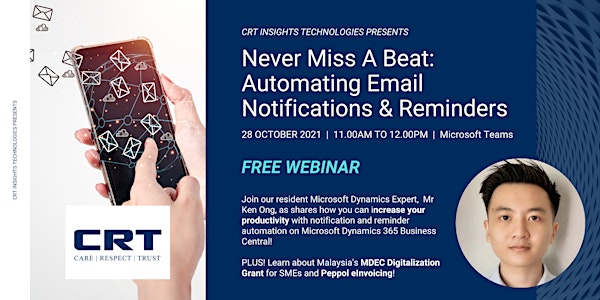 Never Miss A Beat: Automating Email Notifications and Reminders
Are you constantly trying to keep up with sending out reminders to your customers? Or struggling with manual notifications? Check this out:
About this event
Never Miss A Beat
This webinar is part of CRT Insights Technologies' educational outreach that showcases practical and applicable tips in the Microsoft Dynamics 365 Business Central ERP that helps users of various industries increase productivity and efficiency.
This webinar will cover:
How to automate reminder emails for various scenarios using tools already available in your Microsoft Dynamics 365 Business Central system (e.g. payment reminders, approval reminders)
Put in place efficient scheduled notifications and announcement emails for internal and external communication
Manage reminders, notifications, and reminders better with a simple but highly effective tool
EXCLUSIVE ADDITIONAL CONTENT:
Find out about Malaysia's MDEC SME Digitalization Grant and how you can apply for it to get up to RM5,000 off approved digital solutions.
Our guest speaker, Mr Raymond Lam from Pagero shares about how Peppol e-invoicing enables efficient, streamlined processes and significant cost reductions across order-to-cash (O2C) and purchase-to-pay (P2P) processes.
Who should attend:
Accounting Managers
Accounts Receiveable Clerks
Accounts Payable Clerks
Department Leaders
Administrators
About The Main Speaker:
Mr Ken Ong is an experienced ERP Consultant and a valuable team member of both CRT Insights Technologies' core NAV/BC Team as well as its ISV Development Team. As a subject matter expert, Ken specializes in supporting client implementations of NAV security control, document approval workflow, and data migration RapidStart service. His contribution to various projects has been vital to the successful adoption of the NAV/BC system for many companies, spanning multiple industries.
About The Guest Speaker:
Mr Raymond Lam has17+ years experience in the commercial, finance and ERP industries, supporting businesses in digitally transforming their processes through adoption of business applications. As the Managing Director of Pagero ASEAN, his priority has been to expand Pagero's global and open cloud-based trading network, championing regional e-invoicing efforts and enabling businesses to go truly borderless.