Get #creative, expand your critical thinking skills, #design and create, take thoughtful risks and have #fun!
About this event
** If you missed the registration of our Arkki Green Town Workshop, please don't fret!
1) Be on the waitlist and we will contact you if there is any dropout
2) We will be looking to organise more activities (long- term classes and short-term workshops) starting February 2022. Do drop us a note at workshop@possibleclass.com or contact us at 93622381 if you would like to find out more or be on our notification list.
Thank you for your support. More in store for children and youth in 2022! **
Calling all children – our future changemakers, entrepreneurs, mayors and innovative thinkers! Come join us in an enriching 2-day architecture and design workshop where we'll unleash our imagination to create future living ideas, innovate, learn 3D construction techniques and design our best future town – one that is beautiful, happy and friendly to the environment.
About the workshop
In this Arkki Green Town Workshop, you'll learn basic architecture principles and get hands-on experience to bring your ideas to life through drawings and models. The ideas and solutions will surround the theme of sustainability, nature, future innovations and happy communities. That's not all, you will also learn to::-
Analyse the roles that shapes, forms, materials, textures, ornaments, etc play in defining the character of a building as well as its role within a town and environment.
Examine public and recreational spaces, understand the various factors influencing the design of these areas and how they can drive the energy of a town.
Explore new possibilities through different projects and viewpoints.
Generate innovative ideas on making a town and buildings green, smart, sustainable, active and friendly to all.
The workshop is also a great way to learn the various STEAM and beyond subjects, including social and human sciences. The process involves engaging children in experiential learning, persisting problem-solving, peer collaboration and working through the creative process of building and environment design.
Ultimately, you'll be able to:-
get creative,
expand your critical thinking skills,
develop better observations for your surroundings,
take thoughtful risks,
have fun and
bring your models home!
Date :: 15-16 December 2021 (Wednesday, Thursday)
Time :: 10am – 5pm
Age :: 7 – 9 / 10-12 years old (Participants will be grouped by age). Group size limited to 16 pax.
Location :: The Rise @ Oxley, 71 Oxley Rise, #02-17, Singapore 238698
Price :: $330 nett for 2 days. Price includes provision of lunch and workshop materials.
-------------------------------
About Arkki
Arkki is an award-winning, Finland-based school of creative education for children and youth aged between 6 – 18, established 30 years ago. Arkki's programme uses architecture and design as a medium to advance the development of higher order thinking skills, creativity and learning of academic subjects. It is the first of its kind in Singapore to offer long term structured curriculum for progressive learning.
--------------------------------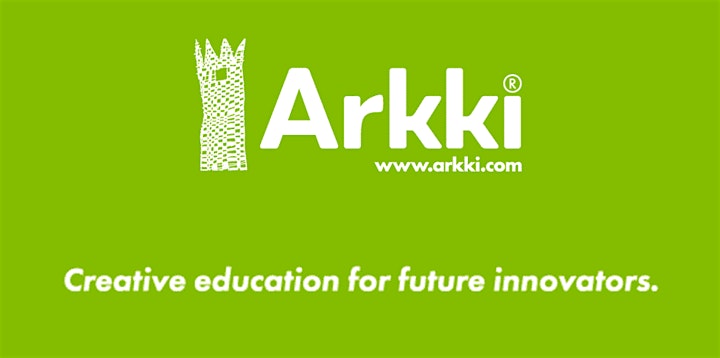 Organiser of *New from Finland I Children Architecture Workshop I 15-16 December