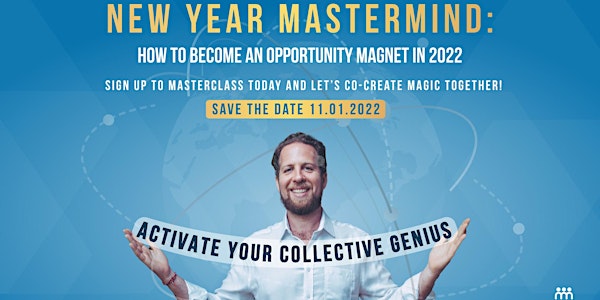 New Year Mastermind: How to Become an Opportunity Magnet in 2022
NEW YEAR MASTERMIND: HOW TO BECOME AN OPPORTUNITY MAGNET IN 2022
About this event
WHO IS MM FOR:
Conscious entrepreneurs, business owners, investors who want to:
Find ideas and solutions for the challenges they face and expand into the new markets
Find strategic partners, investors in different countries
Learn the art of strategic authentic networking
Seek inspiration and motivation
Learn trust building communication skills
Expand their Network and create heart-based communities
Build authentic personal brand
Learn how to create their own Mastermind group
DURING INTERACTIVE SESSION YOU WILL GET :
A lot of inspiration for pursuing your goals in 2022
Participate in an interactive Mastermind session
Tips on how to make introductions that makes you stand out
Honest & real feedback from peers
New opportunities and connections for your business
Confidence and self-value boost
Rules of authentic networking
Do & Don'ts in networking
WHAT IS INCLUDED :
1st part (3 hours) - Interactive session with MasterMind experience
Practical experience in Mastermind
Opportunity to share your key challenge with like minded people
Give and Receive formula . How to ask for help.
How to connect with others authentically
How to turn on your inner Magnetism so that others want to do business with you
Taking your mindset, your family & business globally
2nd part (1 hour) - Express Mastermind set up
Mastermind Blueprint: How to create your own Mastermind in 7 steps
Takeaways, action plan and next steps.
Find strategic partners to launch your MM program
Q & A - setting your Mastermind
YOUR ATTENDANCE OPTIONS
1) Interactive session with MasterMind experience (3h)- 22 USD $
3-hours of Theory & Practice
During 3 hours you will receive important tools on how to network and get to practice it with others in break-out rooms! Our lovely moderators will support you along the way!
2) Express Mastermind set up - 222 USD$ Package
Interactive session (3h) + Express Mastermind set up (1h) , including:
Bonuses:
Networking Audit & Mastermind Blueprints ❗️
Video - Authentic and Powerful way to introduce yourself ❗️
Video - How to Get the Most out of a Mastermind ❗️
*If you want to pay in USDT, please, text on WhatsApp +79653908153
🔻 50% of profits go to Plastic Exchange Movement in Bali 🔻
Plastic Exchange is an innovative movement led by Made Janur, top of 10 CNN Heroes of 2021. This movement was initiated in the amidst of COVID-19 pandemic to the sustenance in the exchange of collecting plastic."Plastic for Rice" means every plastic that is brought to the hub will be exchanged with rice. This new barter program would turn the problem of environmental pollution into an opportunity to use plastic trash as a currency for food.
Meet your Host and Mastermind Facilitator
Gil Petersil - Global Speaker, Serial Mentor, Mastermind & Network Organizer 
Gil is a global thought leader on business strategy, effective networking and mastermind methodology. He is passionate about empowering conscious entrepreneurs, global leaders, and organizations on Plastic exchange how to organically scale their business, create long-lasting win-win partnerships that bring value to their communities and make an impact in the World.