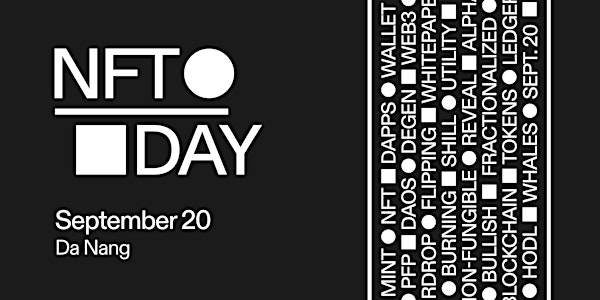 NFT Day 2022
NFT Day is a day of celebration, excitement, and awareness for NFTs
When and where
Location
Esco Beach Bar Lounge & Restaurant Lô 12 Võ Nguyên Giáp Mân Thái, Sơn Trà Da Nang, Da Nang 550000 Viet Nam
About this event
🍾 Celebrate NFT Day, the global event, with Draper Startup House in Danang! #NFTday
Agenda:
Welcome message
Product demos by NFT creators in Danang
Q&A
Exclusive NFT Day collectibles (wallet required, instructions provided at event)
Lucky draw NFT drops from NextDecentrum, SilverLight, 7 Bridges, and more!
Networking and community connection
Special guests, NFT project demos, Q&A, food, wine, music, swag (gifts), and networking!
👉 5 Crypto Pharaohs and 5 Pharaoh Cats NFT drop for the first 10 arrivals!
Post-event Esco Beach Bar Lounge & Restaurant Promotion!
Sponsored by Dapper Labs / Flow, in association with Draper Startup House
This event will be happening simultaneously in cities throughout the world!
Parking is free and plenty for auto or bike, directly in front of the location
--
About NFT Day
September 20th is the day that NFTs were born, and is why we're celebrating. On this day in 2017 Dapper Labs CTO, Dete Shirley, published ERC-721, which is the standard from which NFTs are built. In this proposal, the term Non-Fungible Token was first coined. Since then, NFTs have taken on a life of their own, featuring incredible sports moments, breathtaking art, passionate communities, and innovative ideas.
Official site to claim NFT drops: https://www.internationalnftday.org/
About Draper Startup House, Draper Venture Network, and Tim Draper
Draper Startup House is part of a global network connected to services, education, and investment. We have one combined vision and mission: ONE MILLION ENTREPRENEURS BY 2030. Draper Startup House is a unit of the Draper Venture Network founded by Timothy Cook Draper, the US venture capital investor. Draper's most prominent investments include Baidu, Hotmail, Skype, Tesla, SpaceX, AngelList, Twitter, Coinbase, and Robinhood. Draper is not new to Vietnam: DFJ VinaCapital Fund (DFJV), established in 2006, was one of the first venture capital funds in the country.
Visit: http://www.draperstartuphouse.com
About Dapper Labs, Flow, and Cadence
Dapper Labs, the company behind CryptoKitties, NBA Top Shot, and the Flow blockchain, uses blockchain technology to create new forms of digital engagement. The company is accelerating the move to Web3 by helping people build apps and platforms that enable mainstream-ready user experiences. Cadence is a resource-oriented programming language that introduces new features to smart contract programming that help developers ensure that their code is safe, secure, clear, and approachable.
Visit: https://www.dapperlabs.com/ and https://flow.com/
About Next Decentrum, Momentable, and Crypto Pharaohs
"Next Decentrum is on a mission to democratize access to art and culture through Momentable (momentable.ai), their curated, safe, and easy to use NFT platform for leading museums, galleries, and artists.
Momentable is the premier platform for museums and collection curators to leverage their physical assets in the metaverse.
Next Decentrum is also the creative force behind Crypto Pharaohs, a generative NFT collection inspired by the history, life, and legacy of the pharaohs of ancient Egypt.
Visit: https://www.nextdecentrum.com/
About Silverlight and Ralph Schechterle
Silverlight is aiming to build an economy around hiking trails and introduce blockchain to millions of outdoor lovers. Silverlight is an outdoor brand that started out by launching a unique design for hiking socks, and is now working on a crypto outdoor app to get more people outside and to support trail conservation. It's founder, Ralph Schechterle, is a a serial entrepreneur with a background in e-commerce. He previously founded a full-service agency for Amazon sellers, and a menswear accessory brand.
Visit: https://app.silverlight.store/https://linktr.ee/shopsilverlight
About 7 Bridges Brewing Company
7 Bridges is an award winning craft beer company from Danang, Vietnam and is among Asia's first impact brewing companies having tangible social and environmental outreach and fundraising.
Visit: https://www.7bridges.vn