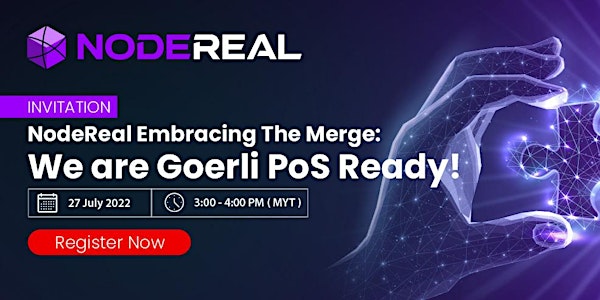 NodeReal Embracing the Merge Webinar: We are Goerli PoS Ready
Transform the world of blockchain and Web3. Learn about the Merge and its applications towards your business. #NodeReal Blockchain
About this event
Demystifying the Mystery That Is "The Merge"
The Merge is the planned Ethereum upgrade that shifts the network from the current Proof-of-Work (PoW) consensus mechanism to a Proof-of-Stake (PoS) model. It will lay the foundation for the future of both Ethereum and the entire Web3 ecosystem, and help realise the Ethereum vision of higher scalability, security and sustainability. And NodeReal, the ultimate Web3 infrastructure service provider, is embracing this exciting change!
NodeReal, a one-stop blockchain infrastructure and service provider that embraces the high-speed blockchain era with the goal of supporting the adoption, growth and long-term success of Web3, is holding the exclusive webinar "NodeReal Embracing The Merge: We Are Goerli PoS Ready!" to tell you all about The Merge and its implications for your business.
This important webinar will be held this coming 27th of July 2022 from 15:00 to 16:00 Malaysia time. It will feature Jimmy Z, NodeReal's Senior Solutions Architect, who has over 15 years of experience in the cloud, developer tools and API. Among the topics he will cover are:
• The difference between PoW and PoS.
• Difficulty Bombs.
• Goerlin and Sepolia Testnets.
• Sharding before and after the merger.
• Gray Glacier.
The best part of this webinar is that Jimmy Z will explain The Merge, a highly technical and rather novel concept, in layman's language. The goal is for everyone who tunes in to fully grasp what The Merge is all about and why it is such a big deal.
But don't just take our word for it. Book your slots now by registering HERE to get a front-row virtual seat to the "NodeReal Embracing The Merge: We Are Goerli PoS Ready!" webinar.
The Merge is upon us. It is time to learn more.
REGISTER NOW!
https://attendee.gotowebinar.com/additionalInfo.tmpl?duplicate=false&webinar=5496353498523573007&aregistrantConfirmation=5541469759291438607