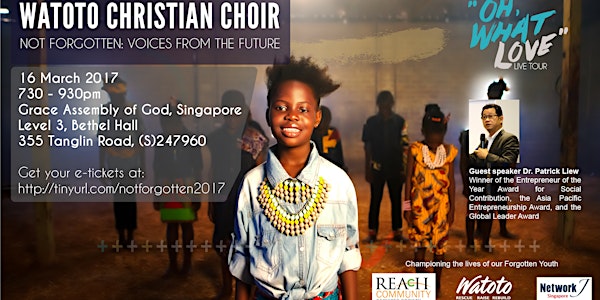 NOT FORGOTTEN: Voices From The Future
Event Information
Location
355 Tanglin Rd
355 Tanglin Road
Singapore, 247960
Singapore
Description
REACH Community Services Society (RCSS) and Network J Singapore is proud to host The Watoto Children's Choir (from Uganda, East Africa) on the 16th of March, 730-930pm at Grace Assembly of God Church Singapore.
Watoto reaches out to love and care for thousands of orphaned and vulnerable children, and their children's choir is on tour to share their story of love and hope. The Christian choir's all new production 'Oh, What Love' brings the audience along on an emotional journey from despair to joyous celebrations with its vibrancy, urban sounds as well as colours along with the heartfelt stories shared by the choir's children.
In championing the work of reaching the disadvantaged and vulnerable youths in Singapore, RCSS hopes that the young will be nurtured and empowered in positive ways so that they can realize their fullest potential and have a bright future ahead of them.
This event aims to champion the lives of the Forgotten Youth of society, and the importance of community and positive mentors, even as they go through challenging and turbulent adolescent and teenage years.
Our guest speaker, Dr Patrick Liew, is an award-winner in entrepreneurship and enterprise, and has been involved in many social contribution and missions. He has helped set four records in the Singapore Books of Records as well one record in the Guinness World Records. Currently the Managing Partner of Global Enterprise Exchange as well as the founder of Success Resources, Dr Liew provides leadership and advisory services to many professional and charity organisations, and is actively involved in supporting humanitarian, philanthropic and charity causes.
Join us and the Watoto Children's Choir for a night of songs and stories!
Limited seating. Register early!
Date and time
Location
355 Tanglin Rd
355 Tanglin Road
Singapore, 247960
Singapore