Description
Novena: Optimizing Care for Seniors - Aug 11 (Sat)
Life is a journey, where each person has to learn to properly navigate each road and roadblocks to reach the final destination with a happy, peaceful, and content heart. The session aims to optimise care of our older adults in part by equipping them with the knowledge to look after their own health as they enter their twilight years, which would hopefully be their best yet.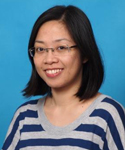 Speaker: Dr. Jennifer Abengaña, Senior Resident Physician, Tan Tock Seng Hospital
Dr Jennifer Abengana is a Senior Resident Physician at the Department of Geriatric Medicine in Tan Tock Seng Hospital. She finished her Medical Degree and Internal Medicine Residency at the University of the Philippines College of Medicine - Philippine General Hospital. She has been in Singapore working in TTSH since 2009, completing her Post-Graduate Diploma in Geriatric Medicine at the National University Singapore in 2012.