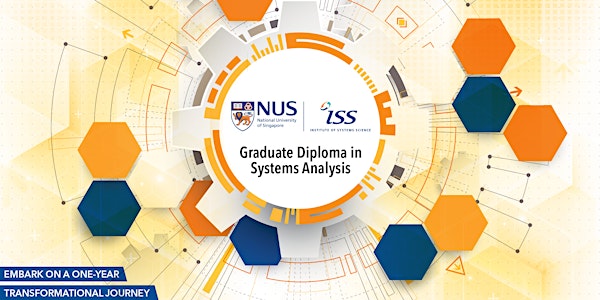 NUS Graduate Diploma in Systems Analysis Virtual Information Session(INDIA)
Thinking of a career switch into the IT industry and craft a new career path in the IT industry or equip yourself with the latest IT skills?
About this event
The Graduate Diploma in Systems Analysis programme (GDipSA) is designed for non-IT graduates intending to craft a new career path in the IT industry. This programme allows IT graduates or professional to advance their careers in their current field and recognize the need to equip themselves with the latest IT knowledge and skills to stay relevant.
Programme Highlights
12-month structure practice-oriented programme (inclusive of 5 months internship)
Internship to allow students gain experience working in the IT industry
Series of courses interleaved with practice to create competence
Constantly updated to meet the current skill requirements for industry
The Virtual Information Session will be hosted by a Faculty member and is a good opportunity for you to find out if our programme is the right fit for you.
This Virtual Information Session to be conducted via ZOOM on: -
Tuesday, 18th October 2022 at 7.30pm (India Standard Time) sharp Register for the session by clicking on the "REGISTER" button that leads you to the Registration Form. The ZOOM link will be sent to those who have registered successfully.
Please note on Eventbrite Privacy Policy and NUS PDPA clauses
Please note that by submitting personal information you have given the consent to NUS-ISS to collect, use and/or disclose the personal data submitted for the purpose of administration and/or management of the event. You also acknowledge that photography and videography will be taken during the event, and given your consent that NUS-ISS may use some or all of these images in print and social media.