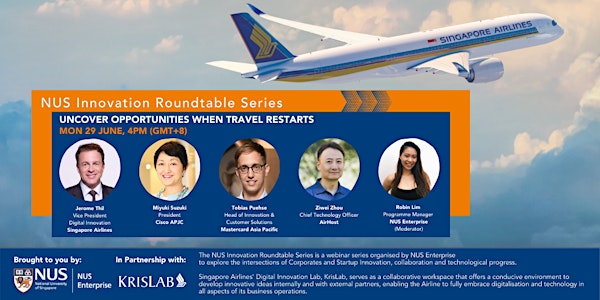 NUS Innovation Roundtable - Uncover opportunities when travel restarts
Innovation Roundtable - a panel discussion with industry leaders on the opportunities and trends in the post-CoVid world.
About this event
The CoVid-19 has impacted every aspect of our lives fundamentally, but nothing has been more disrupted than the travel and aviation industry. As economies are restarting, and travel is picking up again at different paces and in different ways - what are the opportunities for disruption?
In this upcoming Innovation Roundtable, NUS Enterprise is collaborating with KrisLab, Singapore Airlines' Digital Innovation Lab, to bring together players who define the global travel industry, to discuss insights, evolving trends and business opportunities in the new world that will emerge from this global pandemic. Join us as we explore opportunities for start-ups and corporates alike in the travel and aviation industry in the new norm.
How to join the live panel webcasts in this conference:
https://singaporeair.webex.com/singaporeair/onstage/g.php?MTID=e9d2f8a19db86713e58ca8e517484fe8c
Password: 8080
Panel line up:
NUS Enterprise: Robin Lim, Programme Manager (Moderator)
SIA: Jerome Thil, VP Digital Innovation Lab
CISCO: Miyuki Suzuki, President Cisco Asia Pacific, Japan and Greater China
Mastercard: Tobias Puehse, VP Innovation and Customer Solutions
Airhost: Ziwei Zhou, CTO
About Innovation Roundtables: This Innovation Roundtable is a part of the Roundtable webinar series organised by NUS Enterprise to explore the intersections of corporates and startup innovation, collaboration and technological progress.
About KrisLab, Singapore Airlines' Digital Innovation Lab, serves as a collaborative workspace that offers a conducive environment to develop innovative ideas internally and with external partners, enabling the Airline to fully embrace digitalisation and technology in all aspects of its business operations.
KrisLab's Annual Flagship Programmes include: Singapore Airlines AppChallenge 2020 - the leading digital innovation challenge for aviation, and Singapore Airlines Accelerator 2020 - a three-month programme that onboards and mentor promising start-ups & entrepreneurs to co-develop a Proof-of-Concept, while tapping on the Airline's vast insights and experienced industry mentors.